Everybody knows the most visited place with plenty of famous brands, restaurants with Spanish food and small souvenir shops. We can mention Plaza Espanya or Plaza Catalunya, where every desire of the tourists can be filfulled. For people who look for shopping centers, head down to Les Glòries roundabout for Centre de Les Glòries, the largest in the city, popular with Barcelonians who appreciate the wide range of goods and affordable prices. However, in this post we want to give advice about the other places, same good, with a lot of possibilites to pleased your shopping soul!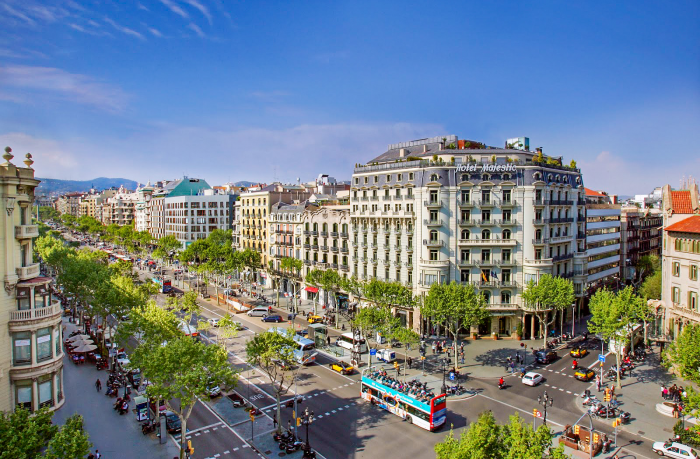 #Passeig de Gracia
If you are looking for international brands then the best thing to do is walk down Barcelona's Passeig de Gracia, where you will find Diesel, Miss Sixty as well as MaxMara, Chanel and Luis Vuitton. Great clothes centers such as Zara or Sfera are very easy to find as they're situated in the very center of Barcelona. It's easy to say that in Barcelona's international stores you'll have to be prepared to pay the same prices as you would in any of these shops in London or Paris. Here the clothes are good quality but a little more expensive than in other shops. If you are looking for a very original Barcelona style don't miss Custo, near the Ramblas, it might be a very good choice. He is a well known Spanish designer, popular for his use of colour and wacky designs. This is truly one of the best fashion hotspots in Barcelona.
#Puerta Angel
If you want to buy some presents for your family or some other general goods, you can walk down Puerta del Angel and Puertaferrisa. These streets are full of little  shops, you won't find big supermarkets or shopping malls, but sometimes Barcelona's little shops can be more charming than superstores.
#Ferran
Lined with lively cafes and bars, and souvenir shops, this popular Barcelona street has a bustling blend of locals and visitors. Extending from the Liceu on the Ramblas to Plaça Sant Jaume. Only recently it has been changed to a walking street, making it much more pleasurable to stroll along. There are a lot of shops and cafés here, it is a very pleasant place where to spend a sunny afternoon in Barcelona. Don't miss the grocers' shops that still have wonderful display windows like in past ages.
#Diagonal
For shoppers, Barcelona's Avinguda Diagonal has it all, from massive department stores such as El Corte Ingles to tiny boutique clothing and shoe stores. It starts at Plaça Francesc Macià, where a quality department store has become a national institution. Just next door is Pedralbes Centre, an exclusive shopping mall with brand-name shops, shoes stores, a jeweler's, perfumeries and high-quality accessories, as well as shops which sell arts, crafts and plenty of great gifts. Further down stands L'Illa del Diagonal, a huge shopping mall with an entire floor dedicated to gastronomic delicacies.
#Avinguda de Gaudí
Situated in the perfect location, connecting famous Sagrada Família and Hospital de Sant Pau, this ist he place that offers you more that just cozy caffeteriés and small shops with different goods. Actually, this street is a pedestrian zone and is a perfect idea to walk across while exploring the city. Alongside the street are plenty of restaurants with outer space for sitting and enjoying the cup of good caffee or delicious tapas. Worth to visit are various small shops with clothes, ceramics, souvenirs or chocolate, candies, turron, pralines. And at the end, Hospital Sant Pau is waiting for the visit, one of the Unesco Sites in Barcelona!
After the whole day of shopping, you will definitely need to shelter your head in a comfortable, cozy place in close distance from the city center. Check yout then our
website
with the best appartments in the city!
If you prefer to stay in a hotel with special servicies, brakfast, dinner or with a care from the hotel personel, you have a possibility to book it here, with many options from the cheap hostel to luxurious apartments, according to your desires!
Do not forget to look on our blog and guide with a lot of interesting articles,events, tips and activities in Barcelona and surrounding!
Looking for an apartment in Barcelona? Check out our SPECIAL DEALS ON APARTMENTS all over the city with Barcelona Home!