If you have arrived in Barcelona, and you are wondering: which club am I going to dance tonight? Don't worry, this guide on Barcelona hottest clubs is perfect for you! You must know that Barcelona's nightlife is very amazing, and you will always find something to do at any time of the night, and above all you will always find a club ready to welcome you and make you spend one of the most unforgettable nights of your life. Barcelona is an international city and so you will find many Erasmus students (in addition to Spanish people of course) and many young tourists: who goes to dance in Barcelona, goes to dance with the whole world!
With this guide on Barcelona hottest clubs, our goal is to give you all the information you need to choose your dance night, and move from intention to action! Let's see the clubs!
# 1 OPIUM
Source: www.international-nightlife.com
The first club is 
Opium
. This club overlooks the sea, giving its visitors a summer atmosphere throughout all the year. The interior is very nice and is certainly the most important nightclub of the Port Olìmpic. At the entrance there is a lot of selection, and wearing 
a shirt is practically a must
. But there's good news: admission is free, and you can enjoy a night at electro-house music until the first light of dawn. Also if you visit
Barcelona
in the summer, Opium is famous for hosting the 
best international DJs
 at that time. Last thing very important: every day there is an event at the Opium!
Address: Passeig Marítim de la Barceloneta, 34, 08003 Barcelona
Metro station: Ciutadella-Vila Olimpica (L4)
Price: Free
Opening hours: from Sunday to Wednesday 00:00 to 05:00 A.M.; from Thursday to Saturday 00:00 to 06:00 A.M.
Dress code: Formal
# 2 RAZZMATAZZ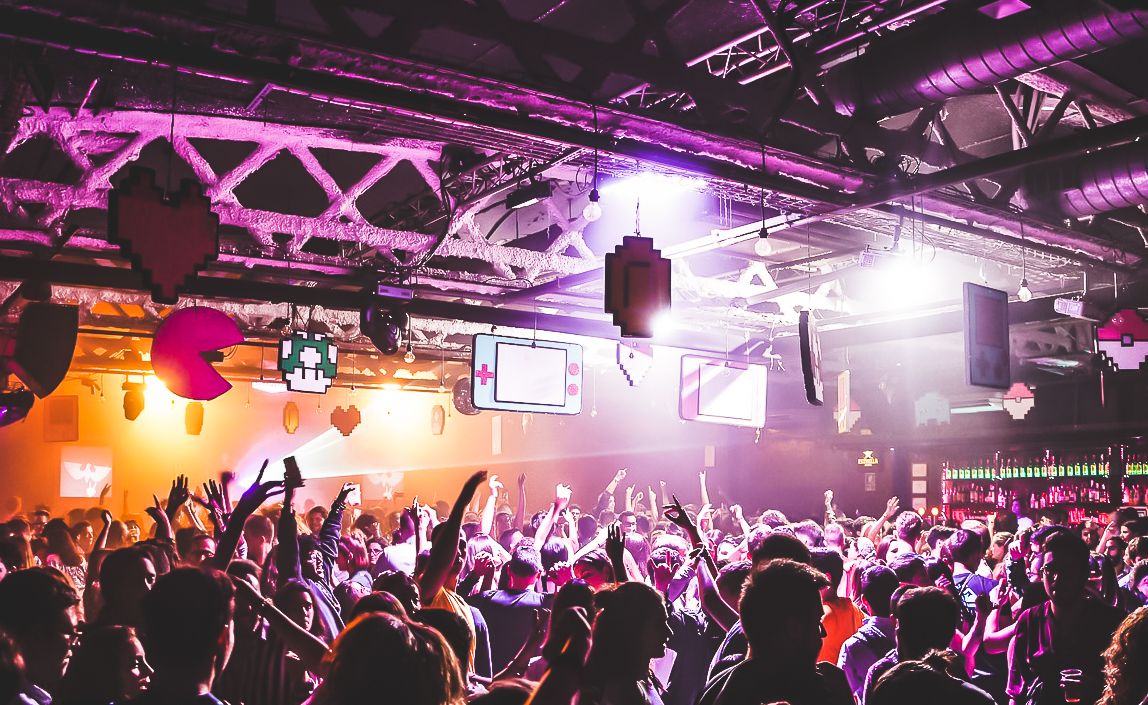 Source: www.xceed.me
Razzmatazz is the most famous club you can visit in Barcelona. Located in a huge post-industrial space, it houses in its interior five different rooms. You can choose your favorite music and change the room when you want to try another musical genre! You will find the Razz Club with international rock music, the Loft with electronic music, the PopBar with garage and soul, the Sala Lolita for techno pop and deep house lovers and finally the Rex room with electro-rock music. Inside it is difficult to stay together if you are a group of people: in this maze, it's easy to lose your friends. The club also hosts many events and live concerts by internationally known artists. When there are concerts the prices change and unfortunately with the concert ticket you can not stay for the night. For the disco night instead the price is 17 € if you buy at the ticket office or you save a few euros if you buy online on the official page. Consumption is included in both cases. For some special performances, prices may vary.
Address: Carrer dels Almogàvers, 122, 08018 Barcelona
Metro station: Marina (L1)/Bogatell (L4)
Price: 17 € with a drink
Opening hours: Thursday and Friday from 00:30 to 05:00 A.M.; Saturday and Sunday from 01:00 to 06:00 A.M.
Dress code: Informal
# 3 BIKINI
Source: www.bethenight.com
Bikini Barcelona opened its doors over more than 50 years ago and is one of he oldest venues in Barcelona. The exclusive club is found right by Avenida Diagonal in one of the fanciest areas of the city where many important nightclubs are to be found. Bikini is classified as one of the Barcelona hottest clubs, with an ambience perfect for those who want to spend the night dancing salsa and listening to latin music such as Bachata and Merengue. In Bikini, you can also enjoy concerts and live performances, for which the quality and service is known to be top class. The club is open from Thursday to Saturday. So if you want to spend a night at Latin rhythms, this is the right place: you will feel at home and you will have the opportunity to participate in one of the most caliente events in the city.
Address: L'Illia, Avinguda Diagonal, 547, 08029 Barcelona
Metro station: Maria Cristina (L3)/Entença (L5)
Price: 16 € with a drink (14 € if you are in guest list)
Opening hours: Thursday from 00:00 to 05:00 A.M.; Friday to Sunday from 00:00 to 06:00 A.M.
Dress code: Formal
# 4 ECLIPSE
Source: www.discotech.me
On the 26th floor of this exclusive hotel, it is possible to spend a high-class evening, and seem to live in a dream. In this place you can eat a bite or even sushi, accompanied by an excellent champagne. Afterwards you can take advantage of your adrenaline by unleashing yourself on the dance floor, or you can enjoy the moment by abandoning yourself to the sight of Barcelona. On the beachfront along the famous Barceloneta boardwalk, it boasts panoramic views over the Mediterranean and city of Barcelona (remember that we are on the 26th floor!). In our list, this is definitely a must. The dress code is very stringent, so dress well, and spend an unforgettable evening, to cause envy to all your followers on Instagram!
Address: Moll Oriental, 08039 Barcelona
Metro station: Drassanes (L3)
Price: Free,  or 2oo€ for a table of a 4 people all inclusive
Opening hours: Wednesday Thursday and Sunday from 18:00 to 02:00 A.M.; Friday and Saturday from 18:00 to 03:00 A.M.
Dress code: Formal
# 5 LA TERRRAZZA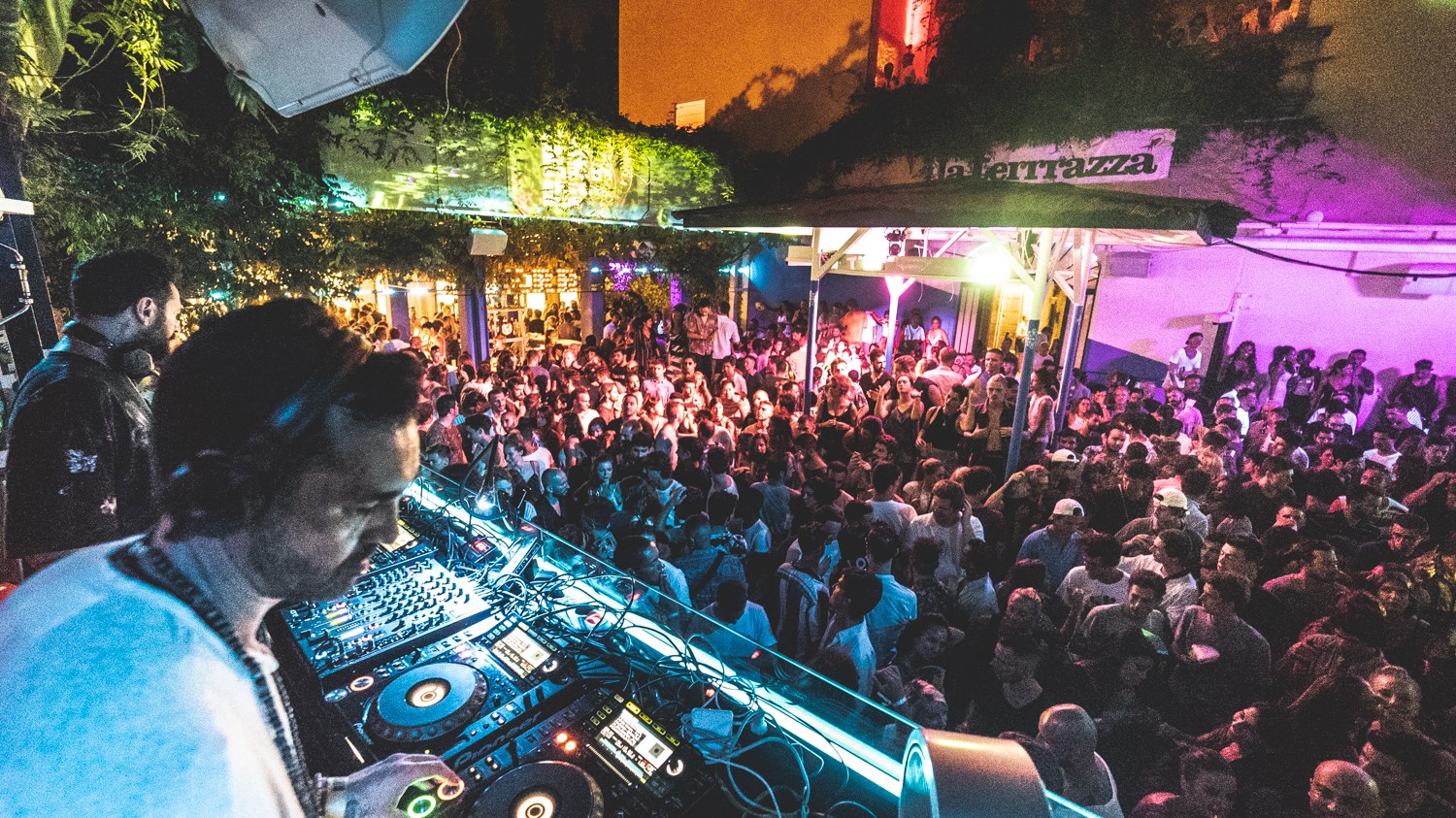 Source: www.vein.es
As the last stop on our guide, La Terrrazza, one of the most famous CLUBS IN BARCELONA, could not be missing. La Terrrazza is a historic open-air disco in Barcelona, very touristy and that opens only in summer, from May to October, so take advantage of its openness when you are in town, it could be your last chance. Mallorcan style, with a balcony structure that will allow you to enjoy the city's landscape and not to feel warm. In summer this club is a reference point for many young people, and hosts important DJs ready to make you dance to electronic music throughout the night.
Address: Av. Francesc Ferrer i Guàrdia, s/n, 08038 Barcelona
Metro station: Pl. Espanya (L1, L3, L8)
Price: 15 €
Opening hours: Friday and Saturday from 00:00 to 06:00 A.M.; Sunday from 18:00 to 00:30 A.M.
Dress code: Informal
Are you looking for a great ACCOMMODATION IN BARCELONA? Look no further, we have what's right for you!