Where to leave your car securely?
Visiting a new city can be very exciting but also stressful if you don't plan your trip. Parking a car in Barcelona can be very difficult. But if you plan in advance with the help of Barcelona-Home team, you can enjoy your holiday from the first second. Especially if you are visiting Barcelona with a foreign license plated or your own car and you don't have an apartment with garage, you need to find a safe parking area. Although the city has a large number of parking facilities, the car parks in Barcelona have limited spaces. Furthermore, they fill up very quickly.
Barcelona with a car
Barcelona is easily accessible by car, thanks to the perfect road conditions and many signs which show you the right direction. Furthermore, you have many possibilities to rent a car for some days. But unfortunately finding spaces where you can park for free is a real challenge. You have to pay nearly everywhere; and if you don't plan in advance is even more complicated! Although the city centre does have a large number of parking facilities the car parks fill up quickly or have limited spaces. You'll also find that it's difficult to find a car park space in the city centre if you just turn up on the day.
Near the Olympic Stadium, you can find some areas where parking is free; or even close to some bus stations. However, we would not recommend parking there because this area is isolated and not secure. Especially if you are driving a foreign license plated car, we recommend a parking area with 24/7 security surveillance. This can give you some peace. Not to worry though, we present to you the best car parking place in Barcelona with perfect service and incredible prices – BCN Economic Parking. You don't have to search for free parking space which means losing precious time of your holiday trip.
About BCN Economic Parking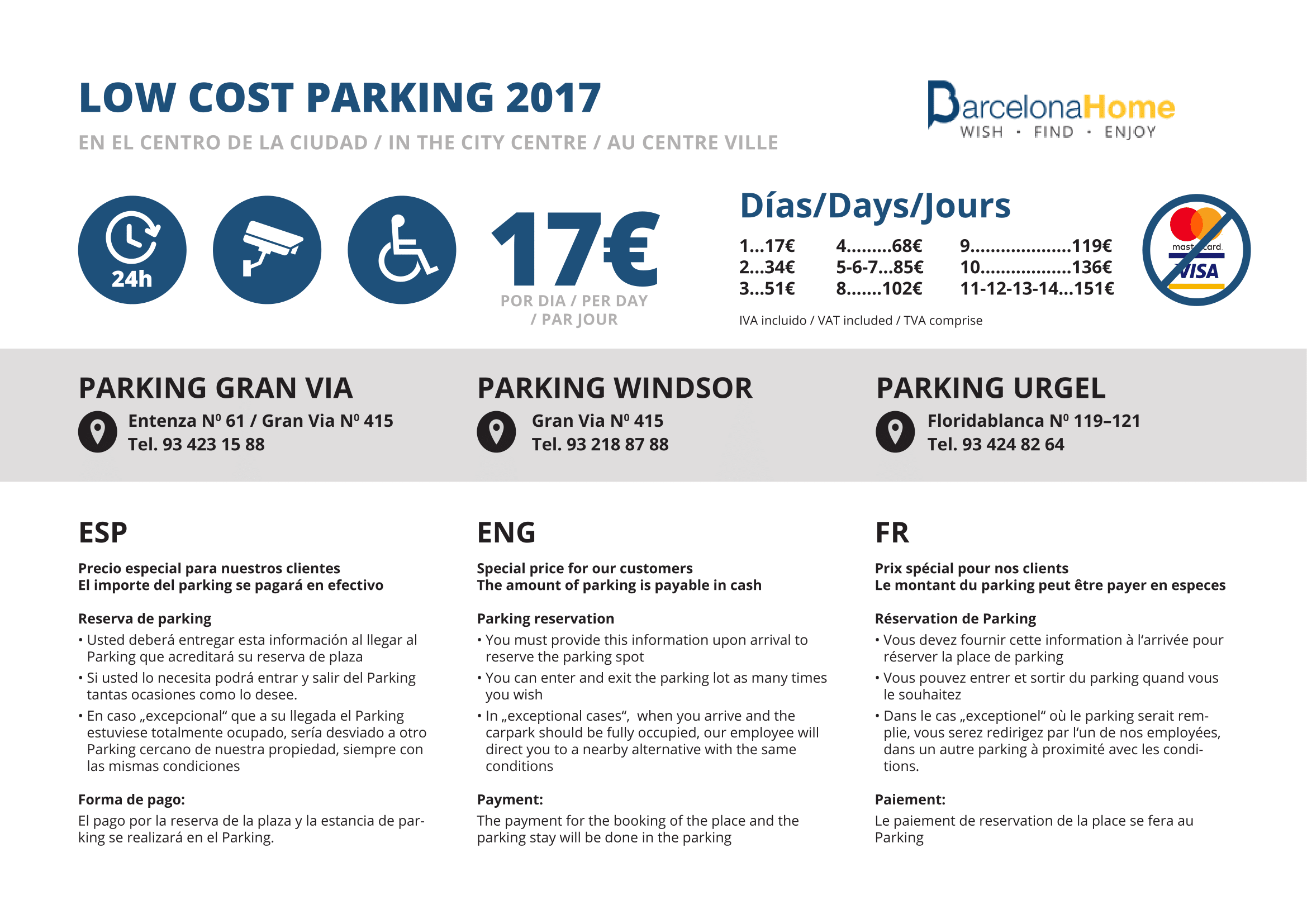 What do their parks offer? You can benefit from a permanent service and continue surveillance thanks to their employees and cameras 24h. You can be secure that your car is parked safely. No matter when you arrive, they remain open day and night every day of the year. But the advantage of this company is the following: They want to solve the problem of parking and furthermore offer an economic rate that satisfies the client's economic needs.
The company owns three public parking areas in the city center of Barcelona. You can choose which one is the closest to your apartment; and benefit from longstanding service and specialized treatment of the staff. Thanks to 50 years of experience the standard is very high.
For all Barcelona-Home clients that need a parking during their holidays in Barcelona, there is a special offer in collaboration with BCN Economic Parking: JUST 17€/DAY. Without the discount, in any other parking in Barcelona, you will pay around 30€/Day!
You just need to show the flyer above at the entrance of the parking!
Don't lose this special offer! This is the best solution in Barcelona!
Top tips
Driving with a foreign license plated car?
If you are driving a foreign plated car you must know that often these cars are often targeted for robbery! However, even while driving: make sure that your doors and boot are locked. Even in slow-moving traffic, it has been known for thieves to pop open a door and run off with their price.
---
Are you looking forward to visiting Barcelona, but have not made any plans? Make sure to check out our WEBSITE where you can get started on finding a comfortable place to stay! We offer various options at multiple price points in apartments so you'll be staying in a home.