With its vibrant nightlife and great dining culture, it´s no surprise that Barcelona is also one of the cocktail capitals of Europe. Although a nice sangria on the beach or a frosty Moritz on a sunny plaza certainly hits the spot, there is nothing quite like an expertly made Gin Tonic or Negroni to hit the spot after a long day at work. We have assembled a list of the 3 Best Cocktail Bars in Barcelona, each of them known for craft mixology and a unique style sure to provide you and your date with an unforgettable experience.
#1 Slow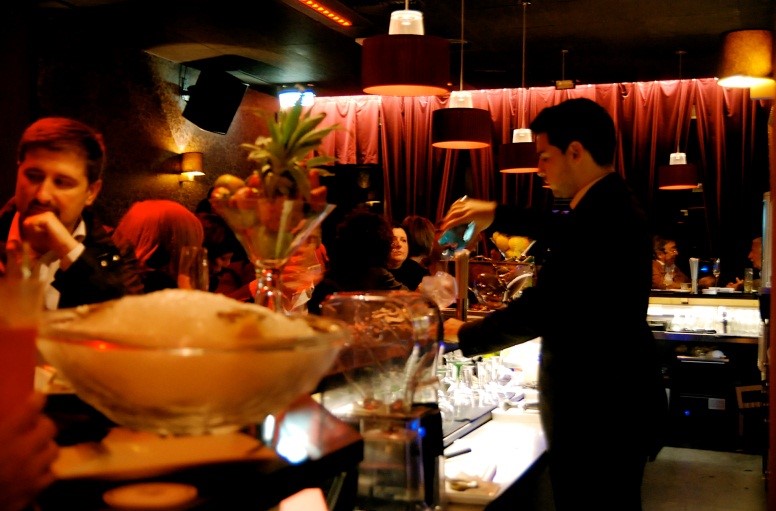 Located in Eixample, Slow Bar is quite multifaceted with a cocktail bar, a nightclub, and a private room. The Bar has a cocktail room that will allow you to travel to New York, between the 1860's and the prohibition time, when the art of mixology all started. The atmosphere can be qualified as vintage thanks to its combination of red and violet and the arrangement of poufs and sofas around the room.
Slow bar also possesses a private room: the candy box. There, you can enjoy your cocktails and dinner with more privacy. It has its own bar, projector, and screen which create the ideal situation for a testing and workshop session.  Last but not least, there are a nightclub and a live music section where they play electronic beats to house, disco and funk,  but also indie and electro pop.
Address: Carrer de París 186 
Opening Hours: Monday-Thursday 19.00-5.00, Friday-Saturday 19.00-6:00
Sunday- Closed
Telephone: +34 933 681 455
Interested in staying in Barcelona? Have a look at our apartment in Eixample!
#2 Bitter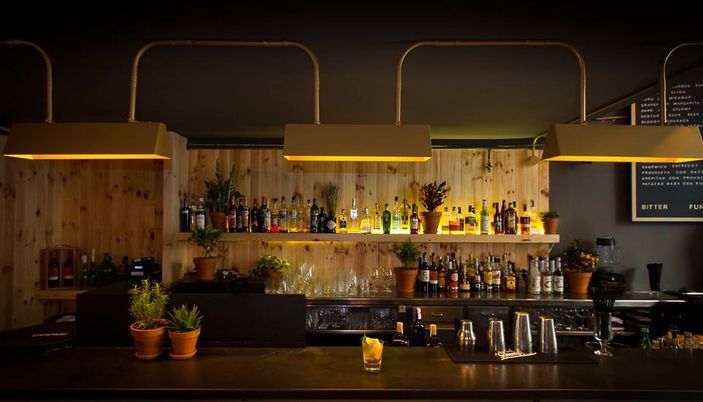 One of our favorite? Bitter Cocktail Bar in the Sant Antoni neighborhood. Don´t worry, it tastes better than the name makes it sound. This wonderful little bar specializes in old-school cocktails spiked with modern flare and the innovative addition of bitters, shrubs and natural herbs to balance the booze. The classic Moscow Mule gets a Gin makeover and becomes a London Mule. Other signatures include Pimm´s Lemonade, Kentucky Buck Beer and Bitter's Punch.
To soak up the good stuff, Bitter Bar also serves a nice variety of sandwiches and tapas. The mixologists and waiters tend to be very friendly and patient, helping you to choose the perfect cocktail to match your palette. So take a moment and relax in the dimly lit Bitter, a cocktail bar designed to put you at ease after a busy day at the office.
Address: Calle Viladomat, 17
Opening Hours: Tuesday-Sunday 19.00-2.30, Monday closed
Telephone: +34 935 327 199
Looking for an apartment in the area? check out our apartments in Sant Antoni!
#3 Creps al Born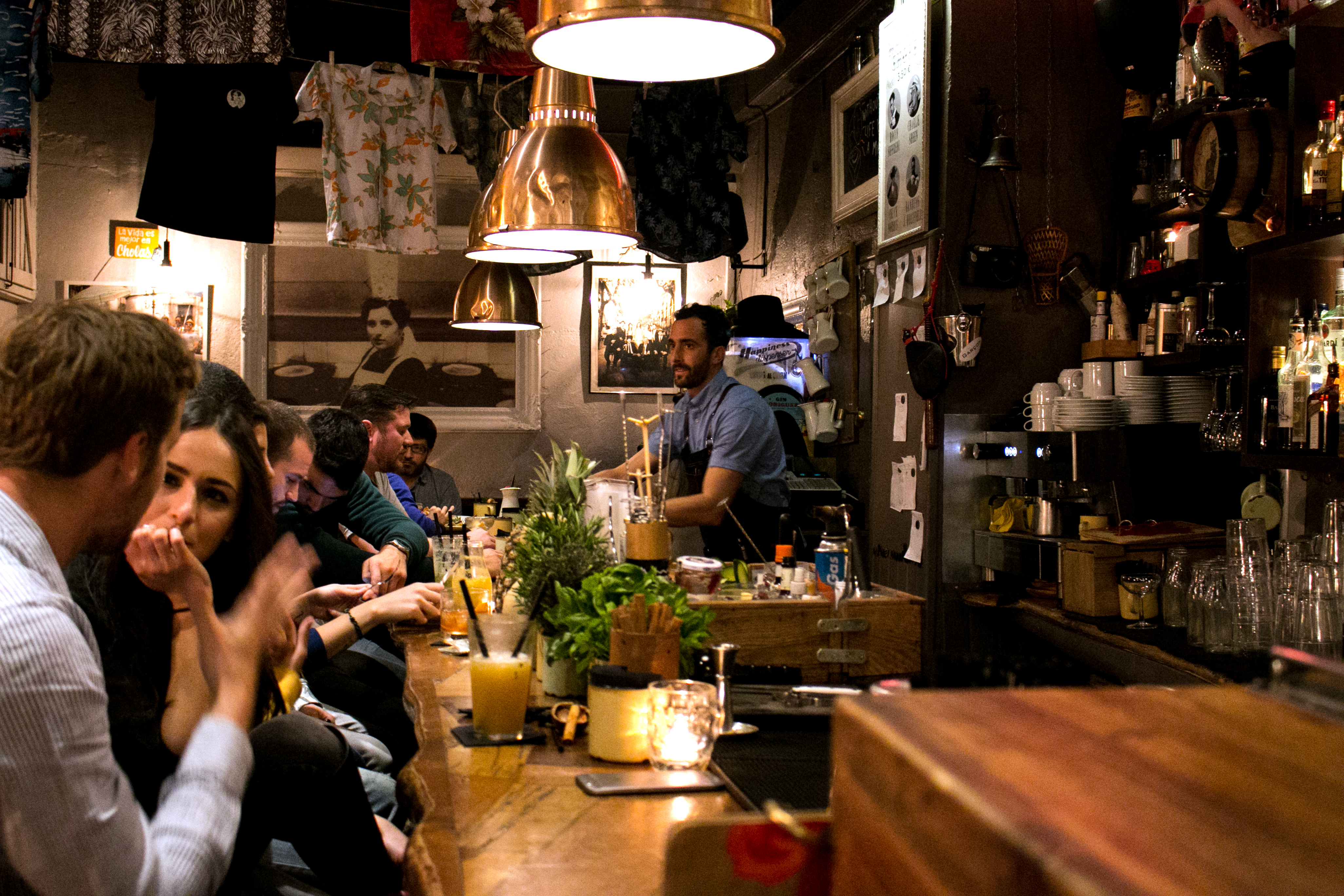 Next up, a popular favorite in the trendy El Born neighborhood: Creps al Born. Located right on the Passeig del Born, one of the neighborhood´s (and, indeed, the city´s) most happening bar-streets, this bustling establishment prides itself on its unique and unusual combination of two of life´s great joys: quality cocktails and French crêpes. Creativity is key at Creps al Born and the drink list features a wide array of craft cocktails served with wild flare.
It's not uncommon to hear the giant brass bells hanging from the ceilings tolling or a torch shoot fire at the surface of your glass! House favorites include the Zombie Acapulco, Don Key Kong, Le Chat Noir and Spring Fizz. Or choose the pre-game option: shots and crêpes! No matter what the occasion, we guarantee a wonderful experience at Creps al Born. Just make sure to get there relatively early on the busiest nights to avoid a crowd!
Address: Passeig del Born, 12
Opening Hours: Monday-Thursday 18.00-2.30 Friday 18.00-3.00,
Saturday 12.00-3.00, Sunday 12.00-2.30
Telephone: +34 932 690 325
Need a place to crash after a few cocktails at Creps? Have a look at our apartment in El Born.
We hope you have the chance to try out one of our Best Cocktail Bars in Barcelona, because…
HINT: Barcelona is especially well known for fantastic Gin&Tonics. You might want to quench your thirst with one of these during your stay!
Cocktails Bar location