The Shopping Night Barcelona is almost here! It is the fourth time the event will be organized on Passeig de Gracia on Thursday 22th of November. Previous years have seen over 25,000 visitors going on a shopping spree on this night, with over a hundred shops, hotels, and restaurants participating with discounts, special offers, and benefits for customers. This year it's the ninth edition and Passeig de Gracia is getting pretty for the occasion.
The street is ready to receive the night visit (from 20:00 to 1:00) of the passers-by. Seven stages along Passeig de Gràcia will host live music and activities, food stalls and stores that open late.
Many shops provide their own DJs and music, with some even offering free snacks and drinks. There will be plenty of activities and events with schools orchestras, ballet dancers and three specially themed locations displaying different kinds of shows for the shoppers.
In addition, this event, which will be held on Passeig de Gràcia and adjacent streets, will also be the prelude to Black Friday, advancing special discounts, in total there will be more than 50 stores.
Photocredit: Photonoticia
This year, the Shopping Night Barcelona, promoted by the Associació del Passeig de Gràcia and with the support of the Barcelona City Council, will revolve around shopping, music, gastronomy, and culture.
For this, you will find stages at the height of Passeig de Gràcia with Rosselló, Provença, Mallorca, València, Aragó, Consell de Cent, Diputació and Gran Via that will host live music and various activities.
Each scenario will represent a specific time in the history of music. It will go from the 20s to the present. For this, there will be artists of the stature of Beatriz Luengo (winner of a Grammy) or MS Nina, in addition to The Fifties or Cotton Club.
Also, the gastronomy will have a specific importance: food trucks will occupy Passeig de Gràcia during the Shopping Night and for some more day. More than 30 restaurants and chefs with Michelin stars, such as Nandu Jubany, Martín Berasategui, and Carme Ruscalleda, will have a prominent role. In addition, hotels and restaurants will integrate a route of solidarity dishes inspired by the Christmas kitchen with prices that will not exceed eight euros, an offer that will last until November 25.
The Christmas shopping season is kicked off in style at 8 pm when the opening ceremony is held on La Valquiria. Number 9 seems to be the theme of the show, with nine amazons on nine horses will be in the center of attention, with every figure dressed by a different up-and-coming designer from Modafad.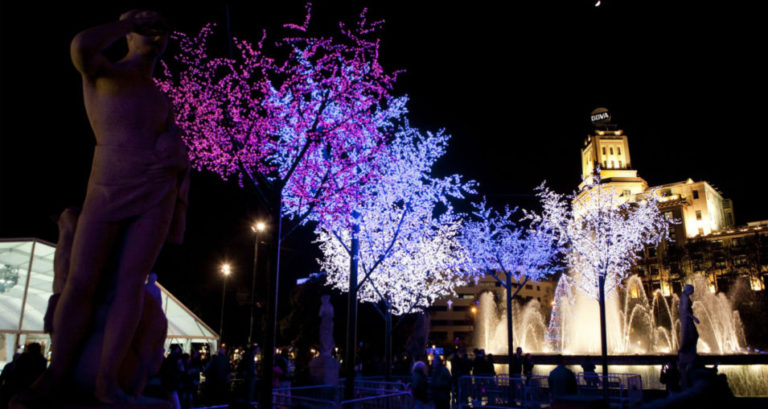 Midway through Passeig de Gracia, La Traviata will be holding tasting stands and varying shows with music and fashion. There will also be presents for shoppers. At the end of the road, close to Plaza de Catalunya, La Opera provides choral performers as well as a combination of music, dance and top fashion.
The Shopping Night Barcelona goes on until 1 am, which means you will have plenty of time to shop and enjoy the show and glamour on Passeig de Gracia!
The Shopping Night is lit up by Barcelona Christmas lights, which is a traditional Christmas decoration set up all over the city of Barcelona. The people will be set for the Christmas mood with hundreds of lights shining in the dark November nights. A total of 77 kilometers of the streets are lit, which indicates a serious investment in the decoration. As an addition to the lights, The Magic Fountain of Montjuic presents Christmas shows on every Friday and Saturday in December. The tower of Torre Agbar also has its own daily Christmas light shows.
The Shopping Night Barcelona
November 22th, 2018
20:00pm-01:00am
Passeig de Gràcia, Barcelona
Looking for an apartment in Barcelona? Check out our
SPECIAL DEALS ON APARTMENTS
all over the city with Barcelona Home!