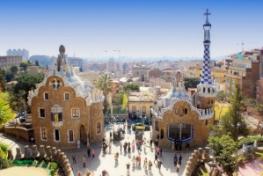 Apartments in Gràcia - Rent apartments for days, months and years
Gràcia was originally an independent and largely working-class village but was incorporated into Barcelona in 1897 in spite of protest from its residents. Calls for Gràcian independence continue even today, although less frequently. The area has always been characterized by a strong political streak, evidence of which can be found in the naming of the neighborhoods streets and plazas (for example, Mercat de Llibertat and Plaza de la Revolució). After its incorporation, the area continued to be a center of left-wing activism and resistance even throughout the oppressive Francoist regime. Gràcia still retains plenty of its independent and activist spirit, also visible in the political graffiti adorning the walls of this otherwise peaceful neighborhood.

For having a relatively small area, Gràcia is home to quite an impressive number of Modernist buildings and parks, chic shops, and a wide range of international cuisines (especially a number of great Lebanese restaurants). Most of the neighborhood´s attractions are very central and easily accessible on foot.

AREAS

Vallcarca i els Penitents, El Coll, La Salut, Vila de Gràcia, Camp d'en Grassot, Gràcia Nova.
Latest reservation 7 minutes ago