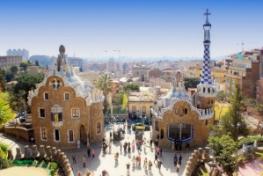 Apartments in Gràcia, Barcelona | Short or long term rent
On this page you can find apartments in Gràcia area of Barcelona we have on Barcelona Home. Why rent an apartment in Gracia? You may want to rent one of our apartments in Gràcia because it's home to a quite impressive number of Modernist buildings and parks, chic shops, and a wide range of international cuisines (especially a number of great Lebanese restaurants). Most of the neighborhood´s attractions are very central and easily accessible on foot. In Gràcia you can find some of the most popular tourist attractions of Barcelona, like Park Güell, Gaudí Experiència, and Plaça de la Vila de Gràcia.

That area was originally an independent and largely working-class village but was incorporated into Barcelona in 1897. Gràcia has always been characterized by a strong political streak, evidence of which can be found in the naming of the neighborhoods streets and plazas (for example, Mercat de Llibertat and Plaza de la Revolució).

Barcelona Home has plenty of real estates and apartments in Gràcia to propose you. Starting from studio apartments to luxurious penthouses and houses, from cheap apartments to the expensive ones. You can always contact us, to receive some advice about accommodation, and help in selection or booking process.

Latest reservation 7 minutes ago