Barcelona with kids
You are coming to Barcelona with your kids and you are wondering what will you be able to do to please the whole family! We know it can be tricky mainly when you do not know the place you are visiting. Therefore, we have gathered a couple of activities to do, places to eat and to sleep at during your stay!
Feel free to click on the linked activities if you want to have more information about them and you will also be able to buy the tickets. Hope you will enjoy our Barcelona with kids itinerary!
What to do
Aquarium
Start your stay in a happy mood by visiting the aquarium of Barcelona in Port Vell! It's one of the kids' favorites! In addition, the aquarium has an 80m-long shark tunnel, 11,000 fish, and special activities for children. Of course, we have decided to include these activities in the morning since it is the off-peak hours and would be less hectic for your kids.
On the same note, you could also bring them to the zoo of Barcelona and end up in the Ciutadella Park for a picnic at lunch time! And why not boat around in the pond located at the middle of the park or pay a visit to the full-scaled mammoth.
For something a little bit more educative, there is the interactive CosmoCaixa museum which is a playground for kids of all ages. The museum makes the scientific theories accessible to children. There are some installations dedicated to them such as the Planetarium and the Wonderful Click. Moreover, if you would like to visit Barcelona, but know the hassle with kids, then a Double-Decker tourist Bus might be the solution for you. As a plus, it will be quite fun for them but for you as well!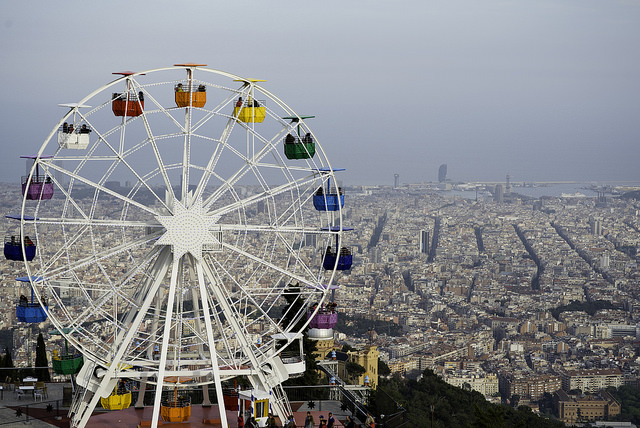 Chocolate Museum
After Lunch, how about something quite relaxing? You could make your little ones happy by visiting the Camp Nou Stadium if they are football fans but even more, if they are a fan of FC Barcelona. If thats not the case, there is the Chocolate Museum. This museum will teach you the history of chocolate from its earliest origins to its arrival in Europe. What a better way to make them feel like in Charlie and the Chocolate Factory.
If you reserve in advance, you can have the opportunity to create chocolate figurine and different deserts. Moreover, next to Olympic, you will find a spider net where they can play and climb on.
For your evening, you can take the cable car from Port Vell to Montjuic to visit the Castle but mainly to appreciate the magnificent light show of the Magic Fountain. Finally, something fun that your kids will love is the Tibidabo Park. You can enjoy plenty of attractions on 7th levels and the great bird's eye will give you a spectacular view of Barcelona.
Do you want to have a private and romantic time only for you and your partner? Why not consider hiring a professional nanny? Little Prince International Nannies is a multilingual nanny agency that can help you in finding a proper person who will take care of your children at your hotel or apartment.
Where to eat
After all these activities, your little ones and yourself are definitely going to be hungry. In this section, we present you a couple of family friendly restaurants in Barcelona that you and your kids will enjoy.
# 1 Pudding Barcelona
Inspired by the magical world of Lewis Carroll´s Alice in Wonderland, Pudding is sure to hypnotize your senses with its dramatic interior design and delicious sweets. Delicious homemade cookies and carrot cakes are featured in the pastry case decorated with humongous red mushrooms that go up to the ceiling.
Address: Carrer de Pau Claris, 90, 08010 Barcelona
Opening hours : From Monday to Sunday from 9:00AM to 9:00PM

# 2 Cosmo
Cosmo will make sure that they provide only the best for you and your family. In addition, their ingredients are provided by local breeders, farmers, and fishers within 100km radius. Also, their food always seems really appealing and colorful which can only be an incentive for the kids to eat healthier.
Address: Carrer de Pau Claris, 90, 08010 Barcelona
Opening hours : From Monday to Sunday from 9:00AM to 9:00PM
# 3 Semproniana
You will definitely enjoy this restaurant which is more on the gastronomic note. However, do not worry your children will still have plenty to eat. You can customize your menu, share dishes, or enjoy one on your own. Thus, it all depends on your appetite or whatever you really want to eat. Additionally,  a small bonus is that they also have workshops for you and your kids. It's all about good food and fun at Semproniana.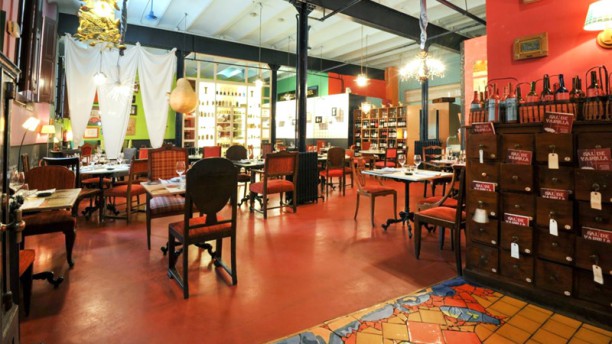 Address: Carrer del Rosselló, 148, 08036 Barcelona
Opening hours : From Monday to Sunday from 1:00PM to 4:00PM and from 8:00PM to 11:00PM
Where to stay
Take a look at our family friendly apartments in Barcelona:
This apartment is perfect for a family who wants to live in a quiet area but still in the very center of the city. Additionally, it is fully furnished, especially with bunk beds, this apartment would be great for a family with young children. Hence, it's ideal layout of the kitchen and living area makes multitasking easy- watching the children whilst cooking!
From 88€ / NIGHT| 45m2 | License: HUTB-001663
Perfect for a family of 5, this apartment offers three bedrooms and a large living area. The area is big enough for a family to bond and creates memories. Therefore, there'll be no wasting time when getting ready to go out and explore with these two bathrooms!
From 77€ / NIGHT | 90m2  | License: HUTB-006663
Do you have a very large family that you just can't go on holiday without? This stylish and modern villa offers everything you could possibly want for a family holiday. Accommodating up to 10, there is a chance this beautiful villa may stop you from exploring Barcelona! Moreover, for those days you don't want to spend much money, your family can relax around their very own pool.
From 157 €/ NIGHT| 150m2 | License: HUTB-009161
Are you planning a trip to Sant Andreu and looking for somewhere to stay? Why not take a look at the available apartment rentals on our website! Please feel free to contact us with any questions you may have.