Where to Stay in Barcelona?
If you have never been to the city before, it may be hard figuring out where to stay in Barcelona. The city has many different areas; therefore making it easy to find a place that satisfies your wants and needs. Moreover once you know how much you want to spend and what type of neighbourhood, the apartment search can become much easier!
Barcelona is certainly one of the most vibrant and lively cities in all of Europe. With the buzzing city sitting right next to the beautiful sandy beaches, it is unique and unlike anywhere else. It is divided up into small areas that belong to larger districts which all have a completely different feel to them. From the architecture, to the restaurants to the people living there, each is completely unique. Which of these sounds like the place for you?
Most popular neighbourhoods
We have complied a list of the most popular areas for your stay in Barcelona. However, these are our favourite areas in the city and they come highly recommended!
The surroundings in many of these historical areas of the city are so different from many other European cities. Indeed, walking on the narrow streets could further make you feel like stepping into a movie scene. Barcelona is also a place where a lot of films have been produced. For example, Woody Allen filmed his movie Vicky Cristina Barcelona in the city. If you have seen the movie you will subsequently recognize many of the settings just walking down a street in the historical quarters.
City Center
Barcelona is a city that further differs widely depending on where you are. Each and every one of the areas in the city has it's own charm. We can provide you with different apartments in different districts to stay in Barcelona. First, that is usually referred to as the very center of the city is Plaza Catalunya. Further, just a walk down from Plaza Catalunya you will be on the famous La Rambla. This is a shopping street full of stores, boutiques, bars, restaurants, hotels, and even some night clubs. It is therefore a street where there are plenty of tourists. Furthermore, you should always be careful because pickpockets are common.
Ciutat Vella
It is the oldest and most visited neighbourhood in the city, its name meaning 'Old City'. The Old City, located in the city center is the oldest part of Barcelona, and the most touristy. Within this area there is El Born, Barri Gotic, and El Raval. Even though these areas give the old city feel, they are also the most touristy, and therefore high in crimes. Above all, there are many quaint restaurants, bars, and boutiques throughout the small winding roads, with Las Ramblas running through the middle of the area. This is a popular area for students and younger adults, due to the fact that it has a lot of nightlife.
El Born is the most stylish neighbourhood, and still maintains a neighbourhood feel.  The Barri Gotic, with old cobbled streets, is a bit more pricey than the other neighbourhoods; but will make you feel as if you are living in the medieval times. El Raval is a very multicultural and diverse neighbourhood, with some parts being very artsy, and edgy while other parts can be shady.
L'Eixample
Barcelona's Eixample comprises streets that create a perfect city grid and are filled with every kind of storefront; moreover is an area divided into L'Esquerra (left) and La Dreta (the right). This part of town is certainly reasonably priced, safer, and has architecture done by Antoni Gaudí and Lluis Domench i Montaner. There are many restaurants, shops, local grocers, and a great place for families and professionals to live.
Eixample is divided vertically by Passeig de Gràcia, Barcelona's avenue of high-end designer boutiques. Public Transportation: Metro lines L3, L4, L5; and the FGC trains run through Eixample. Above all about half the city buses pass through this neighbourhood, and all night buses originate from Plaza Catalunya.
Gràcia
Gràcia has a great night life of bars, as well as some amazing restaurants and cafes. The rent in this part of town is more affordable than the other areas. In the same vein, when choosing where to live in Barcelona, there are many different options. No matter where you end up staying in Barcelona it will be a great experience, and no place is an "awful" place to stay, after all you are in Barcelona.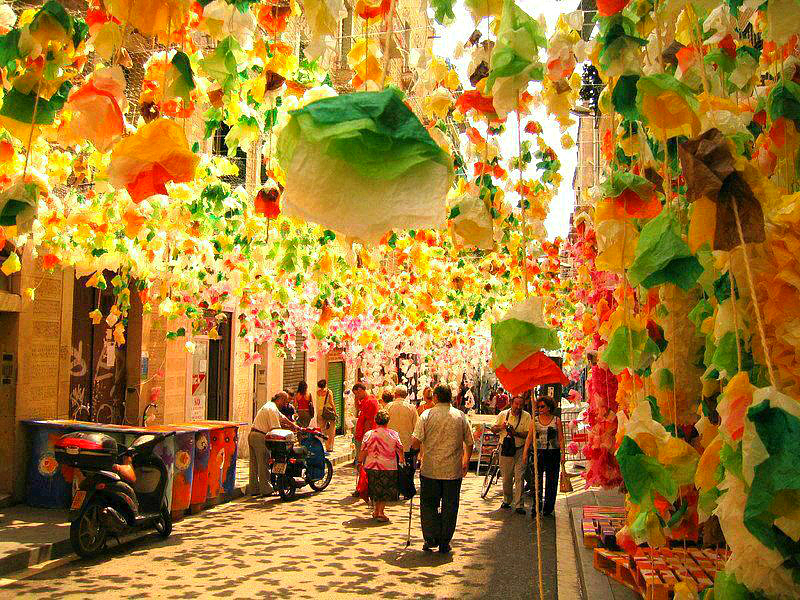 The area has a diverse mix of people from the older generations to the more bohemian youth; all fitting nicely into a neighbourhood that charms and confuses with its narrow alleys and numerous plaças. Relatively untouched by tourism, Gràcia certainly retains a local charm that has been sapped from some of Barcelona's more popular regions. If you're in town in August, be sure to check out the Fiesta Major de Gràcia; a week-long party that further draws in visitors from all corners of the city.
Horta-Guinardó
Horta-Guinardó has several farmhouses and fortresses from the Middle Ages; as well as aristocratic estates dating back to the 19th century when the base of the Collserola mountains was a popular place for wealthy country homes. In contrast, the neighbouring Vall d'Hebron exists as one of four main Olympic venues in 1992; serving subsequently as the centre for the cycling, tennis, and archery competitions.
In general, however, this is an area scarce of tourists and home to dozens of apartment buildings; leaving it with a nondescript atmosphere perfect for suburbanites but possibly lacking the adventure sought by travellers. Public Transportation: M: Horta, Vall d'Hebron, Mundet, and Montbau.
Les Corts
Les Corts is further known for its bakeries and small cafés with terraces where one can soak up the sunlight during the warmer months of the year. It also boasts many upmarket shops, both boutique and designer. The district is a fusion of contemporary and the classic 19th-century style that is prevalent in other parts of the city. It is also the home of Barcelona's famous football stadium, Camp Nou; which is always an exciting place to visit. All in all, Les Corts is well worth a visit.
Nou Barris
This zone is populated primarily by Spanish people, which gives the neighbourhood a sense of locality. Many universities are situated in and around this area, as well as many parks, for those who like nature. Moreover, such parks include: Parc Turó de la Peira, Parc Esportiu de Can Dragó and the amazing Parc Central de Nou Barris with its characteristic central pond. It is safe to say that Nou Barris is definitely one of Barcelona's greenest areas.
Sant Martí
The Sant Martí district is in the eastern part of the city. However, It's the second-biggest neighbourhood of the city in both size and population and is where most beaches of Barcelona are situated since a large stretch of the neighbourhood is the coastline. It is a classy neighbourhood with many commercial areas, parks and entertainment outlets. Looking at its history, this wide territory developed towards the north during the 10th century, thanks to the Condal Channel that transported water from Montcada to Barcelona.
However, the southern territories were unhealthy to live in and quite dry, but from the 17th century this changed due to industrialization and this area became one of the most important zones of Spain. Most importanly, nowadays, it's one of the most lively neighbourhoods in Barcelona; with lots of commercial areas, a fact that helps the economic growth of the city.
Sant Andreu
Sant Andreu is a peaceful neighbourhood situated in the further North-East of Barcelona. It is an area less well known to tourists, however, there is much to like about this quaint neighbourhood. The streets and plazas are filled with history and there are many restaurants in the area housing some of the best tapas in Barcelona at more than reasonable prices. If you want to experience a more authentic Catalan town, this is the place to come.
Sants-Monjüic
Barcelona has given Montjuïc a new identity; moreover transforming it from a historic military stronghold into a vast park by day and playground by night. It is a veritable hub of activity that positively brims with energy and life, boasting a very healthy stock of art museums, theatres, restaurants, bars, cafes and clubs. As Montjüic was subsequently the central site of the 1992 Olympics, it is, therefore, home to many large sporting facilities that cater to numerous activities such as swimming, running, walking and bike trails, climbing and tennis.
It's very safe to walk in at night. Why not have a drink in a bar, eat some tapas and marvel at the illuminated fountains leading up the face of Montjüic toward the Museu National d' Art Catalunya. Here, on weekend nights, a fabulous show of water, lights, and music takes place at the Grand Magic Fountain of Montjüic. This is one of the oldest parts of Barcelona.
Sarrià-Sant Gervasi
The district Santalo/San Gervasi is a friendly, upper-class area made up of quiet, relaxed streets and squares. Where the streets of Santaló and María Cubí intersect, you will find the highest concentration of fashionable spots in all of Barcelona. The people visiting this district are young and stylish. Moreover there are many bars and discotheques where you will find good music, good drinks, and lots of fun. At plaça Francesc Maciá you will meet the cream of the crop of Barcelona's nightlife. San Gervasi is also one of the nicest and safest districts to live in Barcelona.
The Collserola mountains hovered between wilderness and civilisation for centuries. Remains from the Neolithic and Bronze Ages found in the park suggest it was home to many long before the Romans set up shop in the area. For most of the last 1000 years, the area has been home to agricultural inhabitants who built the area's historic chapels and Masias (traditional Catalan farmhouses).
Tibidabo
Tibidabo, the highest peak (512m), hosts a century-old amusement park and the popular Sagrat Cor church; while the hilltop town of Vallvidrera and the communications tower Torre de Collserola occupy a slightly lower peak nearby. The man responsible for the development of Tibidabo and surrounding slopes was Dr. Salvador Andreu; who, in 1899, founded the Tibidabo Society and invested heavily in the land, installing transportation and building hotels, the amusement park, and an extravagant casino, now in ruins. Soon after, the Barcelona bourgeoisie rushed to outdo one another in country-home construction; and the hillsides are now dotted with outstanding examples of early 20th-century Modernist and Noucentist (a return to classical forms) architecture. Many of these former homes now house offices and schools.
Barcelona's urban beaches
Barcelona really has it all when it comes to enjoying a city to it's fullest. When summer is knocking on the door, the spot to be is at the Barceloneta. This is the area where people spend their lazy summer days laying on the beach; or chilling at a nearby chiringuito (lounge bar). The further you walk, the more beaches you will find. Some are more quiet and have fewer tourists; and others with relaxing lounge bars that play great music for those enjoying the sun. After the sun has set you might want to go out dancing and will find many clubs for every taste next to the beach.
Are you planning a trip to Barcelona and looking for somewhere to stay? Why not take a look at the AVAILABLE APARTMENT RENTALS ON OUR WEBSITE! Please feel free to contact us with any questions you may have.