Sant Martí, Barcelona
The area of Sant Martí Barcelona is split up into 10 smaller neighbourhoods with each one as diverse as the next. However, they all share a common industrial past and now after new renovations, a prosperous future.
The area was previously known as the Catalan Manchester due to its heavy industry. It has recently, however, undergone a huge makeover. In many ways the 1992 Olympic Games were the catalyst for change in this area. In 2001 there
was a plan developed by the city council to transform the area into the 21st century. It aimed at attracting technological and innovative industries. Today Sant Martí Barcelona is certainly once again a thriving area and a hive of activity.
Find your accommodation now!
Highlights of Sant Martí
SANT MARTÍ is a mostly residential area filled with building blocks, on the outskirts of Barcelona. The biggest sights in this district are the massive malls Sant Martí has. These include the huge shopping complex of DIAGONAL MAR and Les Glòries. It has the best APARTMENTS IN BARCELONA for those who would like to live like "real" locals.
Moreover the population here is mostly working class, small families, young people and elderly. There is a great mix of Catalans and foreigners, from both Spain and the rest of the world. Sant Martí is more mixed than other outlying areas, but this gives the area a nice atmosphere.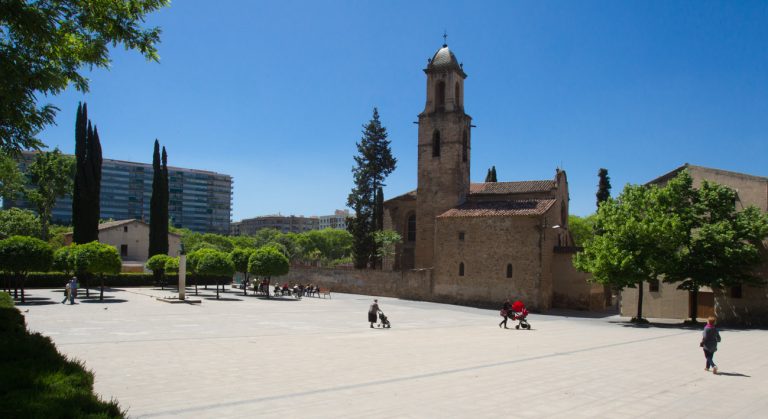 Source: www.barcelona.cat/es
This area is one of the hotspots of the city by the North East. Until 1716, Sant Martí de Provençals was a suffragan parish of SANTA MARIA DEL MAR. In 1897, it was attached to the city of Barcelona as the neighbourhoods of GRÀCIA, SANT ANDREU, SANTS, LES CORTS and SANT GERVASI. Tourists do not usually get lost in these streets. The area is mostly residential with very high grey buildings and a dense population.
Despite there being few parks and squares, Sant Martí has a large number of outdoor sporting areas, great streets for running, and gyms, making this a very popular area for ACTIVE PEOPLE.
Sightseeing in Sant Martí
The biggest sight to find in Sant Martí is the characteristic TORRE AGBAR, a colourful 38-story office tower that opened in 2005. It also marks the gateway to the new technological district of Barcelona: the area called "@22". If you want to go to Barcelona for sightseeing, base yourself in Sant Martí and use the fantastic PUBLIC TRANSPORTATION systems to get into the city center where the tourist attractions are densely located. The fantastic Metro lines in Barcelona ensure that you can reach most areas in less than 15 minutes.
Likewise a landmark worth visiting is the picturesque church of Sant Martí located in the beautiful Parc de Sant Martí of the Verneda. Finally, La Rambla Prim is a tourist area that has a beautiful pedestrian street filled with trees and benches used by the locals as they walk or play sports.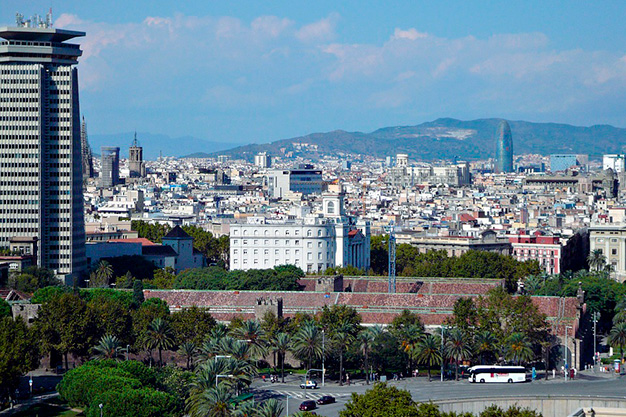 Source: www.blog.classbedroom.com
Eating out in Sant Martí
Sant Martí neighbourhood doesn't offer many culinary experiences. However, it has a lot of fast food restaurants, small ethnic restaurants, and bars. Where you can enjoy some TAPAS and bocadillos. If you want some really great food you should head to other areas of Barcelona more famous for their restaurants. However, let us recommend a few places:
# 1 Sant Martí Restaurant
First, you should go to Sant Martí Restaurant is quite small and TRADITIONAL LOCAL RESTAURANT. Its specialty is the dishes that are composed of the typical ingredients of the country. Serving creative tapas and Mediterranean recipes with the urban local care!
Ver esta publicación en Instagram
Address: Carrer del Pont del Treball Digne, 11, 08020 Barcelona
Opening hours: Monday, Wednesday and Sunday from 13:00-15:45 & Thrusday to Saturday from 13:00-15:45/19:30-21:30
# 2 The Ramblero
The other place we recommend is the Ramblero, a tapas bar (bravas, croquetas, salpicón, etc.) that offers traditional cuisine with a touch of modernity. Large windows and murals further decorate this gourmet tapas bar. Try their best dishes, for instance their lamb stuffed with spinach.
Address: Carrer del Pont del Treball Digne, 13, 08020 Barcelona
Opening hours: Tuesday to Saturday from 09:00-23:00 & Sunday from 09:00-17:00
Shopping in Sant Martí
In Sant Martí there are plenty of shopping options. The district hosts, not just one, but two huge malls, the DIAGONAL MAR and the Glòries shopping malls. Both of this shopping center are close to AVINGUDA DIAGONAL. Sant Martí is ideal for shopping!
Glòries
The GLÒRIES SHOPPING CENTER has more than 166 stores spread over 3 different floors and a car park with a capacity of 3,000 vehicles, a cinema and various restaurants and bars. In 2001, the center has been renovated to offer more comfort to its customers.
Address: Avinguda Diagonal, 208, 08018 Barcelona
Opening hours: Every day from 09:30-22:00
Diagonal Mar
The DIAGONAL MAR is a beautiful shopping center in the Sant Martí district that has a cinema in a three-story shopping center with a terrace with restaurants and parking.
Address: Avinguda Diagonal, 3, 08019 Barcelona
Opening hours: Every day from 09:30-22:00
Drinking & clubbing
Sant Martí has the traditional bars and cerveserias which you see all over Barcelona and Spain. But, it lacks a bit in cocktail bars. If a relaxing drink is what you want, then Sant Martí has plenty for you. If you are looking for some live music and a bit more energy, then use Sant Martí as your base and head-on into the inner city. Both of this places are great spots to visit in this district and if you love diversified NIGHTS OUT, those are probably the best option!
# 1 L'Ovella Negra
The rustic tavern "L'Ovella Negra", probably the biggest bar in the city. Serving tapas and beers in an old industrial warehouse of exposed brick and stone; it further counts with table football and other games!
Address: Carrer de Zamora, 78, 08018 Barcelona
Opening hours: Monday to Saturday from 17:00-01:00
# 2 Razzmatazz
"Razzmatazz", with its 5 floors making it the biggest club of Barcelona. It is a nightclub and concert hall in Barcelona whose name alludes to a song by the British band Pulp. Nontheless, this place is temporarily closed due to COVID-19.
Address: Carrer dels Almogàvers, 122, 08018 Barcelona
Opening hours: Temporarily closed due to COVID-19
How to get there
From the metro stations of line 2, "Roda ferry" and "St. Martí » you will arrive at PASSEIG DE GRÀCIA in 15 minutes
The yellow line with the following stops: "El Maresme / Fòrum" and "La Pau"
The tram network is very convenient to move in this wone red tranvías (lines T4, T5, and T6)
Are you planning a trip to Barcelona and looking for somewhere to stay? Why not take a further look at the available apartment rentals on our website! Please above all feel free to contact us with any questions you may have.