Esquerra de L'Eixample, Barcelona
Esquerra de l'Eixample as a whole stretches right across the city centre and is a very popular neighborhood among both locals and visitors alike. L'Eixample, which means "the extension" in Catalan, is the upper part of Barcelona city center; and very different from the lower part, Ciutat Vella. Moreover Eixample is a perfect grid of lofty boulevards and building blocks of the exact same size. Many of the buildings in this area are designed in the famous Catalan Modernist style; but the neighborhood also has the highest concentration of Modernist buildings in the world. Considered one of the safest areas in Barcelona, L'Eixample contains a variety of fantastic restaurants, cafés, bars and nightclubs.
Find your accommodation now!
L'Antiga Esquerra de l'Eixample
The Avinguda de Roma highlights two sections of the left side of Barcelona's Eixample. On the south, we find the oldest part of the district, which was built at the end of the 19th century; around the same time as the neo-Romanesque building currently housing Barcelona University in Plaça de la Universitat. The Old Left Eixample district, L'Antiga Esquerra de l'Eixample, is characterized by its dynamic lifestyle full of commercial and leisure activities. It is also regarded as Barcelona's most LGBTQI-friendly neighborhood, which explains all of the #Gaiexample tags on Instagram.
In the same vein, nearby you will find Mercat de Ninot; which takes its name from an old inn illustrated by the carvings of a small child (the ninot) on the exterior. You can still view the carving now above the market's entrance. As you walk through this neighborhood, you will be surprised by the bustle and activity of the shopping streets; especially the ones around the busy Mercat de Sant Antoni.
La Nova Esquerra de l'Eixample
Several of the city's best facilities; such as the city Hospital, the fire station, and university are in between the old and new Esquerra de L'Eixample neighborhoods. This is because originally the old left and the new left were one single neighborhood; and had a strong neighborhood association. Due to the size and density of population, however, L'Eixample Esquerra was eventually divided into L' Antiga Esquerra de l'Eixample and La Nova Esquerra de l'Eixample.
El Parc de Joan Miró, one of the largest and nicest parks of Barcelona, is in La Nova Esquerra de l'Eixample. Besides enjoying the relaxing, local and cozy environment, you will also witness Miró's renowned 22-metre high sculpture Dona i Ocell (Woman and Bird) here. Once you come to this area, the red amphitheater will definitely catch your eye. This famous building is the Arenas de Barcelona, which was once an old bullfighting arena and has since then been converted into a shopping mall.
Where to eat in Esquerra de l'Eixample
Esquerra de l'Eixample is a very international influenced neighborhood, which means that you will be able to find all kinds of exotic cuisines here. In the same vein, here's our picks for the best food places that you must visit in the area:
# 1 Topik
With over 14 years of experience as an apprentice in different restaurants in Spain, Italy and Japan, Chef Adelf Morales brought all of his culinary knowledge together and opened topik, a Mediterranean restaurant influenced by Japanese fusion. Here you will have the chance to taste some of the city's freshest seafood and the chef's special Japanese style vinegar sauce.
Address: Carrer de València, 199, 08011 Barcelona
Opening hours: Tuesday and Wednesday from 13:00-15:30; Thursday to Saturday from 13:00-15:30 & 20:00-23:00
# 2 El Mexicano de Barcelona
If you are a fan of Mexican food, you're in luck! Barcelona is a city with tons of great Mexican restaurants. El mexicano de Barcelona is a very authentic option. Their specialty dishes include the "chile en nogada" and "nachos con guacamole." Don't miss them when you visit!
Address: Carrer de Villarroel, 233, 08036 Barcelona
Opening hours: Tuesday and Wednesday from 20:00-23:00; Thursday to Saturday from 13:00-16:30 & 20:00-23:00
# 3 Restaurant Transilvania
Never tried Romanian food before? Then how about visiting Restaurant Transilvania for dinner? It´s always fun to try out a new cuisine. This restaurant blends classic Romania dishes with Catalan style. The exquisite Romanian decorations and waiter´s uniform in this restaurant will catch your eyes as well.
Address: Carrer de Provença, 99, 08029 Barcelona
Opening hours: Monday to Friday (except Tuesday) from 13:00-17:00 & 20:00-23:00; Weekends from 13:00-23:00
# 4 El Llagar de Granda
Another restaurant that consistently gets great reviews from locals is Asturian eatery El Llagar de Granda in the Muntaner street. Try the "Paté de El Lagar de Grandacabracho" and the "Croquetas de Cabrales," both highly recommended.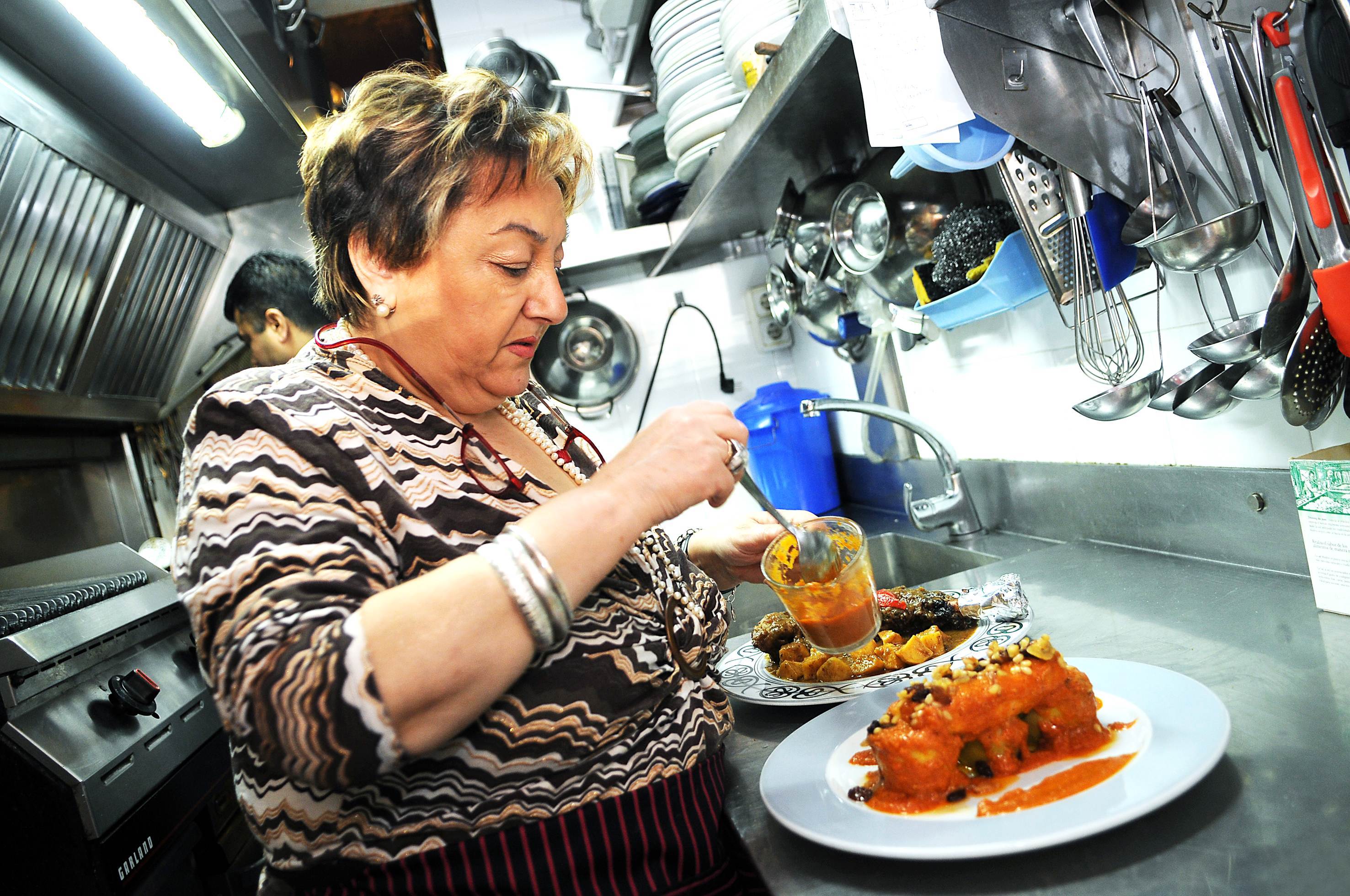 Source: www.timeout.es
Address: Carrer de Muntaner, 92, 08011 Barcelona
Opening hours: Every day 24-hours
How to get there
One of the main reasons that this is such a popular neighborhood to live in is that it tends to be quiet at night but comes alive during the daytime. Many locals live here and with them came many supermarkets, cinemas, newspaper stands and pharmacies. The area is well-served by Barcelona's very efficient public transport system; with several buses running to and from La Ramblas and the beach, as well as several metro lines and handy train stations.
Metro: L4, L2, L5
Train: Passeig de Gracia has rail connections to Girona and Figueres. FGC's Provença
Where to stay in Esquerra de L'Eixample
L'Eixample Esquerra is also a great place to stay during a visit to Barcelona, as it has many tourist sights and because you can easily reach the centre within minutes. If you would like to stay in this area, we recommend that you check out our comfortable Eixample accommodations on offer at Barcelona-Home.