You're coming to the city and you want to find out the most instagrammable restaurants in Barcelona? We've got you covered! Every year thousands of tourists come to visit the city, and everyone comes back home with the same photos, so here are some tips to take original shots while eating very good food.
The Barcelona Home team accepted to reveal the best places to have a great view, eat delicious catalan or south American food, while enjoying a very nice setting. Enjoy these secret places and don't forget to bring your camera!
Martinez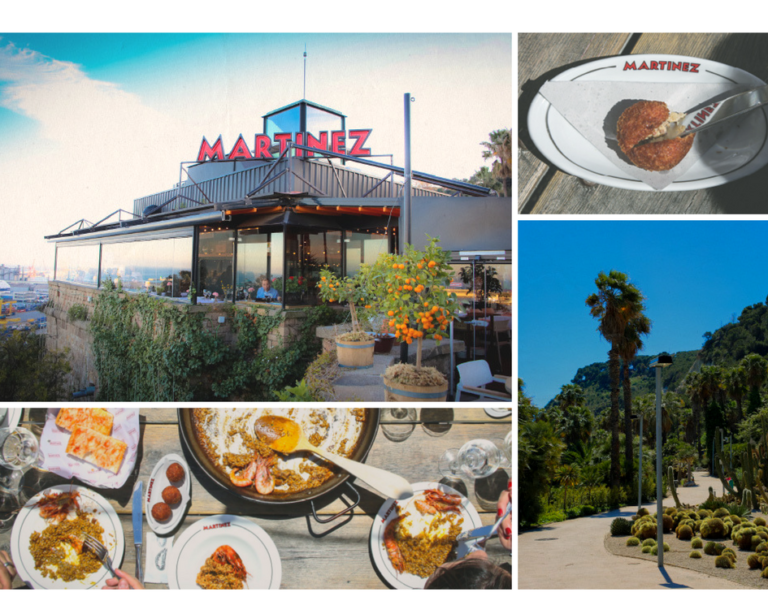 Martinez is a gastronomic oriented restaurant situated in Montjuic.  The restaurant is specialised in Paella, grilled  meat and sea oriented food. You will have an incredible view over Barcelona as the restaurant is located directly on the hillside! Very quiet location, you can fully enjoy the traditional Spanish cuisine, and if you're coming to have chill, time DJ Pranko is playing every Friday afternoon from 3pm to 7pm.
Opening hours: 1pm until 1.30am everyday
Address: Carretera de Miramar, 38 – 08038 Barcelona
How to get there: by car, teleferic or metro (line 2 and 3)
Price: €€€
Flax & Kale
Flax & Kale is a coffee and restaurant based on healthy food. 80% is plant-based and the remaining 20% are recipes that contain oily fish.  All the recipes are elaborated to have a healthy and high nutritional value. We recommend the brunch: eggs Benedict, avocado on toast and granola. Two restaurants have just opened in central Barcelona, and you can find a 3rd one inside the H&M shop in Passeig de Gracia (specialized in juices and coffees).
Opening hours: 9am until 11pm – 10am until 10pm for Passeig de Gracia.
Address: Carrer dels Tallers 74b / Passatge de les manufactures-Sant Pere Més Alt 31-33 (Main entrance)- Trafalgar 26 (North entrance) / Passeig de Gracia 11
Price: €€

With an atmosphere which reminds of Paris in the 1920s, Chéri is a french bistreau with Mediterranean influences.  Although the name sounds french, you will find some of the best traditional catalan cuisine elaborated with high quality products. Its terrace offers one of the quietest place in Eixample district so it's not a surprise that Barcelona socialites have their headquarters there.
Opening hours of Chéri: 8.30am until 1am everyday
Address : Carrer d'Enric Granados 122
Price: €€€
Humour, positive vibes, colours, and south american music defines this tropical restaurant called Bananas. Expect an international caribbean cuisine with an oriental side. Chicken curry, prawns, crabs, burritos..made with fresh ingredients will keep your hunger away.
Opening hours of Bananas: 12pm until 2am
Address: Carrer de la fusina 7
Price: €
La Boqueria is the most famous market of Barcelona. A must-see. There you can buy fresh fruits, smoothies, fish, eat prawns and fresh oyster, and try the spanish cured ham.That's why from 1872 Catalans and people coming from all over the world are doing their groceries at his highly coloured market.
Opening hours: 8.30am until 8.30pm – closed on sundays
Address: La Rambla 91
Price: €

Chök is a bakery based on chocolate, where you will experience new forms of chocolate combinations: kronuts, cookies, crisps with chocolate, truffles… The best seller is chök; a donut made with a healthy recipe (less sugar, less fat, and reduced fried time), declined in 30 varieties.
Opening hours of Chök: 9am until 9pm
Address: carrer del Carme 3 / carrer dels Ramelleres 26 / carrer dels Astúries 93 – C.C. Glories, Av. Diagonal, 208
Price: €

Palo Alto is an event happening every month mixing food, live music, exhibitions, and street market. You can even participate to some workshops! It is oppened to everyone. Don't forget to bring your camera, the site is very pretty!
Opening hours of Palo Alto: 11am until 11pm – happening on the first weekend of every month
Address: Carrer dels Pellaires 30
Price: €
If you would like to go and try out these restaurants, but still have no place to stay, visit our website to find your dream apartment in Barcelona!