Stay in Barcelona for a couple of months, without giving up the comfort of riding a motorbike around the city!
Certainly, Barcelona is a city where there's a lot to see and a lot to do; however, with a limited amount of time during the day and the distances between districts, it gets pretty difficult to discover all the different section of the Catalonian capital. In a city like Barcelona many people come pushed by tourism purposes; and the scooter seems to be the perfect vehicle to move around its beautiful corners. Moreover there are also many people that have planned to stay longer: Erasmus students, interns, foreigners workers that will spend here a period from two months to one year; need to keep in mind the opportunity of a monthly scooter rental service that further allow a more confortable way to get around the city.
Find your accommodation now!
Most importanly, Renting motorbikes is a popular option with tourists who aim to visit as much of Barcelona as possible; and want to save time and energy from the constant travel. Firstly, Motorcycles are one of the most used methods of transports in Barcelona as they are much easier to drive around narrow roads and reduces the level of congestion in the city.
Aside from that, it is also a fun way to move around and explore the city and its surroundings; and you can choose  many different types of motor vehicles; from ciclomotors to megascooters. You can find a lot of low price motor rental around Barcelona; in districts such as Eixample, Plaça Catalunya, Poble Nou and many more; some, in fact, are a walking distance from some of our RENTAL APARTMENTS.
To help you chose the most economical, good-quality motor, we give you here the best monthly scooter rental places!
#1 Cooltra Rentals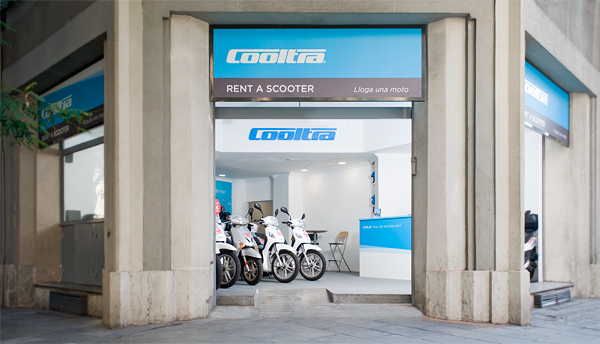 Cooltra is an international company with offices in Spain, France, Brazil, Italia and Portugal. Nevertheless Cooltra is a large scale company; it prides itself on providing a friendly and personalized service. Staff of Cooltra will be happy to share with you useful tips and advice on what see, eat or drink in Barcelona; and in other locations if requested, offering also spectacular routes for scooters in Barcelona. Riding a motorbike allows you the perfect tour for sightseeing in Barcelona; and is the coolest way to meet other people that share your passion to visit new places on wheels!
Cooltra has designed a product with which you can have a motorcycle; and use it as if it were your own vehicle, by hiring your scooter only for as long as you need it.
The Unique Monthly Fee of  €139 will ensure you all the services without clauses or contracts of permanece; including: an helmet, insurance with a relief of 500 € (750 € for an electrical one), roadside assistance, maintenance, IVA.
In order to conclude the rent, you should phone before to confirm the deal. Finally, remember to bring with you: the driving license, the Identity Document, an address, 150 € (300 € for an electric) of deposit.
Address: C. del Consell de Cent, 181, 08015 Barcelona
Telephone:+34 937 06 69 12
Email: info@cooltra.com // renting@cooltra.com
Opening hours: Monday to Friday from 09:00 to 14:00 & 16:00 to 19:00
If you want to stay near this monthly scooter rental, check our apartments in Barceloneta!
#2 Moto-rent.com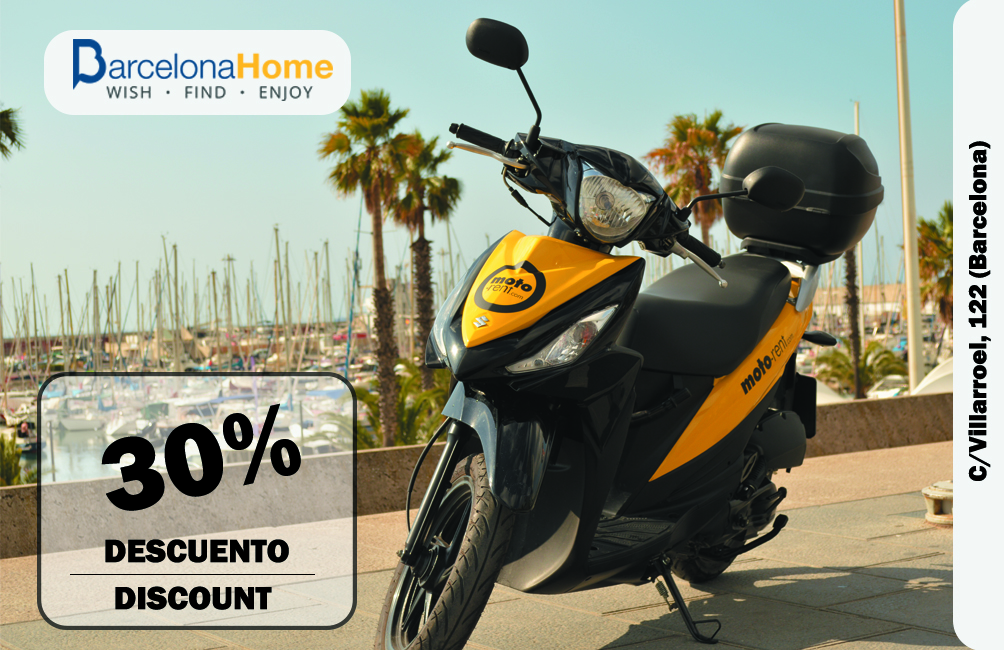 Moto-rent.com offers you a wide range of different motorcycle ready to use. With an upgraded and fully equipped motorbike at your side you'll only need to focus on one thing: having fun and enjoy their time! There's great news for Barcelona-Home customers! Moto-rent.com is offering 30% off for everyday you rent a motorbike with them! What's more is that, if you want to rent a scooter for 3 days you get 1 day free!
Address: Carrer de Roger de Llúria, 31, 08009 Barcelona
Email: hola@moto-rent.com
Telephone:+34 935 32 59 25
Opening hours: Every day from 10:00 to 19:00
#3 Rental Moto Barcelona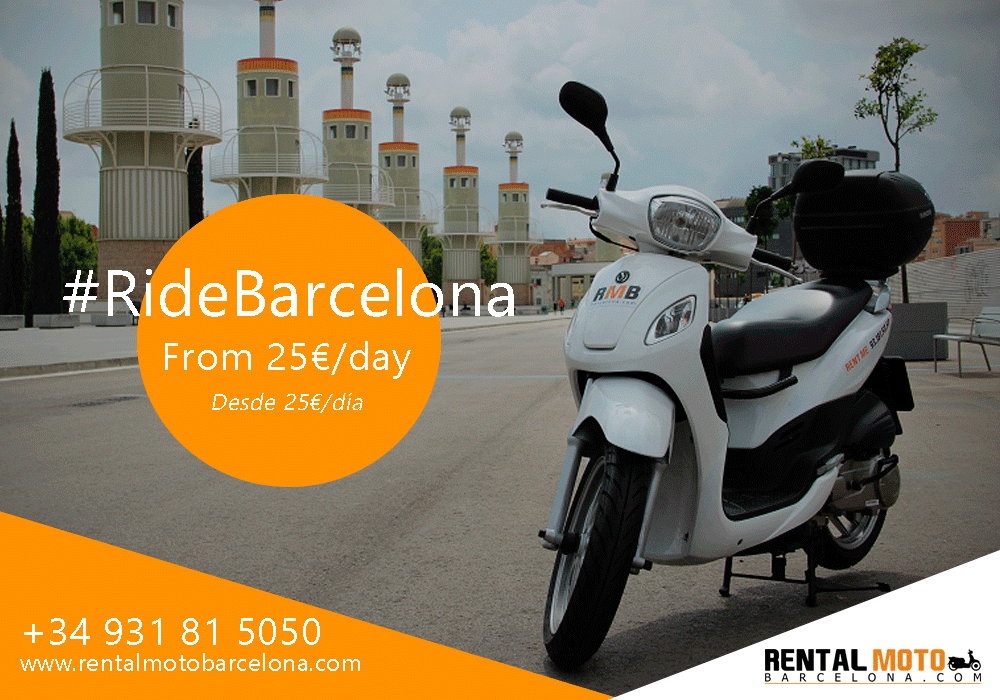 Rental Moto Barcelona is giving you the choice to pick from their large variety of high-quality scooters; all of different structures and colours. This is a great choice for touring around the city; and have a great time as well as not spending too much money on transport.
Address: Carrer del Rector Triadó, 98, 08014 Barcelona
Telephone: +34 931 815 050
Email: info@rentalmotobarcelona.com
Opening hours: Monday to Friday from 10:00 to 20:00 & Weekends from 10:00- 14:00
#4 Cafe Racer
Founded in 2018, it is one of the most active motorcycle and scooter rental companies in the Barcelona and Ibiza area. It now represents the first company in Europe to offer this type of service.
Specifically, in addition to offering rental services, they repair and transform motorcycles and if you pass through their store you can find a list of accessories to add to your rentals such as side cases, gloves, heated gloves, top cases, Cardo Pack Talk Bolt intercoms, safety jackets and pants.
If you are looking for the accommodation nearby, check our apartments in Plaza Espanya!
 If you want to stay nearby, check our apartments in Born!
---
 Find an accommodation in the city center, now you have a monthly scooter to move around stress-free!