Sports Activities in Barcelona
Barcelona, a city filled with the opportunity for many activities! If you enjoy an active lifestyle, then Barcelona the perfect place for you! You can find a variety of sports activities around the city, so why not do your favourite one? You can even find team sports if you are traveling with a group of friends. After a packed day of sports, Barcelona also offers a great selection of healthy food restaurants. Moreover, you can easily find a comfortable accommodation to have some rest. For more information read our itinerary with all sports activities you can do in Barcelona. Enjoy your active stay!
Things to do 
#1 Cycling
Barcelona is a perfect city for cycling. It features flat terrain, nice weather and some of Europe's most desirable sights. Renting a bike is ideal for experiencing the city ! It will give you an opportunity to efficiently navigate through the city without the hassle of public transport. If you're looking for something trusting and innovative go book your Barcelona bike tour with DONKEY REPUBLIC. This worldwide bike rental company offers a variety of bikes. This company provides many resources that will facilitate planning your cycling tour.
Cycling around the city can be a great way to experience Barcelona's beautiful coast or small local towns such as Poble-sec or El Poblenou. Riding within the city can lead you to visit some of Barcelonas hidden spots in EL BORN, which is a diverse neighbourhood with a local feel.
#2 Hiking
Costa Brava
Hiking is a wonderful way to discover the city. There is an abundance of hiking destinations in Barcelona, therefore, the possibilities do not stop there. There are many spots outside Barcelona that deliver great paths and views.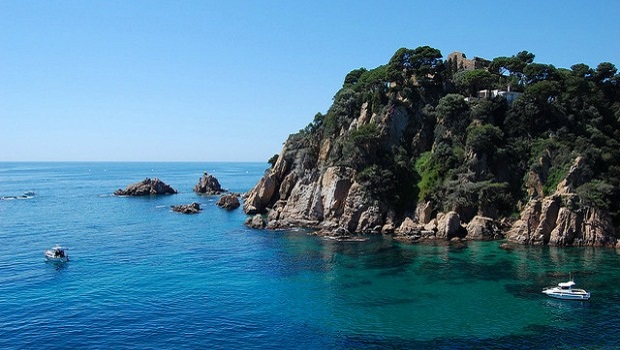 Hiking around this region provides a huge variety of hiking options for any kind of trip, from long and short-distance routes to local paths. You can choose different walks that vary in time from 1 hour up to 5 hours. The short 1-1,5 hour trip at El Camino de Ronda allows you to see all the small isolated coves along the coast. The route passes through luscious pines forests, beautiful villas and spectacular beaches, and it even sometimes goes underground. The 5-hour trip along the coast of Roses brings you hiking along the seaside, beginning at Almadrava and continuing to Montjoi creek. You will come across Falconera Peak, an underground path in the passages leading to the bunkers. You will have the opportunity to freshen up by swimming in the creeks or beaches along the way.
Parc Collserola

If you are more into the park-style hiking experience then you should check out PARC COLLSEROLA. Collserola is the largest metropolitan park in the world, taking up around  8,000 hectares of protected parkland. On your walk, you can see The monastery of Sant Jeroni de la Murtra, which was built  at the beginning of the fifteenth century using a Gothic-style architecture. Furthermore, close by you can see the Serra de Collserola, a mountain range that divides the Besòs and Llobregat river. Tibidabo viewpoint is a great place to end your hike, with views over the entire city of Barcelona.
Montserrat
Another option is HIKING IN MONTSERRAT, which is a multi peaked rocky range near Barcelona. The highest summit of Montserrat is called Saint Jerome, standing at 1,236 meters above sea-level. On your hike you can find The Virgin of Montserrat  located inside the Basilica. It is said that the statue of the Virgin Mary and her infant son have healing powers. Around that area, you could can find The Holy Cave of Montserrat, a three hundred year old hillside  chapel that was used to hide the Virgin of Monsterrat during the Moorish invasions.

#3 Watersports
If you want to enjoy Barcelona's Mediterranean coastline, you should do it with PADDLE SURF AND KAYAK EXCURSIONS, which are water-based activities you can take part in while you enjoy the Olympic Marina's view. Try Paddle Surfing, and allow yourself to be transported by the waves while doing this extremely relaxing and enjoyable activity. If you prefer the safety of the vessel, you can go KAYAKING IN THE SEA. This is one of the best ways to get close to nature. The kayak glides along gently, allowing you to enjoy the scenery at a leisurely pace and in complete safety.
If you can't get enough with water activities, ILLA FANTASIA WATERPARK is a great opportunity. It is a family-friendly water park just outside of the city! There are 3 huge pools, and 22 water attractions including slides, a kid's area and picnic grounds. If you want to discover Barcelona from underwater, SCUBA DIVING is the way to do it. During your diving experience, you will enjoy the sound of total silence, accompanied by the sound of your breathing. The ocean is full of beautiful: corals, starfish and many more. See you at the bottom!
#4 Adrenaline Rush
If you are all about the adrenaline, don't hesitate, there are lots of options to satisfy that! For a start, there is BOSC URBÀ: THE CITY'S FIRST ADVENTURE PARK. With over 50 attractions,  you're guaranteed to have an eventful day through sports activities and thrill: bungee jumping, zip wires, creepers, suspension bridges, 6 meters high platforms and much more.
If you like heights and great views, PARASAILING IN THE PORT OLÍMPIC would be a wonderful experience! You'll fly towards the Barceloneta, where you'll enjoy a bird's-eye view of the city. If you're lucky you can even take a dip in the sea.
#5 Others
Barcelona is one of the first major European city with its own Olympic museum called the MUSEU OLÍMPIC I DE L'ESPORT. The museum is located on Montjuïc hill, offering a unique experience of the Olympic movement and of the sports lifestyle that became part of the city after the 1992 Barcelona's Olympic. Go visit the museum and get wiser on the sports!
All over Barcelona, you will be able to find many GYMS with simple enrolment to maintain physical activity throughout your trip. If you prefer outdoor exercise you could go for a jog at one of the BEAUTIFUL PARKS, or take your friends for a friendly match of tennis or golf. If you are someone that enjoys dancing you can learn to dance salsa for free in some of the bars and dance groups that meet in parks. The choice is yours!

Where to eat
#1 Teresa Carles
Neat Plaza de Catalunya, you can find Teresa Carles, a popular restaurant that provides many vegetarian options. The place offers an open kitchen from 12pm to 12am, making it the most popular vegetarian restaurant in Barcelona. You can design your own salad, or choose between some healthy tapas, pasta dishes or specialties.
Opening hours: Monday – Friday 12:00-17:00 & 19:00-23:00
Address: Carrer de Jovellanos 2, 08001, Barcelona
#2 FitBar – Açai bowls and Healthy food
One of our all-time favourite healthy restaurants in the city is FitBar. They have the most refreshing Açai bowls with so many toppings to choose from! If you're down in Barceloneta, FitBar is the perfect post-paddle boarding meal.
Opening hours: Everyday 10:00-20:00
Address: Carrer de Sant Miquel 41, 08003, Barcelona

For more information about healthy food restaurants take a look at our HEALTHY FOOD RESTAURANTS IN BARCELONA!