We all know the Arc de Triomf, Las Ramblas and Parc Güell, but sometimes the best places are the ones that no one really knows about, and there are so many hidden gems in the city that are very secret. Speakeasy bars became popular in the US during the Prohibition era. In that time, it was illegal to sell alcoholic beverages, which resulted in people getting creative and establishing hidden bars. There are still a lot of hidden bars scattered through the city, in this article we will dive into the top 5 hidden bars in Barcelona.. make sure to keep it on the down low!
El Paradiso / Pastrami Bar
This pastrami bar located in the trendy Born district looks like a casual lunch café in which you can enjoy some tasty pastrami sandwiches, but it is way more than that.. Finding El Paradiso is an adventure in itself, because you have to go through the FRIDGE door from the café. Once you step through the fridge, you will be greeted with a super chic bar that has a wide range of cocktails. Cocktails are served in the most extravagant way, such as jars of smoke or treasure chests. We guarantee that your mind will be blown after your visit.


Address: Carrer de Rera Palau, 4, 08003 Barcelona
Opening hours: everyday from 7PM – 2:30AM (3AM on Friday and Saturday)
El Armario
This secret bar, located in the Raval area, definitely belongs to one of the most interesting and puzzling bars to find. There are no photos to be found online, there is no website nor a Facebook page and you have to be lucky if you get a chance to go in, because the owners don't have regular opening hours and just open up for the public if they feel like it. You enter the bar through a hole in the wall of the owner's wardrobe, only to find a small magical bar with good priced drinks. It's is a real challenge to see if you are allowed in, but if you are one of the lucky ones that gets to experience El Armario, you won't regret it for a single thing.
Address: Carrer de la Riereta, 11, 08001 Barcelona
Opening hours: Unknown
Papillon
This is probably one of Barcelona's most kept secrets when it comes to bars, even with the address the bar will still be a challenge to find, probably because the entrance looks very uncommon. It's located in a small dark street in el Raval and we recommend that you go to Papillon after 3 AM, maybe even 4 AM, if you come earlier there is a big chance you will stand in front of a closed door. It's one of those bars you go to if you're not done partying yet. If you have a hard time finding it, just look for a big metal door with graffiti, that's the one.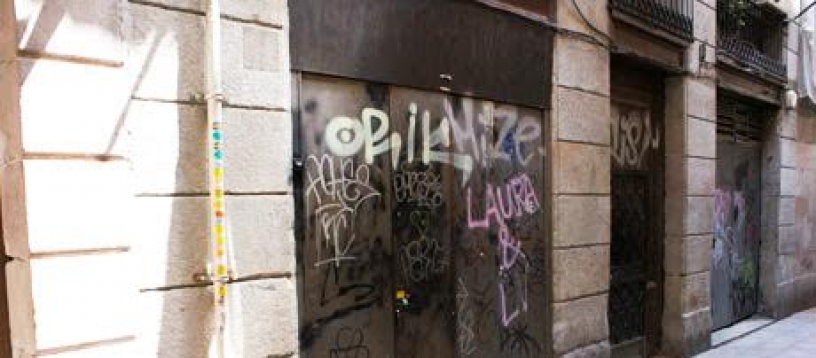 Address: Carrer de la Neu de Sant Cugat, 08003 Barcelona
Opening hours: Who knows?
Pipa Club
Pipa Club is one of Barcelona's best established private clubs. As you could maybe guess from the name, it is a private smokers club, but you don't have to be an official member to enter. The bar is found in the heart of city on the 3rd floor of a normal apartment building. Inside you will find an elegant flat with a relaxed vibe, a bar and even a pool. Live jazz shows are hosted regularly and it is the perfect bar if you want to impress your friends. Just ring the doorbell downstairs and the owners will buzz you up to this chic bar.
Address: Plaça Reial, 3, 08002 Barcelona
Opening hours: everyday from 9PM – 3AM
Mutis
Mutis is nothing compared to all the bars that you have just read about, this is the real deal, the highest of the highest in the world of secret and hidden bars in Barcelona. To gain access into the bar, you need to be invited by someone who is a ''member'' of this ultra private and exclusive club. There are no exceptions, there was even a rumor that Shakira was not allowed in the bar because she was not invited. If you do actually manage to get your name on the list, don't pass out on it, because who knows if it will ever happen again?
Address: Carrer de Pau Claris, 192, 08037 Barcelona
Are you looking for a great accommodation in Barcelona? Look no further, we have what's right for you!