"Goooooool!" This is maybe one of the most important words related to Spanish culture. Football is easily Spain's most important sport and the Spanish people the most dedicated fans. With two of the most successful teams in European football sport, it is no wonder that this sport can almost be considered as a religion for the locals. Spanish people love to spend their time talking and speculating about football and people of all different ages gather together to play this national sport in the hundreds and thousands of football fields. If you are a true football fan, or just interested to experience the Spanish football culture on the spot, Barcelona is the place to be.
The Catalan capital is famous for being home to Barça – one of the most popular and most successful football teams of all time. It is no surprise that most of the locals are completely mad when it comes to this sport. The city has a rich football culture and lot of activities around it. When it's time for a match, all of the city's bars are filled with enthusiastic locals as well as visitors from all around the world to root for their teams. After an important victory, like the World Cup final, the atmosphere is exceptional. the streets of Barcelona fill up with celebrating and cheerful fans. Even if you are not particularly a big football devotee, this festive vibe will surely get you into the mood!
Things to do
FC Barcelona Museum

In the Camp Nou stadium, there is a museum where the fans can get to know the history of Barça in the forms of different wall displays and interactive tables as well as admire all the trophies that the team has won over the years. In addition, there are different tours available which include the entrance to the museum and guided visits around the stadium.
Where?
Camp Nou, C. d'Aristides Maillol, 12, 08028 Barcelona
Football Meetups
As there are so many football enthusiasts in Barcelona, there are also various football related meetups whether it was meeting up to play, to watch a game together, to discuss about upcoming matches or basically anything related to this sport. You can find many different groups with different themes for example here.
If you already have a group of friends and you are eager to set up a football match, there are various public football grounds in the city free to use!
Here are some free pitches you can check out:
Parc de la Ciutadella pitch
Parc de la Maternitat pitch
Parc del Clot pitch
Parc de la Trinitat pitch
FC Barcelona Official Stores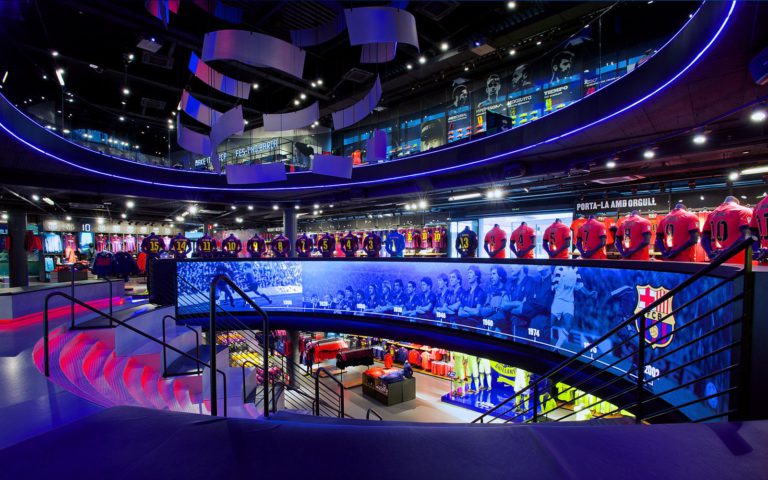 There are a few official FC Barcelona stores around the city where the fans can choose from over 3000 products ranging from literature, clothing, footwear and much more. The most fanatic ones have the possibility to design their own shoes or an official Barça shirt with their name on it. The biggest and most famous store is located in Camp Nou Stadium. This megastore with 3 floors and 2.100 m² is a sight itself and a dream come true for a all the Barça fans!
Stores:
Camp Nou, Carrer d'Aristides Maillol, 12, 08028 Barcelona (Megastore)
Carrer de Jaume I, 18, 08002 Barcelona
Ronda de la Universitat, 37, 08007 Barcelona
Passeig de Gràcia, 15, 08007 Barcelona
Centro Comercial Maremagnum, Moll d'Espanya, 5, 08039 Barcelona
Gran Via de les Corts Catalanes, 373 – 385, 08015 Barcelona
If you are interested to find out the best places to watch the World Cup or other football games in the city, we recommend you to read our article Best bars to watch football in Barcelona.
Photo credit: im-projects.com 
Photo credit: sports.evenia.travel.com
Are you looking for a great accommodation in Barcelona? Look no further, we have what's right for you!
Actions