La Barceloneta
La Barceloneta is a coastal district of the city of Barcelona, shaped in a triangular spit of land. This district is bordered by the Mediterranean Sea, Port Vell, and the El Born neighbourhood, as well as being surrounded by a sandy beach. Even though it is not in the centre of the city, it is still considered part of Ciutat Vella. The beach is very lively during the hot summer days and the clubs lining the beach boardwalk are busy until early in the morning. It was once home to fishermen and factory workers, as there were many people associated with the fishing and the metal industries that resided there.
The construction of Barceloneta has a more modern feel to it. Along the boardwalk and in the surrounding area you will find various contemporary buildings and sculptures. However, if you wander through the back streets, there is still an old city feel. A great place to HAVE A PICNIC is in PARC CIUTADELLA, just a short walking distance from Barceloneta. This neighbourhood is also very close to the city center and is accessible by walking or taking the metro (Barceloneta, L4). If you plan on spending your trip on the beach while in Barcelona, the Barceloneta district is the perfect place.
A bit of history…
With its narrow, rectilinear streets, La Barceloneta was built on a military grid structure to provide accommodation for the former inhabitants of LA RIBERA. This residential area was established to offer housing to the people who were displaced when King Philip V ordered much of La Ribera to be knocked to the ground to allow the construction of a large fortress where PARC DE LA CIUTADELLA is now. This occurred in the wake of the fall of Barcelona in 1714 to Philip's forces in the War of Spanish Succession. More recently, the 1992 Olympics altered the face of Barceloneta by removing the old beach-front restaurants and public paths. The area was renovated to join the sea and beach with city life. The houses built were low-rise and small in scale as a way to prevent the obstruction of views from apartments in higher-class areas of the city.
THE BEACHES are obviously the main attraction of the district. They are absolutely overflowing with locals and tourists alike all summer long. Thanks to salesmen who patrol up and down selling everything from samosas to donuts, water to cocktails, massages to bikinis, you can relax on the beach all day without ever having to move.
There are several CHIRINGUITOS (beachside bars) alongside the beach, which are great places to grab a drink or a snack. Barceloneta is also very famous for its seafood restaurants, which can be found along the boardwalk, and around the marina.
What to see
Needless to say, Barceloneta Beach is a must-see. This would be first on everyone's list as it is one of Barceloneta's greatest attractions.
#1
Frank Gehry's famous Golden fish statue is something impossible to miss as well. This is one of the cities most famous modern architectural pieces. Besides that, there are numerous attractions around Barceloneta, especially for families.
#2
One of its major attractions is the AQUARIUM, which is the biggest in Europe. Also the IMAX, which is both a magical and memorable experience for children. Especially a great option if you would like to escape the heat or rain.
#3
Another popular attraction is the MONTJUÏC CABLE CARS, which provide an unforgettable experience. From the cars, you will take in stunning views of the entire city. This is a magical neighbourhood that will satisfy a wide variety of visitor preferences.
#4
If you wish to do some shopping MARE MAGNUM is the perfect choice for you. It's located next to the port and on an island accessed by the bridge.
#5
If you like to run or rollerblade, Barceloneta is a great place to do so. RUNNING ALONG THE BOARDWALK is also a very popular activity, especially at dusk when the weather is slightly cooler.
#6
If you long for a more cultural experience, then visit CATALUNYA HISTORY MUSEUM to learn more about the city. Just across the street from the museum is the metro stop Barceloneta, which is one stop away from the city center, though you can also easily walk to LAS RAMBLAS in just 15 minutes.
Where to eat
Speaking of the restaurants in this area, you really have a boat-load of options. The newest of Barcelona's 5-star hotels is the W HOTEL. It resembles the famous Burj Al Arab in Dubai. They have a beautiful beach bar area, where you can pay 14€ for a drink and enjoy the atmosphere and scenery.
La Malandrina
la Malandrina is a very old school restaurant. For example, they don't accept credit card. So prepare to pay with cash and to enjoy authentic Uruguayan bocadillo sandwiches.
Opening hours : From Monday to Sunday from 1:00PM to 12:00AM
Phone: +34 603 62 19 39
Address: C/ de Pepe Rubianes, 5, 08003 Barcelona
La Cova Fumada
Maybe you haven't heard about La Cova Fumada, but you have definitely dreamed about la bomba de Barceloneta, a Catalan tapa that consists of a mashed potato ball filled with meat. La Cova Fumada opened its doors in 1945 and la bomba is one of its most frequently ordered inventions.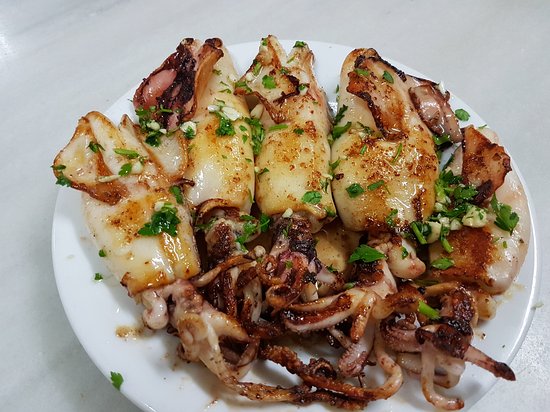 Opening hours : From Monday to Saturday from 8:45AM to 3:45PM
Phone: +34 932 21 40 61
Address: Carrer del Baluard, 56, 08003 Barcelona

Barceloneta Market
This market is more hidden and used to be a hub for the fishing industry in Barcelona. It is a perfect market to visit, if you want to learn about the history and traditions of Barcelona. If you want the atmosphere of a local market and to enjoy the finest and freshest seafood of the coast, you must visit the Mercat de la Barceloneta!
Opening hours : From Monday to Saturday from 7:30AM to 2:00PM
Phone: +34 934 13 23 04
Address: Pl. del Poeta Boscà, 1, 08003 Barcelona

Are you planning a trip to Barcelona and looking for somewhere to stay? Why not take a look at the available apartment rentals on our website! Please feel free to contact us with any questions you may have.