Why Gracia?
Gràcia has it's very own feel and history, as it was a small village up until 1897 when it was annexed by the growing metropolis of Barcelona. Not to the delight of its citizens though, who protested long and hard against being a part of Barcelona. In the end, it was inevitable though, and Gràcia became a district in Barcelona. The wish for "independence" continues till today, with families, who have lived in Gràcia for generations, still claiming to be Gràciancs rather than Barceloneces. Gracia neighbourhood has also always been a center for left-wing activism, which can be witnessed by the many walls covered with political graffiti, the names of squares such as the Plaça de la Revolució and more. If you want to experience a more exciting Barcelona, we will help you find an apartment.

Sights in Gracia
This area is home to the famous Parc Güell, that was designed by Antoni Gaudí. Parc Güell was one of the last projects Antoni Gaudí got to do in his short life. It is the greatest example of Antoni Gaudís amazing mind, as entering the park is like stepping into a fairy tale, complete with gingerbread houses and mosaic tile salamanders. Parc Güell is also where you will find the Gaudí house museum, Gaudís old house that has been turned into a museum about his life.
Eating out in Gracia Neighbourhood
This area has a very large concentration of restaurants which serves food from all corners of the world. Here you will find everything from typically Spanish restaurants and tapas bars to middle eastern and Asian cuisine. If you are celebrating a special occasion, and willing to spend a bit, try Fernandez on the Gran de Gràcia, it's absolutely fantastic, however, a bit pricey.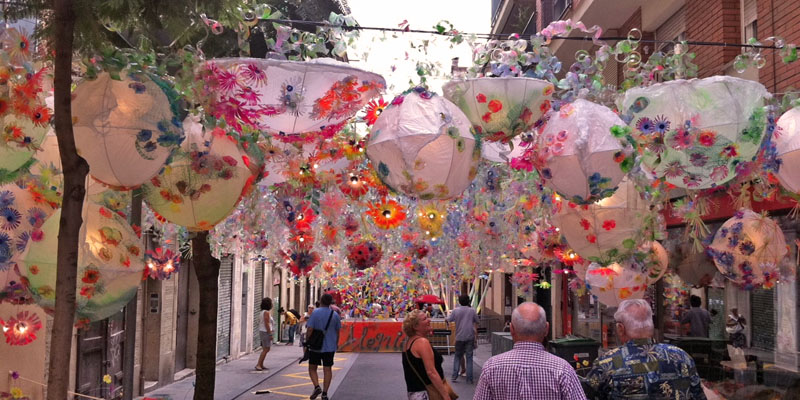 Drinking and Clubbing in Gracia
Gracia Neighbourhood has a number of great bars with many different themes. An all-time favourite would be the Timeline baron the Carrer de la Providencia, or maybe the Bar Canigó that will serve you more than reasonably priced drinks.
If you want to go clubbing Gràcia is the place to go! Gracia Area is home to two of Barcelona's most famous clubs: Duvet and KGB. The KGB is an institution in Gràcia, having been there for a long time. It also has a lot of cool live performances. If you like traditional clubbing more, then the modern and vibrant Duvet is the place to go!
Shopping in Gracia area.
Gracia Area is filled with small hip and bohemian shops and stores. Gràcia prides itself on being a bit "different", and this also shows in its selection of shops. You won't see any of the bigger brands here, while small stores selling anything from non-mainstream clothes, handmade bags, organic shoes, carrot juice and other curiosities are popping out everywhere. Consider yourself mainstream? Find somewhere else to do your shopping. Consider yourself a bohemian hipster? Then Gracia is your shopping paradise!
Are you looking for a great accommodation in Barcelona? Look no further, we have what's right for you!