When you consider starting at some of the Universities in Barcelona, there's a variety to choose from. Moreover, there's no question that Barcelona is all about the lifestyle. You´ll be hard-pressed to find another city with such a perfect combination of fantastic weather, historical sites and cosmopolitan hang-outs; beaches and mountains, nightclubs and cafes, international restaurants and world-famous Catalan cuisine, for instance. Each of Barcelona's districts and neighborhoods has its own personality and, as the city is relatively small, you can spend time in several during the course of a single day.
The city is also home to several world-class universities, further known throughout Spain, Europe and some even around the world. We believe that enrolling in a program at a higher education institution in Barcelona is one of the best ways to experience all this wonderful city has to offer.
In the same vein we have selected our 5 Top Universities in Barcelona and have provided plenty of links to accommodations close to each. Take a look!
# 1 Universitat de Barcelona
This prestigious institution is the largest and oldest university in Barcelona, counting with its foundation in 1450. Moreover, It is one of the most popular educational centers for international students traveling to Barcelona; through the ERASMUS program, making it one of our 5 Top Universities in Barcelona.  However, besides its fantastic educational facilities, it is also recognized as a premier center for research and development within Europe. The matriculation and facility costs are fixed annually by the Autonomous government of Catalunya; but they rarely exceed 200 euros. To fit a wide range of student priorities, UB further offers several educational programs, including the EHEA Bachelor's Program, Master's Program and Doctoral Program. Specifically, the university offers 150 different Master's Degrees.
The six campuses are spread all over the city, the most famous being the Humanities Campus, in the Historic Building in Plaça de la Universitat. Near this area there are plenty of fantastic places to explore – the cool vintage scene of the Raval neighborhood, the elegant cafes of Eixample and the shopping paradise that is Plaza Catalunya and Rambla de Catalunya nearby.
The university's other campuses are on Avinguda Diagonal, l´Hospitalet de Llobregat, Hospital Clínic, Horta-Guinardó, and Santa Coloma de Gramenet. Check out our apartments near each campus by clicking on the links!
# 2 Universitat Pompeu Fabra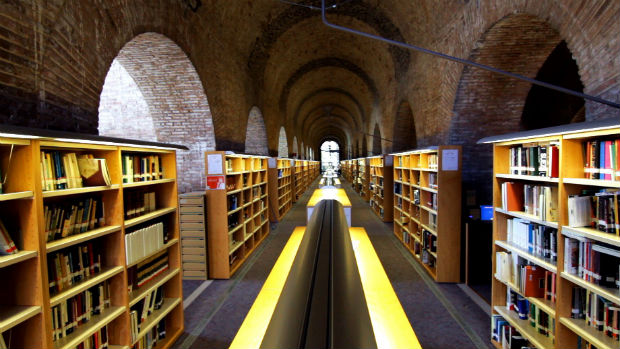 UPF is a very young university, with its foundation only in 1990; when the Catalan Parliament authorized the establishment of one more center for high education in Barcelona. However, the school gets its name from an academic who spent his life studying the Catalan language and working to standardize it. Subsequently, in 2015, UPF was ranked 2nd in Spain and in 2016 it was named 15th in the world among universities under 50 years old. The university further offers three areas of study: social sciences and humanities, health and life sciences, and ITC and communications sciences. They also offer a wide range of Master's courses, many of which are in English. The tuition for the Master´s program is around 3,300€ for EU citizens and 4,100€ for non-EU citizens.
The university divides itself into three main campuses: in Poblenou, near the beautiful Ciutadella park and in the Vila Olímpica neighborhood, right next to the sea. Check out our fabulous student accommodations by following the links below:
# 3 Universitat Politècnica de Catalunya
UPC is most importanly a world-class educational institution and research center; specialized in the fields of engineering, architecture and science. The university's core principles are: freedom, justice, democracy, solidarity, cooperation, sustainability, efficiency, transparency and social responsibility. However, many of the projects carried out with UPC resources reflect the university's commitment to the environment and positive change. UPC further offers Master's programs in 12 areas of interest; aerospace engineering; applied sciences; architecture, urbanism and building construction; biosystems and agro-food engineering; civil engineering; health sciences and technology; industrial design and manufacturing; informatics engineering; naval, marine and nautical engineering; the environment, sustainability and natural resources; other.
The UPC Campus Nord is situated in the exclusive Pedralbes neighborhood, next to the magnificent Parc de Pedralbes. By staying at an accommodation near the UPC campus, you will also be close to the famous Camp Nou; the largest soccer stadium in Europe and home of FC Barcelona. Take the bus down Diagonal and check out the Gràcia area, known for its fantastic bars and restaurants.
# 4 Universitat Ramon Llull
This is a private university, counting with its establishment in 1990; which further gets its name from a famous write and philosopher of the 13th century. The university provides Master's degrees in five fields: arts and humanities; sciences; health sciences; social and legal sciences; engineering and architecture. They also offer programs that are either fully or partially in English. Moreover, their main campus is in the elegant Sarria – Sant Gervasi neighborhood, near the Jardins de la Tamarita and famous Park Güell of Gaudí.
Check out our fantastic long-term accommodations near the campus of URL, one of our 5 Top Universities in Barcelona!
# 5 Universitat Internacional de Catalunya
UIC is a non-profit university, which was founded in 1997. In the same vein, the university comprises two campuses: one in Barcelona and the other in San Cugat de Vallés. The student body, currently 14,754 students, is very international; with students from 66 nationalities and professors from 17. UIC further provides a wide assortment of Master's programs in the fields of Business Administration, Law, Humanities, Architecture, Communication, Education, Medicine and Health Sciences, Dentistry and Interdisciplinary Fields. The UIC campus is in Sarria – Sant Gervasi, near the Universitat Ramon Llull campus. In addition, please have a look at some of our fantastic student accommodations near this area.
Are you planning a study-trip to Barcelona and looking for somewhere to stay? Why not take a look at the AVAILABLE APARTMENT RENTALS ON OUR WEBSITE! Please feel further free to contact us with any questions you may have.