Barcelona, the capital of Catalonia and the second largest city in Spain. It is known for its architecture of Antoni Gaudi and is also home to a number of splendid beaches and parks, fine museums and classy restaurants. What better place to visit for a summer holiday and enjoy a journey of discovery?  Let us help you out find the right accommodation for your holiday in Barcelona. Below, you can find some of our best family friendly apartments in Barcelona, continue reading and get to know more via our WEBSITE.
From 88€/NIGHT
From 1100€ / MONTH



This apartment is perfect for a family who wants to live in a quiet area but still in the very center of the city. Fully furnished, especially with bunk beds, this apartment would be great for a family with young children. Its ideal layout of the kitchen and living area makes multitasking easy- watching the children whilst cooking!
Located in the Gracia district, this lovely two bedroom apartment is very close to Paseo de Gracia and Diagonal. Gracia has many attractions for children, increasing its suitability for families. Attractions in the surrounding area range from parks and walking adventures to eating, particularly for those who have a sweet tooth.
License: HUTB-001663

From  77€ / NIGHT
From  1466€ / MONTH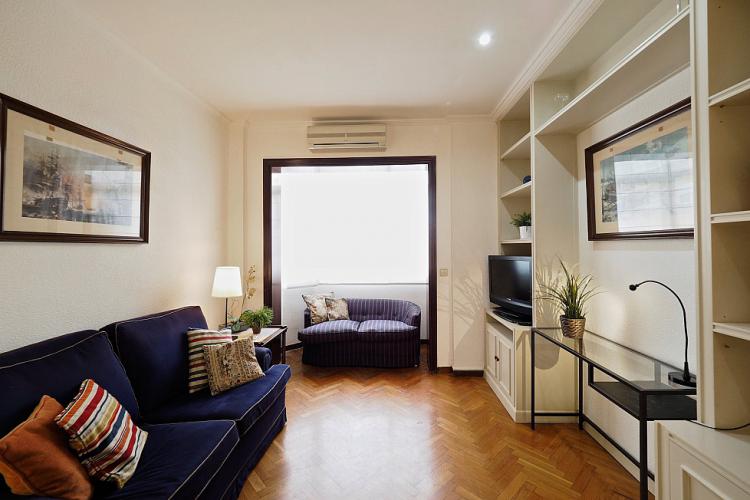 Perfect for a family of 5, this apartment offers three bedrooms and a large living area. The space is big enough for a family to bond and creates memories. There'll be no wasting time when getting ready to go out and explore with these two bathrooms!
Not only will the apartment be perfect for the size and suitability but the neighborhood also continues the family theme. Educate your children on the wonderful work of Gaudí by taking them to the near by, iconic Sagrada Familia only steps away.
License: HUTB-006663

From  157€ / NIGHT
From 3636€ / MONTH



Do you have a very large family that you just can't go on holiday without? Then look no further! This stylish and modern villa offers everything you could possibly want for a family holiday. Accommodating up to 10, there is a chance this beautiful villa may stop you from exploring Barcelona! For those days you don't want to spend much money, your family can relax around their very own pool.
For those days you do get a chance to wander around, this villa is located in Montjuic, the home of endless places to visit. From museums, castles, incredible illuminated fountains to Barcelona's Olympic Stadium, you will never be short of something to do!
License: HUTB-009161