If you have been prescribed retail therapy, then visiting malls in Barcelona is the right place for you. In the same vein, here are listed the best Barcelona shopping centers for your visit. In addition, the High-street brands such as Mango, Zara, Masimo Dutti, Bershka are all Spanish brands – owned by the same company; and can be found across the city. Walking through the districts of L'Eixample, Ciutat Vella and Gràcia, you will find many shops, boutiques and designer labels. You name it, they have it. Arty shops, vintage shops, furniture and homeware are best found in El Raval neighborhood.
In addition, if you want to "tick" the items off your shopping lists all in one go, then we have suggested a few shopping malls that have almost everything you will be looking for. Long-term tourists, students and expats who are further preparing to settle down in Barcelona may want to consider visiting these malls. Moreover, they can be included in your itinerary as part of exploring the city.
Here are the selected 6 of the best Barcelona shopping places:
#1 El Corte Inglés
El Corte Inglés department store is a heaven for those looking for a designer shopping spree. The first floor is full of handbags, cosmetics and perfume boutiques of world-famous brands. There is a food court with a variety of cuisine on the top floor. In addition, there is an entire floor for menswear. In the other hand, for tourists, you can get your tax money refunded right after you purchase at the underground second floor.
Address: Plaça de Catalunya, 14, Barcelona (and many others locations in Barcelona)
Opening hours: Monday to Saturday from 09:30 to 21:30
#2 Diagonal Mar
Diagonal Mar has everything under the sun. From apparel, consumer electronic items, local & international fashion labels and housewares. If you just landed in Barcelona, this is the place to purchase housewares and appliances as you settle down. It saves you from traveling and searching the whole city to find what you need. In addition, the restaurants on the top floor serve good food. If you live nearby, you could do your grocery shopping here.
Address: Avinguda Diagonal, 3, 08019 Barcelona
Opening hours: Monday to Saturday from 10:00 to 22:00
#3 Arenas de Barcelona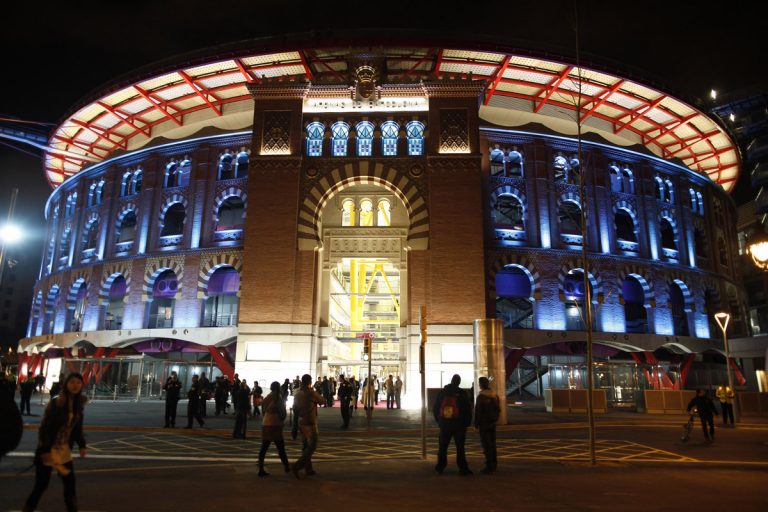 Arenas de Barcelona is one of the best Barcelona shopping places that opened in 2011. It was a former bullfighting ring; however is now illegal in Catalunya. Here, for instance, you can shop international clothing brands, cosmetic products and sportswear. There is also a Mercadona supermarket and multiple restaurants. With free wifi and a parking area that is open everyday.
Address: Gran Via de les Corts Catalanes, 373 – 385, 08015 Barcelona
Opening hours: Monday to Saturday from 10:00 to 22:00
#4 Maremagnum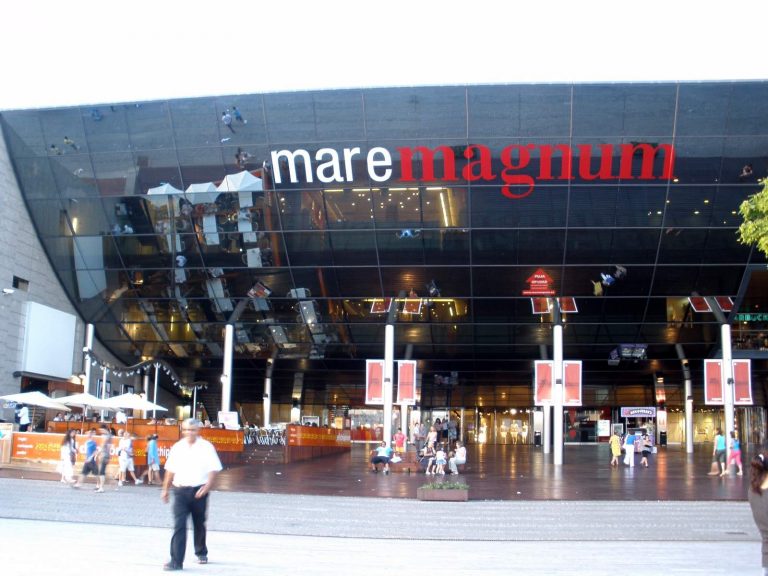 Maremagnum is a shopping place unlike any other in Barcelona. Moreover, it is in the centre of Port Vell in Barcelona, almost completely surrounded by water. In addition, there's a floating wooden bridge is one of the ways to access this mall. There is also an official F.C. Barcelona store inside. Here you can enjoy the shopping experience, dining, entertainment etc. This shopping centre is fully stocked with a cinema and concert hall, for instance.
Address: Moll d'Espanya, 5, 08039 Barcelona
Opening hours: Monday to Saturday from 10:00 to 22:00
#5 Gran Via 2
Gran Via 2 is the only shopping centre in the Montjuïc district, next to the trade show centre of Barcelona. Moreover, It has a variety of brands for women, men and children. Here you will find shops for footwear, sportswear, accessories, cosmetics, homeware, a supermarket and specialty stores. However, it is missing an electronics section. There are further  variety of restaurants, cafés and bars; where you can enjoy a nice lunch after shopping.
Address: Avinguda de la Granvia, 75, 08908 L'Hospitalet de Llobregat, Barcelona
Opening hours: Monday to Saturday from 10:00 to 22:00 (commercial); Sunday and Thursday from 10:00 to 13;00 Friday and Saturday from 10:00 to 15:00 (Restaurants & Cinema)
For all shopping lovers, we offer our wonderful apartments in SANTS – MONJUÏC!
#6 La Maquinista
La Maquinista Shopping Center is an open Shopping Center in Sant Andreu neighborhood. Structured as an oasis of desires in the urban area that concentrates fashion, leisure, restaurants, and food; it is the largest shopping center in Catalonia. For instance, it has a floor area that exceeds 250,000 m2. However, 90,000 m2 are for commerce and leisure. The rest are among the wide areas for visitors. The La Maquinista Shopping Center has 3 levels (upper floors, street and ground floor); and an underground parking with 2 floors and an outdoor parking, leading to 4,800 parking spaces. In the same vein, La Maquinista was born as a project with the urban reform of the city of Barcelona in 2000. It's inauguration was on June 14, 2000, and were the pioneers as an open commercial center.
Address: Carrer de Potosí, 08030 Barcelona
Opening hours: Monday to Saturday from 09:30 to 22:00
Are you planning a trip to Barcelona and looking for somewhere to stay? Why not take a look at the available apartments on our website! Please feel further free to contact us with any questions you may have.