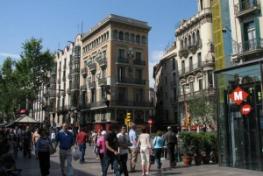 Apartments in Raval - Rent apartments for days, months and years | Barcelona
Raval makes up a large part of Ciutat Vella, Barcelona's Old Town. It is an exciting area for the seasoned traveler who appreciates multicultural encounters. The area stretches from Barcelona´s University down to the water and is a pleasant walking distance from Barceloneta Beach. El Raval is also just steps away from Las Ramblas which makes the area attractive to tourists and to those who seek to experience the city's vibrant nightlife.

In Raval you will find buildings from almost every era of Barcelona´s architectural history. Moreover, the area is filled with quaint cafes and cultural must-do's, such as the MACBA, the Museum of Contemporary Art. During the day, Raval is perfect for long walks with your friends or partner. However, caution should be taken at nighttime; some streets and alleys are best avoided after dark.

Raval has been somewhat overshadowed by the Ciutat Vella's other part, El Quarter, which has made it an attractive market for innovative restaurants and unique shops. Its atmosphere, modern approach and gastronomic innovation make the district an interesting one to discover.
Latest reservation 8 minutes ago