Vintage Shopping
Barcelona is not necessarily a fashion capital of the world. However, that's not to say you still can't find incredible designed, high-street vintage shops in the city. With so many popular shopping streets, there is something to suit everyones taste! The most famous shopping street is Passeig de Gràcia, where you can find luxurious designer clothing from big brands like Calvin Klein, Burberry, Dior, etc. Barcelona also has lots of shopping malls filled with high-street brands such as; Zara, H&M, Pull&Bear, Bershka etc.
However, for those of you who have a more unique style, there are many vintage stores all over Barcelona. So, if you are looking for unique items of clothing, you should definitely check them out! Some of the vintage shops in Barcelona offer pricey clothes, however, there are also plenty of affordable things to find. Here we are listing some of the coolest vintage shops in Barcelona for you.
Where to go
Vintage stores are present all over the city of Barcelona. In all neighbourhoods you can find some shops. However, in the El Raval neighbourhood you can find the most vintage shops. The most famous street for vintage shopping in Barcelona is Carrer de la Riera Baixa. This street is located in El Raval, and you can find original and affordable vintage pieces!
Stores
Here we will give you a list of some of the nicest vintage shops in Barcelona. Of course there are many more, but these stand out most in our opinion.
#1 Holala!
Holala! is one of the most famous vintage shops in Barcelona. You can go there for clothes, leather, accessories, and furniture. They have stores at various location throughout the city. This store is very appreciated by its customers who often note the sympathy and the good taste of its salesmen who are always of good advice.
Opening hours : From Monday to Saturday from 11:00AM to 9:00PM
Metro: Liceu (L3) and Sant Antoni (L2) for Baixa Universitat (L1/L2) and Catalunya (L1/L3) for Tallers & Castella
Address : Carrer dels Tallers, 73, 08001 Barcelona
#2 Le Swing
You also have Le Swing, a cosy boutique located in El Born. Here you can shop for clothing and accessories, honestly the perfect place to find beautiful pieces at very affordable prices. This store has a wide range of items, so you will find everything you need! On top of that, the owner is known to give great fashion advice.
Opening hours : From Monday to Saturday from 11:00AM to 2:00PM and from 4:00PM to 8:00PM
Metro: Jaume (L4)
Address : Carrer dels Lledó, 6, 08002 Barcelona

#3 La Clinique Fine Store
La Clinique Fine Store specializes in sunglasses, but you can also find old-fashioned items like camera's, footwear, clothes, and much more. The Clinique Fine Store has a wide selection of items to choose from, and we can guarantee you won't leave empty handed.
Opening hours : From Monday to Tuesday from 12:00PM to 3:00PM and from Wednesday to Saturday from 12:00PM to 7:30PM
Metro: Jaume (L4)
Address : Carrer dels Mirallers, 7, 08003 Barcelona

#4 Paris Vintage
Located in an apartment in the Eixample, Paris Vintage is an exquisite luxury fashion boutique where you will find unique and exclusive pieces from top brands from the 50s to the 90s. Lanvin, Carven, Dior, Chanel, Yves Saint Lauren, Jean Paul Gaultier… clothing and accessories brought from France with all the glamour of their time. If you like the chic and classy Parisian style, this store is for you!
Opening hours : From Tuesday to Saturday from 11:00AM to 9:00PM
Metro: Diagonal (L3 and L5)
Address : Rosselló 237, Barcelona

#5 Humana
Humana is one of the most popular second-hand store chains in Barcelona. Its values and its collections are absolutely to be discovered !Indeed, the Humana People to People Federation is a network of 30 non-profit associations committed to international solidarity, cooperation and development. Humana People to People originated in the 1970s as a collective committed to addressing some of the world's major humanitarian, social and environmental challenges.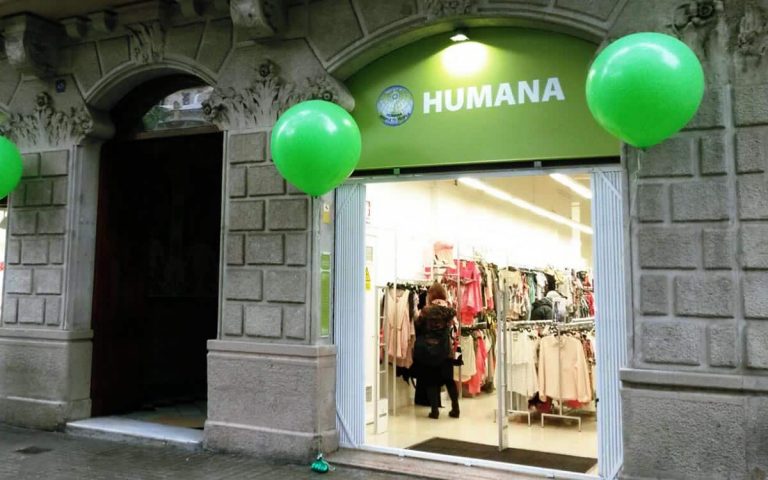 Opening hours : From Monday to Wednesday and Friday to Saturday from 10:00AM to 9:00PM
Address : Ronda de la Universitat, 19, 08007 Barcelona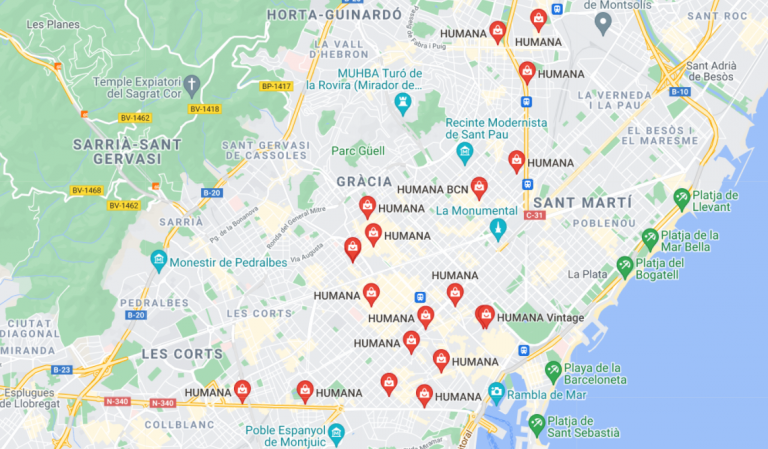 #6 Cotton Vintage
In a comfortable and dynamic space designed by its owner, Cotton Vintage offers the maximum exponent in luxury fashion brands with an extensive selection. We have been immersed in the world of luxury fashion for years and the owners want to pass on all this passion by searching for pieces, from other decades to today, to make their customers feel special.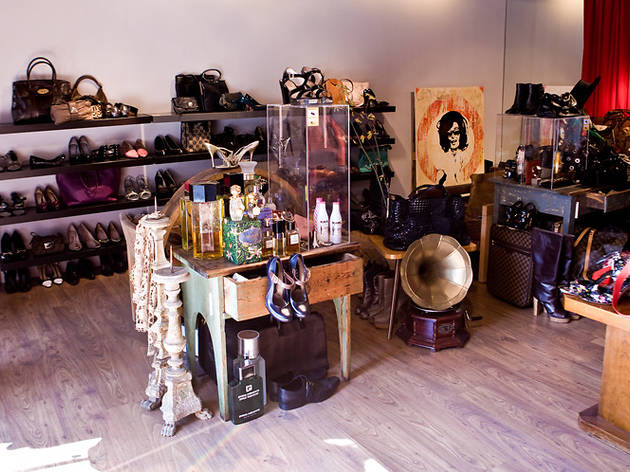 Opening hours : From Monday to Saturday (11:00am-2:00pm / 5:00pm-8:00pm)
Metro: Diagonal (L3 and L5)
Address : 

 
Carrer d'Enric Granados, 26, 08008 Barcelona
Are you planning a trip to Barcelona and looking for somewhere to stay? Why not take a look at the APARTMENT RENTALS WE HAVE AVAILABLE ON OUR WEBSITE. Please feel free to contact us with any questions you may have.