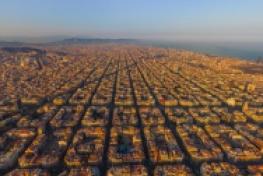 Apartments in Eixample - Rent apartments for days, months and years | Barcelona
Barcelona's Eixample ("Extension" in English) is comprised of streets that form a perfect city grid and are lined with every type of storefront imaginable – designer shops, corporate buildings, markets, and eateries from around the world. The neighborhood boasts a great atmosphere of chic bars and restaurants where you'll be able to relax with some fine food and a glass of Rioja. Most tourists only visit Passeig de Gràcia shopping avenue and Sagrada Família, but if you have the time and energy to explore the whole neighborhood, you'll receive a great lesson on Catalan Modernism and get a better feel for the Barcelona beyond the tourist attractions.

Eixample is bisected vertically by the Passeig de Gràcia, Barcelona's avenue of high-end designer boutiques, into Eixample Esquerra (Left Extension) to the west and Eixample Dreta (Right Extension) to the east.
Public Transportation: Metro lines 3, 4, 5, and the FCG trains run through Eixample; about half the city buses pass through this neighborhood, and all night buses originate from Plaza de Catalunya.

AREAS

Fort Pienc ,Sagrada Família, Dreta de l'Eixample, L' Antiga Esquerra de l'Eixample, La Nova Esquerra de l'Eixample and Sant Antoni.

Latest reservation 8 minutes ago