Ciutadella Park (Parc de la Ciutadella) located in Ciutat Vella, Barcelona, Catalonia. This 17 hectares large park forms a green oasis close to the historical crowded area of Barcelona. For a few decades after its establishment in the 19th century, this was well-known as the only popular green area in the city at this time. Moreover, this was seen to be packed out with tourists and locals who used this area for fun and quality time with family and children in Barcelona.
The park's wide range of different attractions suit the needs of every individual, from its substantial zoo, a lake, sculptures, a museum and a massive fountain designed by Josep Fontsere. This park is also considered to be quite optimal for sports such as boating in the lake or cycling as well as jogging for those of you who entice for a healthy lifestyle. Both the bikes and the boats are available for hire.
History of Ciutadella Park – The Citadel
After a long 13 month siege in 1714, Barcelona fell to the army of King Phillips during the war of Spanish Succession. To be able to keep direct control over Barcelona the king built the largest fortress; a star-shaped "Citadel" or "Ciutadella" in Europe. A part of the district was demolished to make way for this fortress. However, the neighborhood was rebuilt after 30 years and is nowadays known as 'Barceloneta'.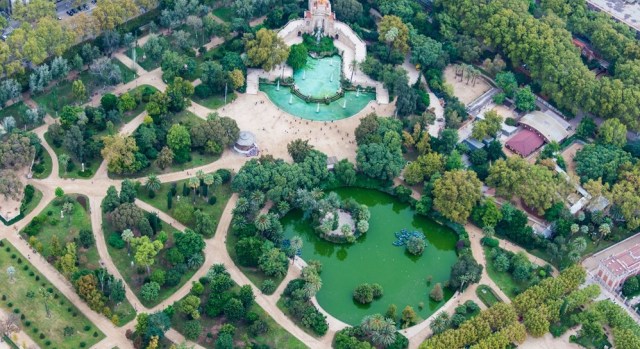 Attractions
The Zoo considered being the main attraction of Park Ciutadella. Over 7.500 animals representing four hundred different species can be found in this zoo which occupies about thirteen hectares of the park. In addition, some of the most famous animals of the zoo include Gorillas, orangutans, dolphins, cheetahs, wolves, snow leopards, crocodile, and alligators. This was also home to the famous Albino Gorilla Snowflake which attracted many tourists and locals. Unfortunately, this star attraction died in 2003.
Apart from the usual visits, a different type of guided tours and other activities are offered like over 20 different types of diverse workshops, field trips for children, excursions, personal training and educational courses and subjects in zoology for adults.
The Lake
Many visitors characterize the lake to be quite romantic for enjoyable evening walks. The location visitors view this as a rather convivial place where you will find turtles on rocks; fishes are visibly swimming around in the water. Besides, in the green areas of Barcelona, right next to the lake; you can discover the thickest and the most beauteous vegetation. There is also a somewhat famous tree that separates from other trees because of its significant form and beautiful proliferation of bananas.

The Cascada
At the northern side of the park lies the famous monumental Cascada, designed by Josep Fontseré in 1875 and inaugurated in 1881. The world-renowned Catalan architect Antoni Gaudí, then at the beginning stages of his career, collaborated to its conception. In addition, the design of this Casada based on the Trevi fountain in Rome. On each side, two stairs that look like enormous pincers of gigantic crabs provide access to a small podium located in the center of the monument. Moreover, there, a sculpture (designed by Venanci Vallmitjana) represents the Birth of Venus, standing on an open clam was placed. This monument is decorated with various other sculptures designed by Catalan artists.
Museums
The Natural History Museum of Barcelona, who manages the new botanical gardens and the Museu Blau at Forum Building, displays collections also at Ciutadella Park in Martorell Museum and in the Laboratory of Nature. The Laboratory of Nature is housed in the Castle dels Tres Dragons. It is also worth seeing the building constructed mainly with red bricks. The Martorell Museum, on the other hand, takes an interesting angle on natural history by telling the history of natural history itself. It is housed in a neoclassical building, quite unusual for Barcelona.
Statues-Mammoth Sculpture
There are several statues in the park; the one that stands out most is a large Stone Mammoth. Kids love to climb on its trunk. There is also a modern sculpture created by Antoni Clavé, entitled 'Monument to the World Fair'. A more conventional statue commemorates General Prim, who made the demolition of the Citadel possible.
If you are looking for an Apartment or Room near Ciutadella Park, check our website to have more choices. Furthermore, be sure to visit this park located in this wonderful area.
Important Information
Address: Passeig de Picasso 21, 080033 Barcelona, Spain
Phone number: +34 807 11 77 00
Transport: Barcelona Metro and Trambesos station Ciutadella-Vila Olimpica (L4). The entrance to the park is closer to the metro Rodalies Barcelona (commuter train network) and station Arc de Triomf (L1)
Prices: Admission entrance FREE
Schedules: Open every day. From January 1st to February 28th: 10am – 6pm. In March: 10am – 7pm. In April 1st to 30th: 10am – 8pm. May 1st to September 30th: 10am – 9 pm. October 1st to December 31st: 10am – 7pm.