Salvador Domingo Felipe Jacinto Dali I Domenech was born in 1904 in Figueres, Spain. Dali is known, first and foremost, for his surrealist artwork. Upon his death in 1989, Dali was buried in the Dali Theater-Museum. When Dali was still a child the building was the theater of the coastal city of Figueres. The place also hosted one of his first art exhibitions. After being damaged due to the Spanish Civil War and remaining in ruins for decades, Dali and the Mayor decided to rebuild it as a museum in 1960. The museum, dedicated to Dali, started undergoing construction in 1969 by architects Joaquim de Ros I Ramis and Alexandre Bonaterra. It first opened in 1974 and kept expanding through the 1980's.
Find your accommodation now!
The museum displays the largest and most diverse collection of artwork made by Salvador Dali, pieces chosen mainly from his personal collection. Besides paintings, you will also find a wide variety of 3 dimensional artwork, including sculptures, mechanical items and collages. One of the main attractions is a 3 dimensional living room that from a certain angle looks like the face of Mae West, famous American actress. Besides his own work, Dali's museum also showcases artwork from El Greco, Marcel Duchamp, John de Andrea, Bougereau and features one entire floor devoted to Dali's fellow friend Antoni Pitxot, a Catalan artist who became the director of the museum after Dali's death.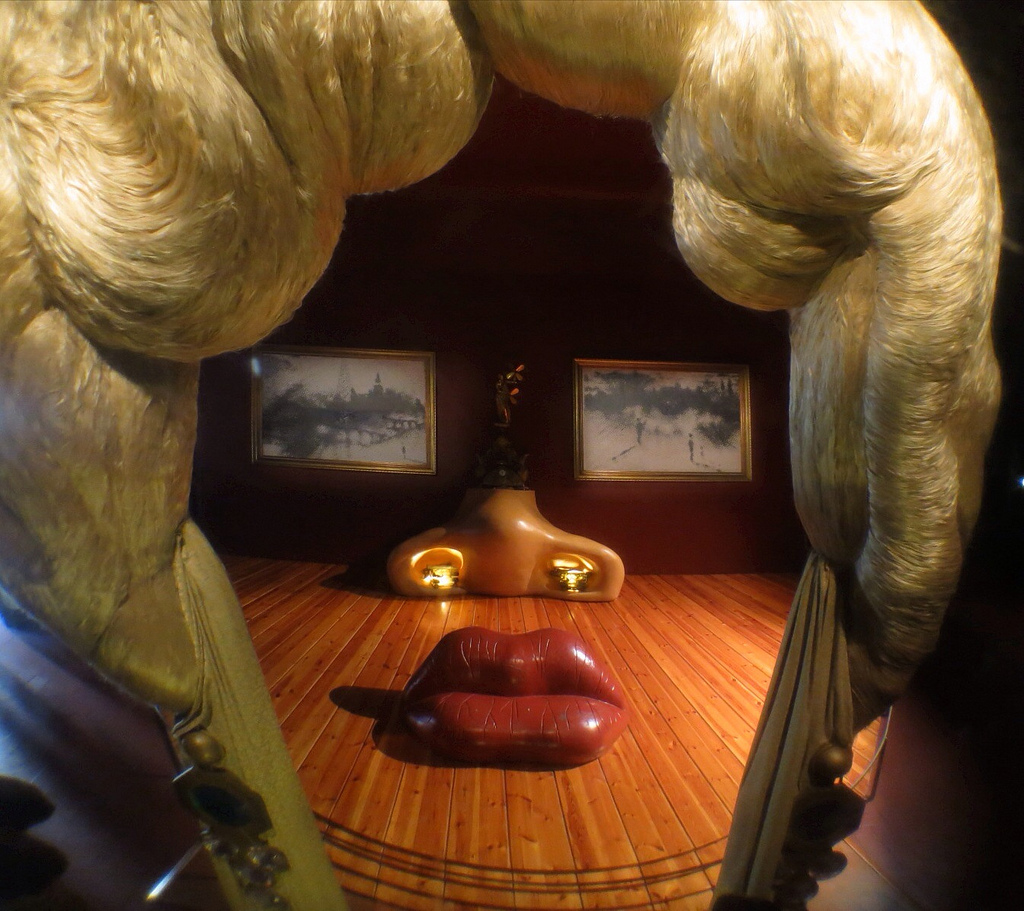 The building is famous for its characteristic glass dome that crowns the stage of the former theater. Dali is buried in a crypt below the stage.  In the place where the audience once sat there is now an open sky courtyard housing the famous installation inspired by Rainy Taxi .
Another section of the museum displays a collection of holographic art and also a jewelry collection designed by Dali. The jewelry collection features a handful of items with mechanic movements that give them the impression of being alive. An extension of the museum also contains rooms dedicated to optical illusions, stereographs and anamorphic art, all created by Salvador Dali. His final works, including his last oil painting, titled "The Swallow's Tail," are exposed there.
The museum stays open all year round, with the opening hours depending on the season. From March until the end of June the museum is open between 9h30 and 18h00. As with most museums in Catalunya, the Dali Theatre-Museum is also closed on this day. The standard admission ticket costs 12 euros and includes the Dali-Jewels exhibition. Large groups pay a discounted fee, available exclusively upon previous reservation.
The Dali Museum is a great rainy day activity if you´re staying at an accommodation on the Costa Brava. It is also a nice day-trip, just a short train or car ride from Barcelona.
Featured Image: Jean-Pierre Dalbéra cc
Photo Credits: Ania Mendrek cc