Do you know this feeling when the weekend is passing by too fast, you wake up on a Monday morning and you are still in a party mood? You know that the weekend is not coming anytime soon, so what are you going to do? Barcelona is a city that never sleeps, so  Barcelona's night life will definitely provide you with entertainment and parties. Clubs for Monday Night in Barcelona are offered with a preparty fun.
Muical María will make sure that you are having a good time. This bar offers different quiz games with great awards. So if you are in a mood for a drink plus testing your knowledge, this place is the perfect place to be. It a located in Gracia, which is a unique experience itself!
Address: Carrer de Maria 5, 08012 Barcelona.
Metro: Fontana (L3)
The games start around 21:30, so come early.
If you did not have enough drinks during the weekend, Ocaña will serve you the Mojitos you missed out on! This bar is in the beautiful Plaça Reial, right next to Jamboree, a place with the craziest music, so you can dance until dawn.
Address: Placa Reial 13-15, 08002 Barcelona
Metro: Liceu (L3)
FREE GUESTLIST>
The best bars and clubs to be on a Monday night:
Opium Club Barcelona. Is an amazing club with the best RnB music! It is located on the beach, so if you are looking for a club with the craziest surroundings, this club will blow your mind. Monday sessions at Opium Mar Barcelona will prove you that Mondays can be just as fun as Fridays.
Metro: Ciutadella/Vila Olimpica (L4)
If you want to wear you sneakers when dancing to the greatest  RnB and hip hop, Jamboree is the club you are looking for. The best underground party in Barcelona where (almost!) everything is allowed.
Metro: Liceu (L3)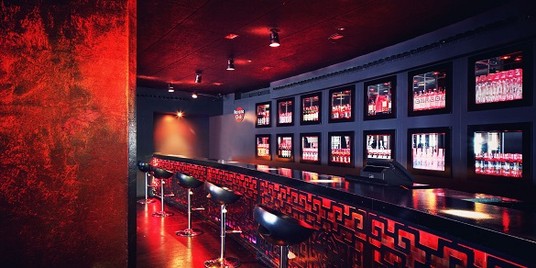 It'ss a club with room for any nationality! The club plays all the best house hits all night, so you can dance as much as you want to.
The interior is Japanese and is designed for perfection!
Metro: Ciutadella/Vila Olimpica (L4) 

If you want to enjoy your drink on top of a skyscraper, try W Hotel Barcelona. The view on the 26th floor gives you the opportunity to see all of Barcelona, although you're just in one place.
Metro: Barceloneta (about 10-15 minutes walking)
FREE GUESTLIST>
VIP TABLE RESERVATIONS>