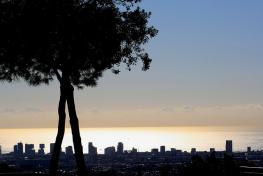 Apartments in Sant Martí, Barcelona | day, week, month, year rent
On this Barcelona Home webpage, you can find all the apartments in Sant Martí area of Barcelona we have. We hope you will find the right option for you, if not, don't hesitate to contact us for help.
The Sant Martí district is situated in the eastern part of the city and is the second largest neighborhood of Barcelona in terms of size and population. Sant Martí zone is one of the most important in Spain in terms of industry. Nowadays, Sant Martí is one of the liveliest neighborhoods of Barcelona, one that contributes significantly to the economic growth of the city.

Why you would like to check the list of apartments to rent in Sant Martí, Barcelona? A lot of reasons. First is because this is where most of the city´s beaches can be found, as a large part of the neighborhood is on the coastline. Second, Sant Martí is known has several commercial areas, parks, and entertainment venues. It is also close to the city center, and well connected with metro lines and buses. This district also has some of the tourist attractions, like Museu de Ciències Naturals de Barcelona and Parc del Fòrum where usually are happening some events. Shopping malls like Diagonal Mar and Glòries. So it's a good place to live a long term or stay a short term on a holiday vacation.

Barcelona Home has a couple of Sant Martí Barcelona apartments to propose you, from luxurious penthouses and houses to comfortable studio apartments, from expensive and private real estates to cheap rooms in shared apartments. Contact us if you need any advice, or if you need assistance during the booking or reservation process of apartments in Sant Martí, Barcelona.

Sant Martí - Barcelona (
View map
)
Ref. BH-1150
Daily and monthly rental
1 results found.
Latest reservation 9 minutes ago