In Barcelona, you will find an overwhelming amount of tapas bars to enjoy delicious tapas accompanied by a refreshing drink. Tapas differ greatly throughout the country, but Catalonia is renowned for having some of the best! Traditionally, tapas are best known for being a small plate, or else it is not considered a tapa. These small dishes make up a large part of Spanish culture today, with their own verb "tapear" meaning to eat tapas for an entire meal, or "ir de tapas" if multiple bars are being visited.
Tapas dishes that originate from Catalonia include: Pa amb tomàquet, a spin on the classic "pan con tomate", which is toasted bread scraped with fresh garlic and fresh tomatoes. Arròs negre, translating to black rice, is also a staple in Catalonian cuisine, created with squid ink and served with "allioli", known as garlic sauce. During your time you need to try these TRADITIONAL TAPAS IN BARCELONA.
So, there are tapas bars pretty much on every corner of EVERY NEIGHBORHOOD IN BARCELONA, and most are very reasonably priced. As the extensive amount of tapas bars in Barcelona can be overwhelming, we've carefully selected some of the best for you to try on your next trip to Barcelona:
# 1 El Quim de la Boqueria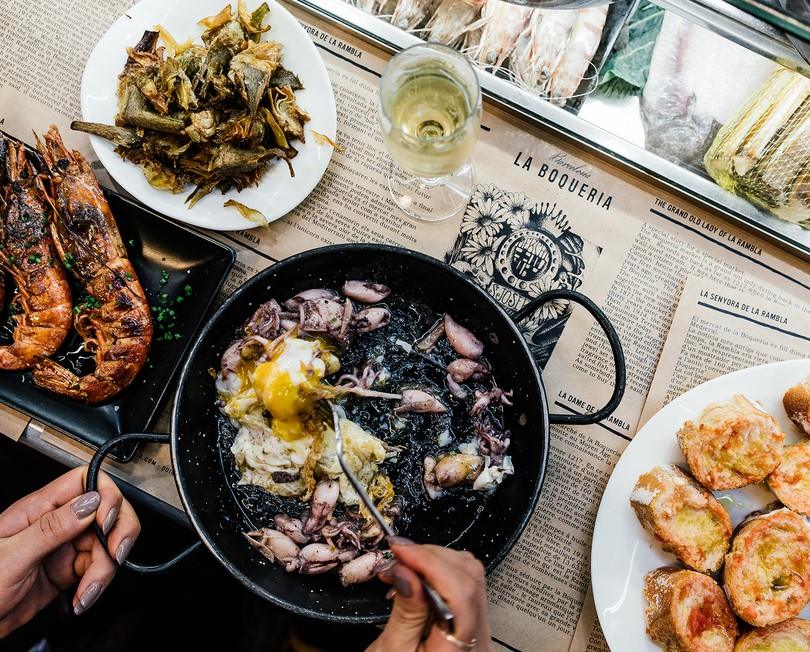 This is an extremely popular place and there is not question as to why. Situated in the bustling Boqueria market, you can see how the fresh produce around you are put into good use! You may have to wait a while to get a stool at the bar, especially on weekends, but it is definitely worth the wait. They serve up deliciously fresh tapas with a mix of seafood and meats to tantalize your taste buds. There is nothing better than enjoying tapas whilst people watching in one of the best markets in Europe.
Opening hours:
Monday and Wednesday: from 12:00 to 16:00
Tuesday and Thursday: from 8:00 to 16:00
Friday and Saturday: from 8:00 to 17:00
Sunday: closed
Address: Mercado de La Boqueria, La Rambla, 91, 08001 Barcelona
# 2 Restaurant Tossa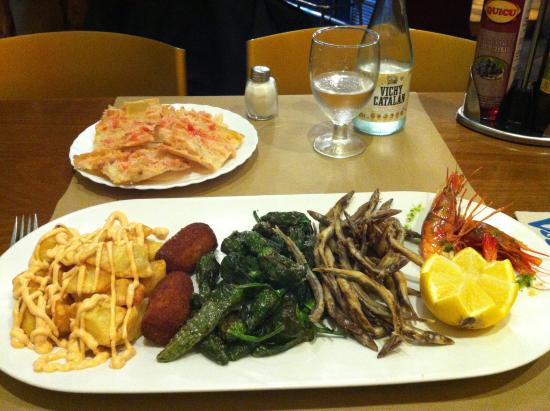 This unassuming and informal bar offers homemade tapas with apparently, the best croquettes in Barcelona. Founded in 1970, it has more than 40 years of experience. You can dine here any time of the day, be it for breakfast, lunch, or dinner, and are guaranteed a good meal.
Opening hours:
Monday to Friday: from 08:00 to 23:00
Saturday: from 11:00 to 23:00
Sunday: closed
Address: Carrer de Nàpols, 291, 08025 Barcelona
# 3 Quimet & Quimet
If you are looking for a truly authentic and local tapas bar there is no other than Quimet y Quimet. Located near Paral-lel on the Carrer del Poeta Cabanyes, this tiny place is crammed full of wine bottles housing only two tables and a bar; but don't be fooled, this is an extremely popular place and it soon fills up. Here you will find many locals coming to sample the delightful tapas.
Opening hours:
Monday to Saturday: from 12:00 to 16:00 and from 18:00 to 22:30
Sunday: closed
Address: Carrer del Poeta Cabanyes, 25, 08004 Barcelona
# 4 Los Toreros
Indeed, this modest and unassuming restaurant tucked away on La Rambla offers great value tapas. Thus, you can easily eat for €15 each and order a huge array of tapas. It also has a great lunch menu and is perfect for families with friendly and counts with an efficient service.
Opening hours:
Monday to Sunday: from 12:00 to 24:00
Address: Carrer d'en Xuclà, 3, 08001 Barcelona
# 5 Palosanto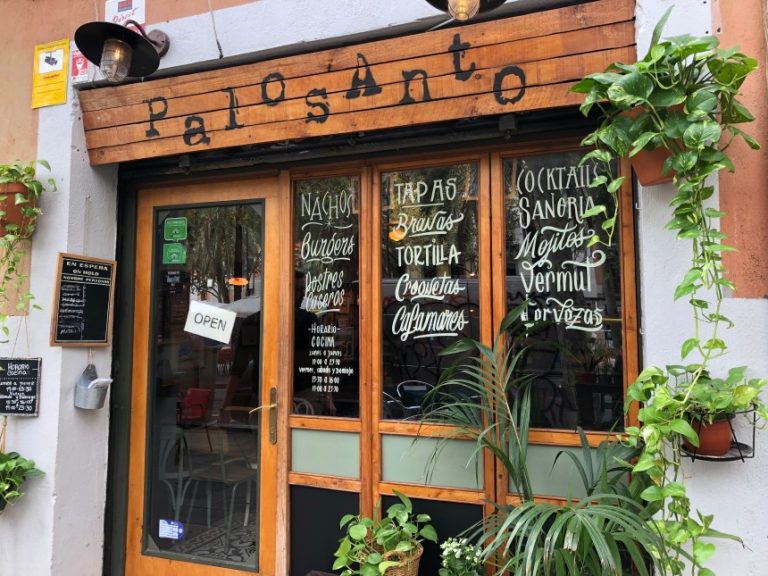 Palosanto is by far our favorite tapas bar. Moreover, it is a great spot to spend a moment with family or friends. The tapas are homemade with very good quality products, and the portions are generous and tasty. The team in service is very friendly and offers an amazing service! In the same vein, the small size of the room gives a warm and friendly atmosphere. Finally, what adds a small touch of fantasy are the drawing books and pencils that we have at our disposal.
Opening hours:
Friday to Sunday: from 18:00 to 23:30
Address: Rambla del Raval, 26, 08001 Barcelona
Also, we have more great tapas places to share with you. Check out this map for another selection of Tapas bars in Barcelona:
So, if you are looking for comfortable accommodation to relax in after stuffing yourself at the many Tapas Bars in Barcelona, visit Barcelona-Home for great apartments and studios.