Tips to rent accommodation
Daily rentals: apartments, houses, studios, luxury properties; Monthly rentals: fully furnished apartments and rooms; Yearly rentals: furnished and unfurnished properties. You can always contact us to receive some advice to choose the perfect accommodation for you or assistance during the booking process! Telephone: (+34) 622 296 853 Mail: [email protected] Website: www.barcelona-home.com
Monthly Apartment Rentals in Barcelona
Spain opens its border from 1st July for all the tourists and Barcelona is ready to receive you! See what are the best places to stay if you are looking for monthly apartment rentals in Barcelona.
People move to Barcelona for various reasons. Some people come to stay only for a couple of months and they do not prefer annual contracts. Barcelona-Home provides offers for monthly apartment rentals in Barcelona with short-term or long-term contracts. If you wish to stay less than a month, you also have the possibility to rent an apartment for weeks or days.
Especially, if you are uncertain of which area to choose for your stay, a great solution is to choose one of the daily rental apartments in Barcelona. So you can just get a feeling of where you would like to live. If you like the apartment and the area, you might want to extend that short-term rental into a monthly apartment rental. On the contrary, you might feel that another area would suit you better. In that case, we will help you with the relocation. Therefore, we have listed some of the best apartments you can rent monthly in Barcelona. 
Cozy apartment in the heart of Gracia
From 690€/month
This enchanting apartment is your best cheap option of our monthly apartment rentals in Barcelona! It has one bedroom and is the perfect home for up to 2 people. The flat has a modern style that you will fall in love with. The wooden ceiling and the white interior gives the flat a relaxing and homely atmosphere. The apartment has a fully equipped kitchen and a bathroom in the same style with the other spaces. In addition, it is perfect located close to main places in Barcelona such as: Sagrada Familia, Paseo de Gracia and Ramblas.
Address: Carrer de Bruniquer- Gràcia

Warm, welcoming apartment near Barceloneta Beach
From 1000€/month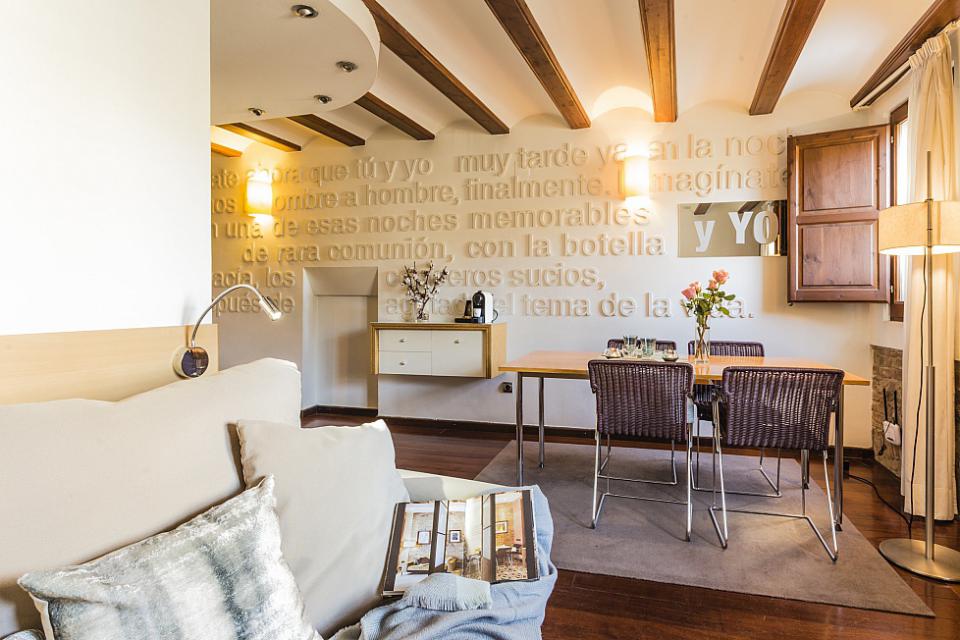 This welcoming apartment has all the charms of the historic buildings from the 18th century! The apartment is luminous thanks to the big windows offering plenty of sunlight. In addition, the creative living room displays a poetic decoration with lines from the poet Carlos Barral written on the wall. The open kitchen is fully equipped and very modern for your stay in Barcelona. The bedroom is very comfortable and romantic. Its bathroom features a relaxing bathtub so you can enjoy baths at the end of your day. The building also has a reception, a café and a restaurant for your own comfort.
Address: Plaça d'Antonio Lopez – Gothic District

Gorgeous apartment with terrace to rent in Barcelona
From 1050€/month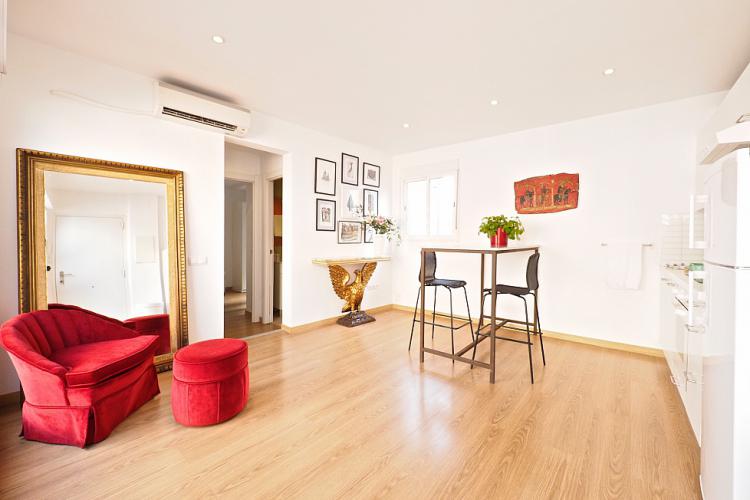 This apartment is perfect for a couple! The beautiful and bright apartment in the heart of Barcelona is a must have apartment. The kitchen and bathroom are both well-equipped. In addition, the bedroom features a comfy double bed, a desk, a closet and windows. The spacious terrace with a table and chairs is perfect to chill and enjoy the sweet Barcelona weather.
Address: Carrer dels Capellans – Ciutat Vella

Elegant apartment with balcony in Sants Montjuïc
From 1250€/month
Check out this beautifully decorated apartment! The modern and elegant apartment is situated in the great Sants Montjuïc district of Barcelona. The minimalist and warm living room is decorated by a long sofa bed which is perfect for two additional guests. The apartment has two bedrooms with a sophisticated design. Two balconies offer a nice outside view.  Moreover, a charming dining area links the living room to a fully equipped kitchen.
Address: Carrer de la Torre d'En Damians – Plaça d'Espanya

Two-bedroom apartment in the Gothic Quarter
From 1350€/month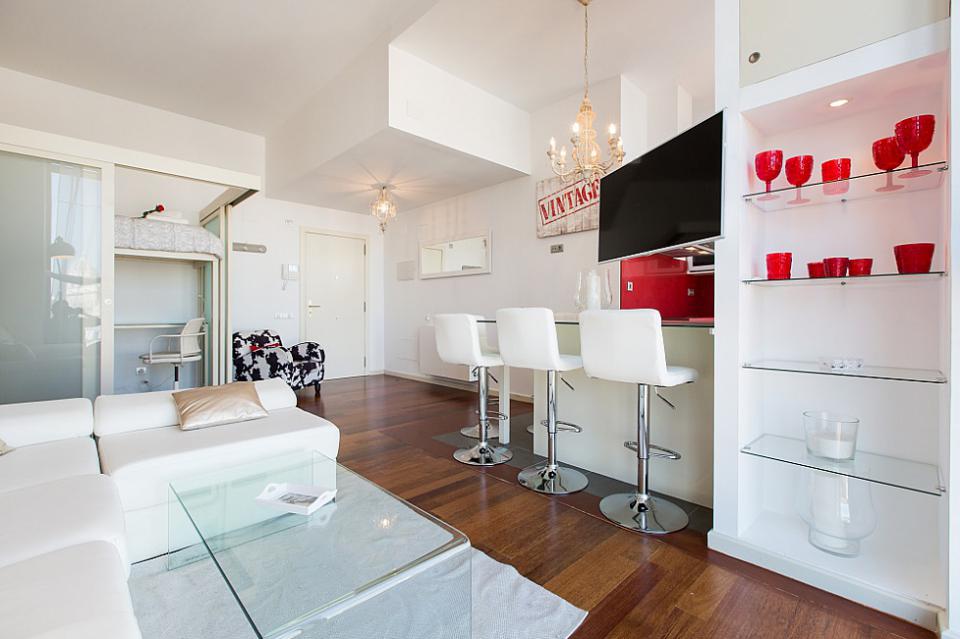 Look at this vintage, modern and practical apartment located in the historical center of Barcelona for a little family of three people. The living room features a vintage theme with a white couch, an elevated glass table, white scoop-back stools. There are two bedrooms: one unique bedroom ideal for a child, one master bathroom with a soothing atmosphere and natural lights. The V-shaped kitchen is modern has all necessary amenities. Moreover, you have access to a communal rooftop pool with crystal clear water, perfect to have a swim and enjoy the sunny weather and beautiful views. 
Address: Av. del Portal de l'Angel – Ciutat Vella

Colorful apartment in the city center
From 1875€/month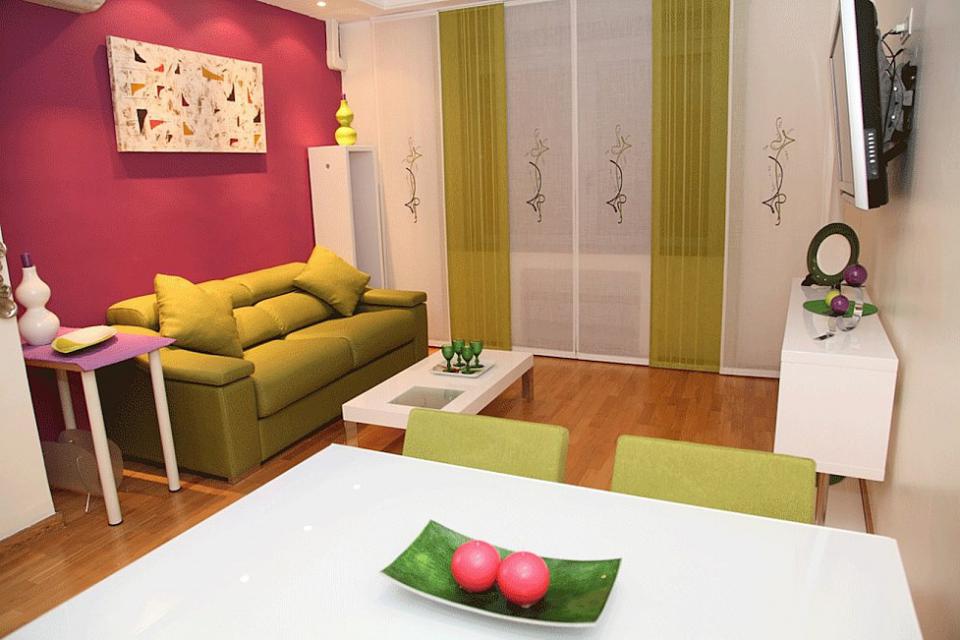 This colorful apartment can host up to 3 people. So, it's perfect for a small family or a group of friends. The vibrant apartment has a nice living room with a flat-screen TV, a dining table with chairs and a comfy double sofa bed. The flat has one bedroom with one single bed. The elegant kitchen area has all the equipment you'll need to cook. In addition, there's an elevator to use.
Address: Carrer de les Jonqueres – Ciutat Vella

Modern apartment near Turo Park
From 2100€/month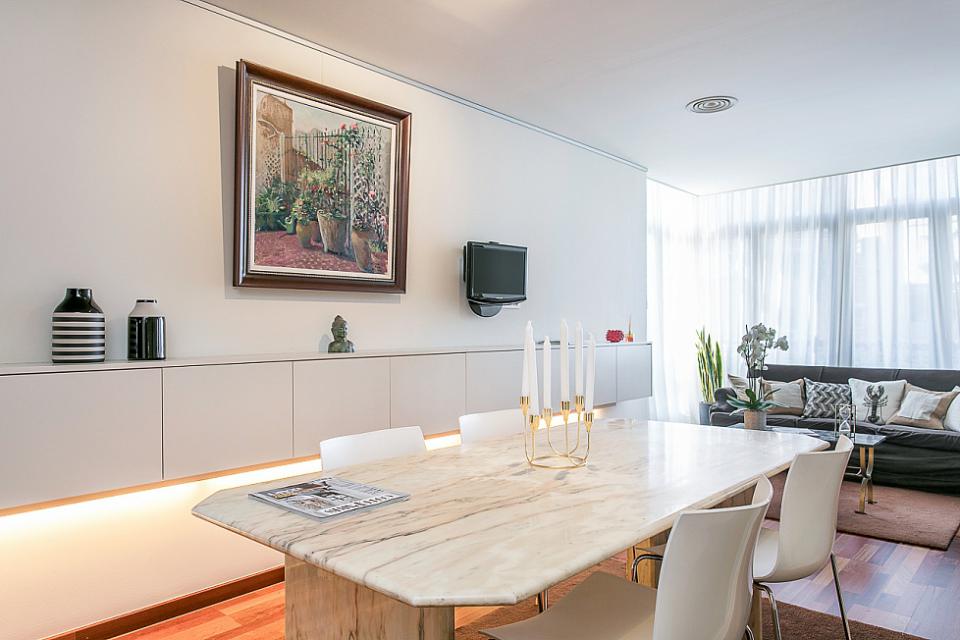 The perfect family apartment in Barcelona. Check out this beautiful apartment in the Sarrià neighborhood (next to Turo Park). It is a bright and luminous apartment because the windows surround the entire place. This luxury apartment has a cozy living room and dining area are spacious and agreeable. The flat has two bedrooms both with pleasant double beds. Similarly, the two bathrooms are made of grey tiles, wooden cupboards, and a shower in each of them. Moreover, the kitchen is modern, large and fully equipped.
Address: Carrer Francesc Pérez Cabrero – Sarrià-Sant Gervasi

Glamorous apartments in Barcelona, Eixample
From 3000€/month
This luxury apartment has a great location few minutes from the Barcelona´s major tourist attractions. Also, it's a great fit for a family of six or a big group! The spacious living room is beautiful and cozy by its unique decoration. This flat contains three double bedrooms with three double beds. The kitchen is fully equipped so you can cook just like at home. There are two bathrooms with everything you need. In addition, you have exclusively access to a private terrace to chill after a long day.
Address: Carrer del Bruc – Eixample