Best Bars in La Barceloneta
LA BARCELONETA is a relatively small seaside part of Barcelona, boasting a fantastic BEACH and the freshest of the city's seafood. La Barceloneta also has a great selection of bars, including Beer Bars, Tapas Bars and Cocktail Bars. Here we explore 10 of the best in this seaside district of Barcelona.
El Vaso de Oro
Styled like a narrow cruise-ship bar, El Vaso de Oro certainly does not lack in character, nor in tapas. Enjoy favourites like the chorizo or patatas bravas, and wash it all down with some of their delicious beer, made from the centuries-old recipes of beer masters and with the best ingredients. With over 50 years of history, this unique and popular bar opens onto the street, giving guests the chance to enjoy a delicious meal in a bustling daytime or buzzing nighttime atmosphere. With both simple and elaborate dishes, there's something for everyone. So for a great drink in a cosmopolitan atmosphere, make sure not to miss out on El Vaso de Oro.
 Monday-Sunday, 11:00 – 00:00
 €€
 Carrer de Balboa, 608003, Barcelona
Bar Ké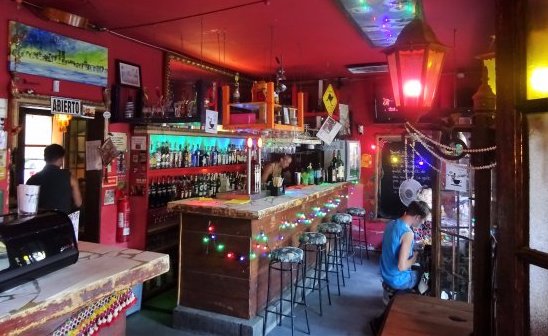 Bar Ké is a modern restaurant by day and lounge-bar by night, which attracts a lively and friendly crowd. This small bohemian-inspired bar features keg chairs and worn out loungers, making it the hub of comfort. Not only great for a comfortable and relaxing drink, but you'll also be sure to find animated conversation among the lively staff and customers. A reflection of its Dutch owner, Bar Ké is an open and welcoming bar, ideal for a snack or a tempting drink, and even boasting outdoor seating for those summer days.
 Monday-Sunday, 10:00 – 02:00

 €€

 C/ Baluard, 54, 08003 Barcelona
Bar Eclipse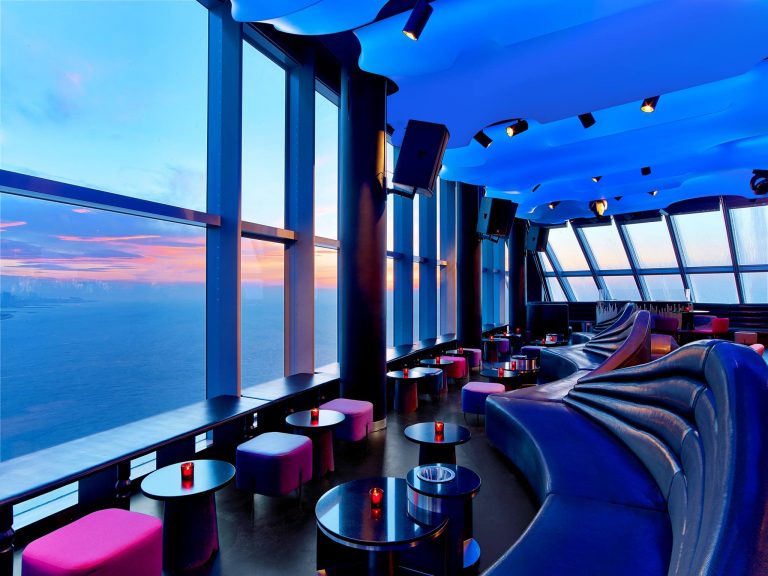 Eclipse Bar is located on the 26th floor of the luxurious W Hotel Barcelona. It is situated along the coast of Barceloneta beach. The view from the bar is simply mesmerising, in that you can see everything from above and feel as if you are majestically floating on clouds above the city. Order your favourite cocktail and lose yourself in this glorious moment. If you're looking to dress up and have a more elegant and sophisticated bar experience, then Bar Eclipse, with its 'elegant and chic' dress code is the bar for you. Moreover, Bar Eclipse serves guests the finest of sushi fusion cuisine and inventive and creative cocktails made by expert mixologists.
  Friday-Sunday, 18:00 – 00:00

 €€€

 Hotel W, Plaça de la Rosa dels Vents, 1, 08039 Barcelona
 La Cova Fumada

Maybe you haven't heard about La Cova Fumada, but you have definitely dreamed about la bomba de Barceloneta. They are famous for their fresh seafood: the squid pan-seared with olive oil and garlic, cod and the freshest homemade tomato sauce, perfectly fresh and briny mussels in a rich sauce. Moreover, they also serve their homemade wine!  A friendly and homely bar, this is the perfect place to revel in the 1940s décor and chat with the friendly staff while tucking into their fantastic food. With seven old tables and a small open kitchen, the décor and menu remain almost unchanged since its establishment, yet its popularity keeps on growing. This is one of Barcelona's Hidden Restaurants which should not be missed.
 Monday-Wednesday: 09:00 – 15:00, Thursday-Friday: 9:00-15:00, 18:00-20:00, Saturday: 9:00-13:00, Sunday: Closed

 €

 Carrer del Baluard, 56, 08003
Looking for an accommodation for your stay in Barcelona? Check out these great apartments in the city centre!