We've officially entered the holiday season, Barcelona is starting to come alive with Christmas markets, lights, and decorations.
As Christmas is rapidly approaching its time to get started on your Christmas shopping. whether for your family or friends a lot of thought goes into picking the perfect present. To lend a helping hand in finding unique gifts here in Barcelona we've put together a few different options we're sure you'll love.
The leather in Spain is something worth appreciating. Which is why many local artists are constantly creating cool pieces with this sturdy material. from cute bags and classic gloves to intricate jewelry, maybe something like this is exactly what you're looking for when thinking of a special gift.
Check out Alexis Fasoli  in the Born for a true leather studio, where each special piece is handmade by Alexis
Alonso is the place to go for goods such as gorgeous  leather gloves and silky smooth scarves
Lupo specializes in originally designed leather bags that are come different fashionable shapes, size and colors
Spain is known for its fantastic wine and wonderful food, so if you have to buy a gift for a foodie we would recommend some of the following options.
Spanish and Catalan wines for example from Bodega Maestrazgo who offer a wide variety of wine.
Extra virgin olive oil, Barcelona has many local made olive oil such as the ones OliSol offers
Vermouth from Casa Mariol.
Turrón from Pastisseria Ideal or Torrons Vicens.
Embotits, or cured meats and sausages like Iberian ham, Catalan sausage, and chorizo, from La Botifarreria de Santa Maria or La Trobada del Gourmet.
Anchovies and other gourmet products at Colmado Quilez our favorite would be the l'Escala anchovies from Catalonia's Costa Brava!
Chocolate from Fargas, one of Barcelona's oldest chocolate makers yet.
Play our interactive Christmas memory game!
 If you're looking for something to really represent Barcelona's architecture and style then check out the various mugs, plates, and trinkets with the Gaudi inspired modernist design. you'll be able to find these all around the city, varying from store to store. For a unique variety of classic as well as modernist designs look up the Ceramiques Pahissa store. A great idea would also be a cute coffee table book with beautiful pictures and descriptions of some of Barcelona's favorite artists.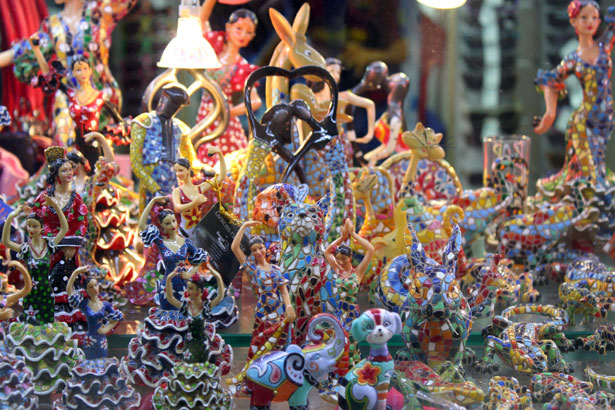 For something, completely out of the box we would recommend taking a look at Drops Barcelona where you are presented with the chance to explore the world of haute perfumery. As it is a very classy gift it would be the perfect present for the people closest to you such as your mother or your significant other.
With over 25 years of experience, DROPS has introduced over 15000 in the perfumery market using quality ingredients from all over the world to create the best products for the clients.
Barcelona is filled with fantastic gift ideas so we're sure you will be able to find great gifts for everyone on your gift list. Don't forget to check out the best winter markets in Barcelona where may local artists showcase cool pieces of work whether it be jewelry, paintings, handcrafted bags or one of a kind piece of clothing.
Check out our SPECIAL DEALS ON APARTMENTS all over the city!