Best Chiringuitos in Barcelona
Chiringuitos are a classic go-to spot in the summer season. Translated into English, the word means beach bars. In Barcelona, you will find many chiringuitos along the coastline. On hot summer days, when you are relaxing on the beach, you can pop into a Chiringuito to grab a drink and a bite to eat.
Originally chiringuitos were only supposed to offer food and drinks, but nowadays in Barcelona, they have waiters coming to the tables, live DJ's, and much more! They start to open in the spring, right before the summer heat hits the city. During the day you can enjoy some lunch and a cocktail. Then later at night, most chiringuitos transform into a beach party… so beware. Keep in mind though that chiringuitos are usually not very cheap since they are located right on the beach.
KEEP IN MIND THAT ALL CHIRINGUITOS ARE LOCATED ON THE BEACH AND THEY ARE ONLY OPEN IN THE SUMMER.
#1 Pez Vela
Source: www.eltenedor.es
Pez Vela is a deluxe beach bar located under the W Hotel. Child of the Tragaluz group, a family-owned business founded in 1987. They have a myriad of restaurants between their Barcelona, Madrid and Girona locations. Pez Vela has been running since 2011, an extremely popular Chiringuito for tourist and locals alike. The food is built around fresh grilled fish, rice dishes, and salads. As it is open every day for lunch and dinner, it's always crowded and plays great music! One of our all-time favourite Chiringuitos in Barcelona.
Opening hours: Monday – Sunday 12:30-23:00
Address: Passeig del Mare Nostrum 19-21, Barceloneta
#2 El Chiringuito Group
Ver esta publicación en Instagram
The Chiringuito Group is a beach bar chain in Barcelona. They are a great place to hit if you looking for something super delicious to fill you up. Some of their most popular meals that they offer include; poke bowls, nachos, wraps and burgers. In addition, if you're looking to host an event, this could be the perfect place to do it! They offer a complete service including wait staff, a personalised menu and decor.
Opening hours: Monday – Sunday 9:00-1:00
Address: Plaja San Sebastián, Av. de Litoral, 108, 08005, Barcelona
Plajta del Bogatell, s/n, 08038, Barcelona
Plaça del Mar, 08003, Barcelona
#3 BeGay
Source: www.misterbandb.com
This is a great place to party on the beach, combined with their extensive drinks menu and beautiful interior you are sure to have a great time. If you are booking as a group for a celebration, they also offer different menus that you can choose from. These set menus vary and had different reservation conditions, but be sure to take a look!
Opening hours: Everyday 9:30-02:00
Address: Passeig Marítim de La Mar Bella, s/n, 08005, Barcelona
#4 Vai Moana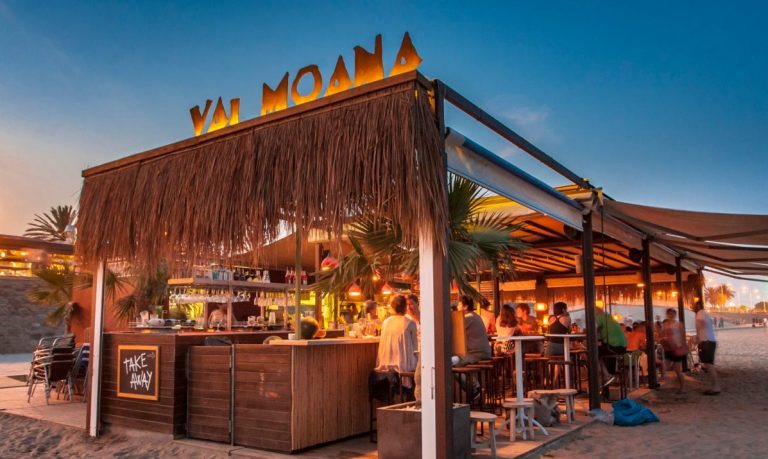 Source: www.bpremium.com
Vai Moana chiringuito was inspired by Easter Island off the coast of Chile. The name Vai Moana means "blue ocean" in Rapa Nui, the native language on Easter Island. Located on Bogatell beach, they offer a great variety of choice in food. From meat, seafood and cheese plates, to children's menu and snacks. Treat yourself to a  cocktail, whilst listening to some nice lounge music. Many say this beach bar is ideal for a romantic location for couples who are on a date.
Opening hours: Monday – Sunday 9:00-2:00
Address: Av. del Litoral, s/n, 08005, Barcelona
#5 Bambú Beach Bar
Bambú is your little slice of Thailand in Barcelona. Although you don't need to worry about the cuisine. Even though Bambú is inspired by Thailand, they still offer a great variety of food. From breakfast to traditional tapas including a huge range of salads and sandwiches. It is also in the perfect location for hitting the beach, but also avoiding tourists. Furthermore, at night it transforms into a cool cocktail spot. This is another one of the chiringuitos that is available for private events.
Opening hours: Monday – Saturday 10:00-23:00 & Sunday 10:00-22:00
Address: Ronda Litoral, s/n, 08005, Platja de Llevant
How to get there
You can rent a bike and cycle down to the beach. It is a nice route to cycle along the coastline and stops at a Chiringuito on the way.
The nearest metro stations for the beach are:
– Barceloneta (L4)
– Ciutadella  – Vila Olympica (L4)
Are you planning a trip to Barcelona and looking for somewhere to stay? Why not take a look at the available apartment rentals on our website! Please feel free to contact us with any questions you may have.