Barcelona, the city many-faced city! If you love music, you will definitely find something for you. From museums to street live performances. Even restaurants have live shows so that you can enjoy your meal with music. So, listen to some songs about Barcelona, read our itinerary on Barcelona for music lovers and enjoy your musical trip!
Things to do 
Barcelona streets are full of persons sitting around, playing music and singing. Where to find it and the best atmosphere? Gràcia! You can stroll around in Vila de Gracia or Plaça del Sol you always going to hear someone playing something. Another spot where you will be able to find a lot of street artists is in Port Vell, at the entry by the stairs, you won't be able to miss it just follow the sound. You can find street performances in all the main areas of the city, you are definitely spoilt for choice :).
How about visiting the Palau de la Musica Catalana? It is registered at the UNESCO World Heritage Site. If you want to enjoy the stunning infrastructure, you can pay a visit during the day or at night, you can assist to classical concerts, opera for instance. Today, more than half a million people a year attend musical performances in the Palau that range from symphonic and chamber music to jazz and Cançó (Catalan song).
On your early evening, you could go to the Grand Theatre de Liceu, Barcelona's oldest opera house situated on La Rambla. If you would like to see a performance in this amazing space, you can find the program on the Opera house website offers a variety of performances, not just operas but ballets and concerts to suit all ages and tastes. There are also adaptations of famous operas aimed at children called 'Petit Liceu Families'.
At night, how about going to some live music concert bar? There is an amazing Jazz Club, Jamboree in Plaça Reial. From 8 pm to 10 pm you can assist to two live concerts by well-known artists. Afterward, the place turns into a hip hop, funk, soul, R'n'B club. There is something for everyone. Another option to Jamboree is Los Tarantos if you want to experience something more Spanish! It is also located in plaça Reial. As well as the dance, they also show flamenco singers in an intense 30 minutes show every night. It is one of the most authentic experience you will be able to enjoy in Barcelona in this category.
Where to eat
After all these activities, you are definitely going to be hungry. In this section, we present you a couple of nice restaurants that offer live music performance from a different genre.
El Beso y La Lluna
El Besos y La Lluna is located in el Barrio Gótico, the historic center of Barcelona. You will be able to enjoy creative Mediterranean cuisine on the menu! Every night from 07:00 pm you can listen to live music. Let yourself be enchanted by the flow of Jazz.
El Bombón
Bombón is your typical Latin-American bar in Barcelona. Indeed, come and enjoy some Caribbean food, Mojito and end the night dancing on Salsa Music.
Margarita Blue
Margarita Blue is your Tex-Mex, Mediterranean food restaurant in Barcelona. You can enjoy some delicious cocktail while assisting to live music and performances! You can assist to salsa, traditional Cuban and Mediterranean music.
Where to stay
Take a look at our apartments for music lovers in Barcelona: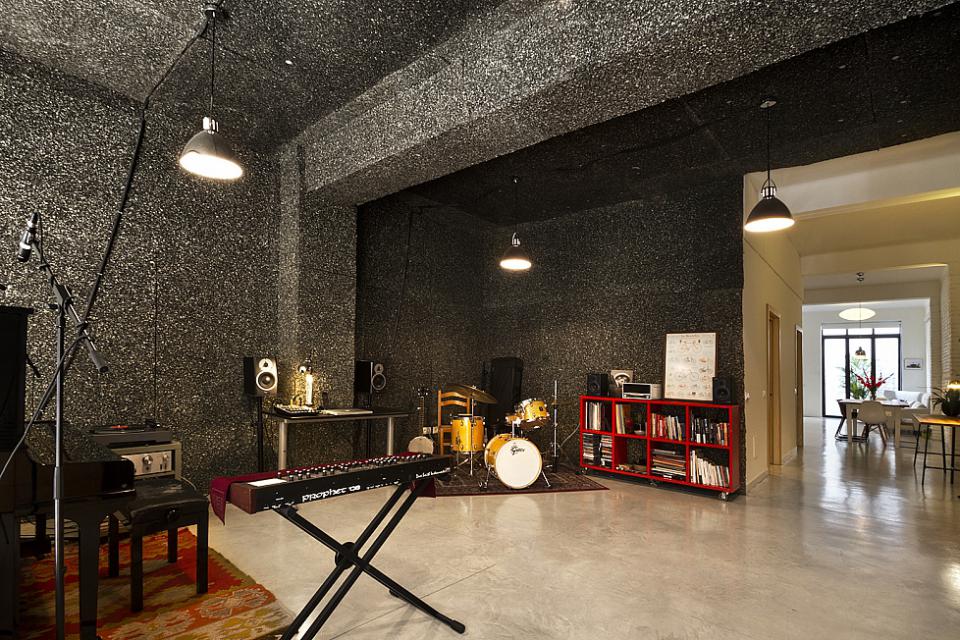 Apartment with a recording studio
This apartment comes with a movie projector and acoustic sounds installation, a perfect studio for a musician or quiet home office. We love the pristine bedroom, with its large bed matching 2 comfy sofas.
From 1100€ / MONTH| 80m²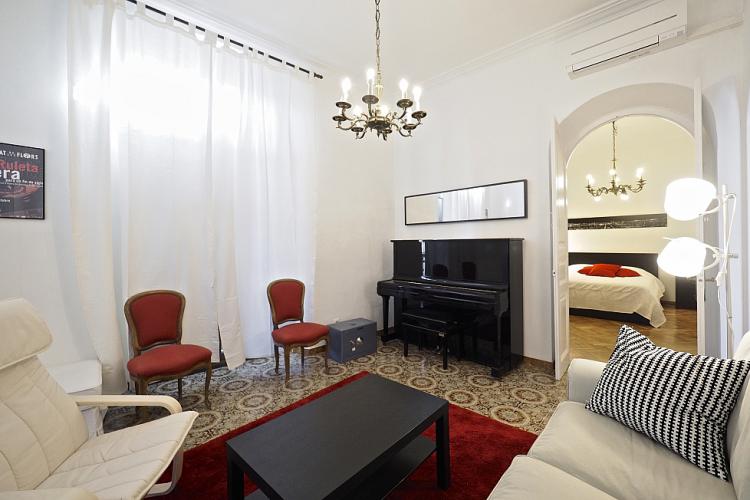 Apartment with a piano by Las Ramblas
You will love the bedroom with its high ceilings, smooth parquet floors and high-quality furniture adding a majestic touch to the space. The apartment also features another bedroom with a double bed and a reading desk. In the living area, you will also find a comfortable couch below a pretty vintage painting on the wall and a beautiful Kawai grand piano.   From 1479€ / MONTH| 80m2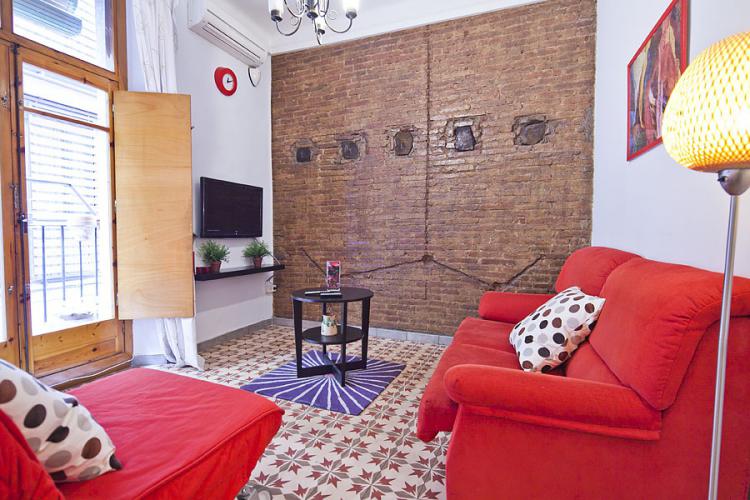 Cozy apartment by Palau de la musica Catalan
How about finding an apartment by Palau de la musica Catalana? This accommodation features a master bedroom with a cozy double bed and large white armoire, as well as a smaller single bedroom perfect for a child. The bedrooms come with a clean, minimalist style to make you feel at home and share a modern bathroom with a shower.
From 88€/ NIGHT| 45m2 | License: HUTB-002305