The W Hotel
Made by world-renowned architect, Ricardo Bofil, the W Hotel in Barcelona offers comfort and luxury to their guests. The W Hotel has 473 guest-rooms and suites that include breathtaking panoramic views of Barcelona and the Mediterranean Sea. Located on the Barceloneta, this hotel is at a perfect location as it is minutes away from the beach and is walking distance to the downtown area. The W offers more than just a place to stay but rather an exclusive experience that will further elevate time spent in Barcelona.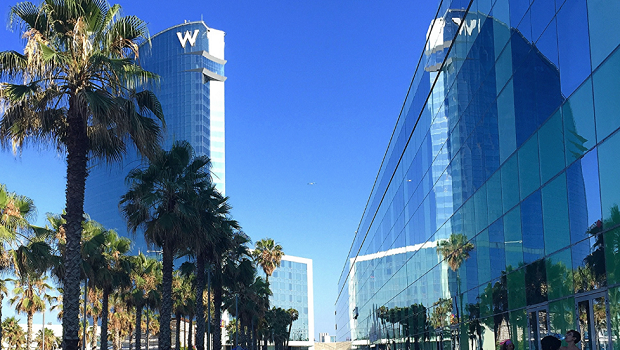 Accommodations
#1 Guest Rooms
The W offers a variety of rooms that you can chose for your fabulous stay at this sophisticated landmark. Each bed provided at this exclusive spot includes a plush pillow-top mattresse, feather duvet, and 350-thread-count linens. Starting at the lowest rates, you can reserve a stay at one of their "Cozy" guest-rooms. Located at the bottom floors, guest rooms contain open floor plans with design features inspired by iconic figures such as Gaudi and Saint Eulalia. You can choose to reserve those rooms as they are or upgrade them to have a marina view.
#2 Suites
The suites are larger in size and have a larger view towards the Mediterranean Sea and city. The "Studio" is the most basic suite that they have which includes a partial ocean view along with a sofa bed. The W provides a "Cool Corner","Marvelous", "Spectacular", and "Wow" suites. Suites comes with an abundance of amenities and fabulous ocean or skyline views. The W has the "Extreme Wow", which is a 3-bedroom Presidential Suite included located on the 25th floor. This phenomenal room comes equipped with seafront views which can be viewed from the terrace or from the rotating circular bed.
Dining
The W houses a variety of restaurants varying in ambiance, dress code and cuisine. If you don't feel like dressing up and going to eat, no worries, their 24-hour in-room dining service will be a buzz away to satisfy your cravings. Below are a few of the many bars and restaurants located within the property.
#1 Fire
Hours of Operation (Reservation required)
Monday & Tuesday: 
07:30 AM–11:00 AM
Wednesday & Thursday :
07:30 AM–11:00 AM | 
07:00 PM–11:59 PM
Friday-Sunday:
07:30 AM–11:00 AM | 
01:00 PM–04:00 PM | 
07:00 PM–11:59 PM
Being considered as the main restaurant at the W, "Fire" was created by Carlotta Delicado, winner of 2016's Hell's Kitchen Italy.
With her 6 years of experience, Carlota designed a fascinating menu using locally sourced and foraged ingredients which are cooked in the center-staged wooden parilla.
#2 Wet Deck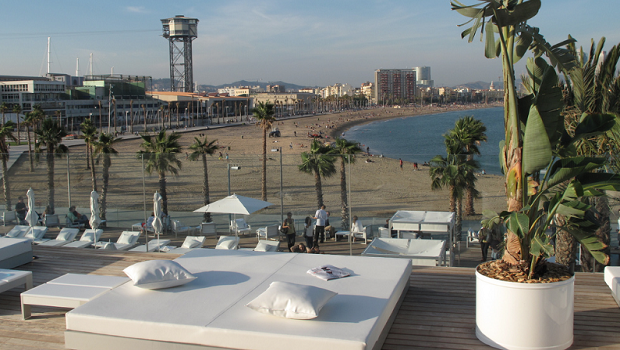 Hours of Operation
Sunday-Thursday :
10:00 AM–11:59 PM
Friday & Saturday:
10:00 AM–01:00 AM
Located outside in the terrace, this international oriented restaurant/bar is the perfect place to sip on cocktails and enjoy some tapas or meals. As the night winds down,
WET
 invites local and international DJ's to spin some beats while their guests indulge in the Mediterranean views. On Sunday nights, this location brings in Barcelonas socialites to hang around and dance at this elegant setting.
#3 Pez Vella



View this post on Instagram

Hours of Operation
Monday-Sunday: 12:30pm- 1:00am
This popular chiringuito located on the bottom floor of the W, revolves their menu around paella, fresh appetizers and salads. This restaurant is perfect to enjoy cocktails and tapas as it has beautiful views of the Barceloneta.
Spa & Fitness
View this post on Instagram
A post shared by Hotel W Barcelona (@whotelsbcn)
After a day of eating and experiencing the city, the W provides relaxation and fitness amenities that can help you wrap up your day. SPA by W Barcelona is the ultimate wellness center as it offers extravagant spa services. GETAWAY is a new relaxation area containing saunas, steam rooms, and swimming pools. The hotel offers a state-of-the-art fully equipped gym called FIT. FIT has various options to choose from starting by offering personalized workout experiences from the hotels qualified team. Outdoor options are available from group fitness classes to  yoga and pilates.
Get ready to enjoy an extravagant vacation here at the W of Barcelona, where the options are limitless!
Are you planning a trip to Barcelona and looking for somewhere to stay? Why not take a look at the APARTMENT RENTALS WE HAVE AVAILABLE ON OUR WEBSITE. Please feel free to contact us with any questions you may have.