History of El Born
El born is known to be one of the most breathtaking neighborhoods in Barcelona. Born was a busting area alive in the medieval times. As there was very near to the port and harbor this was an advantage for the traders as they began to built palaces near the port which can still be seen today near the Calle Montcada. Although, this was later followed by a massive financial crisis in the 16th century due to the downturn in Mediterranean trade. This is where Felipe V destroyed a majority of the neighborhood to build a castle, which is now turned into the beautiful Parc Ciutadella.
Despite the settlements built on medieval times over the last 30 years or so, the neighborhood has turned into quite a fashionable neighborhood you see today, it still consists of the antique medieval dress sense and such as Picasso Museum, Palau de la Musica, the church of Santa Maria Del Mar and many more.
What to see in El Born
Located in the Ciutat Vella, El Born, the lower section of the La Ribera district, is a city that centers on culture. It can be seen that Calle Montacada was a medieval street which is now popularly home to the museum of textile and most importantly Picasso, they both consist of a beautiful little outdoor terrace. Textile has sentimental value as this museum as this was home to the textile guilds of Barcelona in the early days of born. There is also a beautiful cathedral that you can see and have a quick wander which even holds up special ceremonies occasionally such as weddings.
El born is right sandwiched between Barceloneta and Via Laietana which is through the metro stops Barceloneta and Jaume 1 which are on the same line. To be more exact, just below Carrer de la Princesa and leading to Barceloneta, that area is referred to as El Born after the 19th century market on Carrer del Comerç that dominates the area. Las Ramblas and the center of the city is just a few minutes' walk away.
As well as the beach which is just a matter of 10 minutes away making your stay even more enjoyable as you can have both a beach holiday as well as a city break two in one. If you are staying in accommodation nearby your also able to visit the popular Parc Ciutadella where you can go for a wander and a walk, you can also see the zoo from here also as that is located in the Parc Ciutadella.
Where to eat in El Born
The cafes in Passeig De Born are site to the tourists, as well as the many bars which serve up a mean Mojito. Bars such as Bar Mercaders, Collage, and Bar Del Pla, these all serve up a variety of different drinks, gin and tonic as well as the tapas bar. Station Barcelona is a bar located in a train station estacio franca. Every Friday you can fin language exchange event there. El Born is also claimed to be the best pizza place in Barcelona and at such a discounted price of 1.50, you can't complain.
The nightlife is seen to be extremely busy and involves some of the best nightclubs such as, Magic Club, Catwalk's preparty place Diobar, cocktail bar the Glass bar (Passeig de Picasso, 20), Club Mix and many more. As well as the quite delightful taste of restaurants such as, Casa Delfin, Restaurant Montiel and many others that you can go and explore.
Born Barcelona is without a doubt the trendiest neighborhood and as it's known to be fantastically fashionable, it has stores such as Ena Macana, El Calaix, My Beautiful Parking, these are some of the trendy high street and vintage stores you will find all around. And my beautiful parking is a unique tailor-made shop for the fixed gear bicycles.
As you can see, Born is seen to be highly busy for the families as well as the tourists; the culture is a charming part of the city with a beautiful bar scene, restaurants, sightseeing places to visit, vibrant cafe.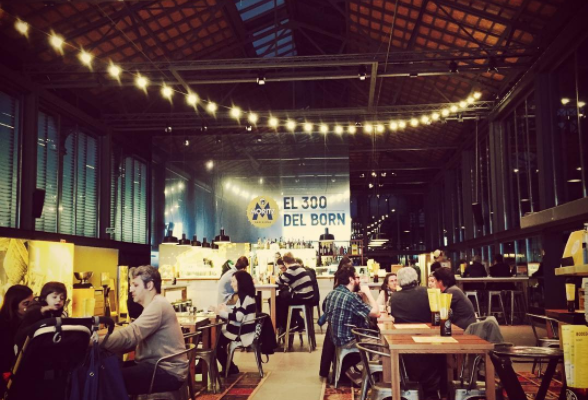 Where to live in Born
In the district of Ciutat Vella, you will find classical and older buildings, however, the interior of the place will blow you away with its moderate qualities and lit up the ambiance. This is very close to the Ramblas and Plaza Catalunya where the beach and the marine are close by. Find accommodation in Born to suit your needs and you can enjoy the beautiful part of this city.
CENTRAL DUPLEX IN BORN, BARCELONA
Peaceful duplex apartment with a practical arrangement and enviable location available for a long-term stay in the cultural center of Barcelona. The apartment has a fantastic location in El Born, a neighborhood known for its picturesque plazas, excellent restaurants, and bars. We especially recommend Santagustina in the beautiful Plaça de Sant Agustí Vell and En Aparté in the Plaça de Sant Pere, where you can taste delicious cheeses with a view of the historic Sant Pere de les Puelles church.
From 900€ /  MONTH| 30m²
RUSTIC APARTMENT FOR COUPLES IN BORN
This charming apartment in Barcelona with two bedrooms is located in the beautiful downtown neighborhood of Born. It is a privileged area, known for its great atmosphere and its combination of modernity and history, with landmarks such as the Picasso Museum and the church of Santa Maria del Mar. It is also very close to the Gothic Quarter and the harbor.
From 1800€ / MONTH| 65m2
CENTRIC APARTMENT WITH BALCONY TO RENT IN BORN, BARCELONA
Lovely apartment for a family or friends seeking long-term accommodation in the cultural center of Barcelona. The residence features a charming master bedroom with a large double bed, wooden armoire, and dresser, as well as a bedroom with 2 single beds. As does the rest of the apartment, the bedrooms display exposed wooden beams in the ceiling and subtle touches of purple here or there, which suggest a rustic-chic style.
From 1350€/ MONTH| 45m2

Don't forget to share your thoughts!