El Born / La Ribera in Ciutat Vella
Located in the Ciutat Vella, El Born is the lower section of the La Ribera district. El Born is right between la Barceloneta and Via Laietana which is through the metro stops Barcelonata and Jaume 1 which are on the same line. To be more exact, just below Carrer de la Princesa and leading to Barceloneta, that area is referred to as El Born after the 19th century market on carrer del Comerç that dominates the area. Las Ramblas and the center of the city is just a few minutes' walk away.
As well as the beach, you have the zoo, which is located in the Parc Ciutadella. All of these are just 10 minutes away from the center of Born. Having access to the beach, park and city is what makes Born such a great neighbourhood to stay in.
Source: www.adondeviajar.es
History of El Born
El Born is known to be one of the most breathtaking neighbourhoods in Barcelona. As it is very near to the port and harbour, Born was a bustling neighbourhood in the Medieval times. Proximity to the port was an advantage for the traders as they began to built palaces near the port, which can still be seen today near the Calle Montcada. However, this was later followed by a massive financial crises in the 16th century due to the downturn in Mediterranean trade. This is where Felipe V destroyed the majority of the neighbourhood to build a castle, which is now turned into the beautiful Parc Ciutadella.
Despite the settlements built on medieval times over the last 30 years or so, the neighbourhood has turned into quite a fashionable one. It still consists of the antique medieval dress sense and such as Picasso Museum, Palau de la Musica, the church of Santa Maria Del Mar and many more. If you are walking through the streets of El Born consider visiting some of these places!
What to see
It can be seen that Calle Montacada was a medieval street; which is now popularly home to the Picasso museum. There is also a beautiful cathedral that you can see and have a quick wander which even holds up special ceremonies occasionally such as weddings.
# 1 Museu Picasso de Barcelona
With a collection of 4,251 works by the Malaga painter Pablo Picasso, this museum is considered the most complete in the world in terms of works from his youth. Take part of this experience with the starting price of 12€; or make the most of it with the free access on the first Sunday of the month. Likewise within the museum you can also enjoy multilingual guided tours, events, other special exhibitions, the library and more!
Ver esta publicación en Instagram
Opening hours: Tuesday to Sunday from 10:00-20:00
Address: Carrer de Montcada, 15-23, 08003 Barcelona
# 2 MEAM Museu Europeu D'Art Modern
This museum is located in an 18th century palace that displays figurative painting and sculpture from the 20th and 21st centuries. The MEAM is actually one of the first museum of contemporary figurative art of Spain. Above all, with an standard price of 9€ they offer you constantly changing activities all year! From exhibitions and concerts to art courses and workshops for kids, this museum offers you unique experiences.
Opening hours: Tuesday to Sunday from 11:00 to 19:00
Address: Carrer de la Barra de Ferro, 5, 08003 Barcelona
Where to eat
The cafes in Passeig De Born are site to the tourists; as well as the many bars which serve up a great Mojito. The bars all serve up a variety of different drinks, gin and tonic as well as tapas bar. In addition, there's also the Station Barcelona bar located in a train station Estacio Franca.
# 1 Bar Mercaders
A classical rock n' roll musical bar, The Mercaders has the ready-made comfort and charm that comes with a corner bar since the 2000's. Serving you all kind of drinks in this family-type ambience is the experience that this bar offers you!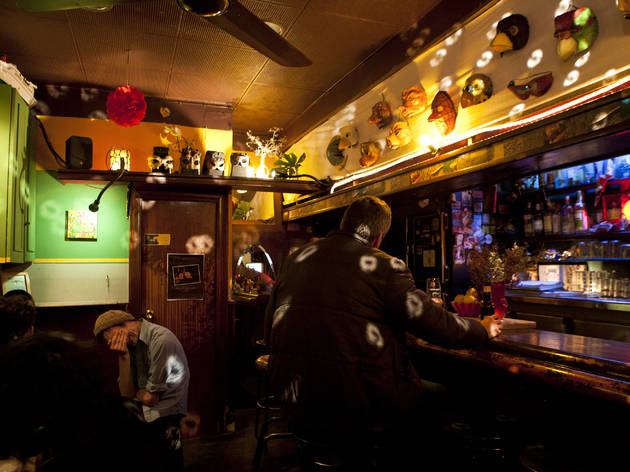 Souce: www.timeout.com
Opening hours: Every day from 20:00-03:00
Address: Mercaders, 22 Born-Ribera Barcelona 08003
# 2 Bar Collage
With traditional cocktails and their own recipes in an intimate space with a vintage air decorated with images of animals, this is the experience that the bar Collage offers you in El Born.
Opening hours: Wednesday to Saturday from 19:00-01:00
Address: Carrer dels Consellers, 4, 08003 Barcelona
The nightlife is seen to be extremely busy and involves some of the best night clubs; such as, Magic Club, Catwalk's preparty place Diobar, cocktail bar the Glass bar, Club Mix and many more.
As well as the quite delightful taste of restaurants such as, Casa Delfin, Restaurant Montiel and many others that you can go and explore. Moreover, here's some of the best restaurants in the area of El Born!
# 1 Orval Restaurant
One of the top-rated restaurant by locals and visitors in El Born is the Orval. This mediterranean cuisine offers you the best experience and flavors for your meal; with an average price of 25€ and accompany with a great service!
Source: www.thefork.es
Opening hours: Tuesday to Thursday from 13:00-16:00 and 19:30-23:00, & Friday to Sunday from 13:00-23:00
Address: Passeig del Born, 4, 08003 Barcelona
# 2 Passadís del Pep Restaurant
On the other side, in the more high-end gourmet kind of experience we have the Passadís del Pep. With an average price of 80€ per meal this restaurant with more than three decades of life offers the designs of the market mostly the freshes mediterranean dishes.
Opening hours: Monday to Saturday from 13:30-15:30, also Friday & Saturday from 20:00-23:00
Address: 
Pla de Palau, 2, 08003 Barcelona
El Born Barcelona is without a doubt the trendiest neighbourhood and as it's known to be fantastically fashionable; it has stores such as Ena Macana, El Calaix, My Beautiful Parking, these are some of the trendy high street and vintage stores you will find all around. And my beautiful parking is a unique tailor made shop for the fixed gear bicycles.
As you can see, El Born is seen to be highly busy for the families as well as the tourists; the culture is a charming part of the city with a beautiful bar scene, restaurants, sightseeing places to visit, vibrant cafe.
Where to stay
Ever thought about staying here for a period of time? In the district of Ciutat Vella you will find classical and olden buildings; however the interior of the place will blow you away with its moderate qualities and lit up ambience. Above all, it's very close to the Ramblas and Plaza Catalunya; where the beach and the marine are close by. Let us find you accommodation in Born to suit your needs; and you can enjoy the beautiful part of this city.
This cozy studio apartment in Born is situated on the third floor of a typical building of Barcelona historical center and it's available for rent. This apartment has been completely refurbished recently to ensure guests a comfortable stay.
From 650 €/month | 25m2 | Reference : BHM1-009
This Barcelona city center apartment, with a enviable location is available for a long-term rent in El Born area. On the bottom floor you will find a charming living room; and a wooden table for 3 that can be used for dining or working.
From 650 €/month | 20m2 | Reference : BHM1-458
This exquisite duplex apartment with terrace is perfect for a couple seeking a stylish and very comfortable space in the cultural center of Barcelona – El Born. In addition, on the first floor you will find a modern kitchen, the bathroom, and a lovely common area.
From 700 €/month | 30m2 | Reference : BHM1-013