Barcelona Aquarium is situated in the luxurious area of Port Vell, a harbour in Barcelona. The aquarium is one of the biggest in Europe. Visitors can explore five million litres of water, where the 35 aquariums are home to 11.000 animals as well as other creatures, with 450 different species. The impressive aquarium is well worth a visit, especially in the Winter months when the weather isn't quite so good!
The main attraction is the huge 'Oceanarium' where you will see species such as sharks, ray moons and fish which is viewed by what is considered to be the long transparent 80 meters underwater tunnel. This allows you to feel like you are walking amongst the sharks and other fellow creatures as though you are on the seabed.
Barcelona Aquarium is made up of three main segments. These segments are divided into the following, 'Planeta Aqua'– which is known to be the education section about the importance of water to the planet. This contains a tank full of penguins, this is where you will also find piranhas and any other lethal fish.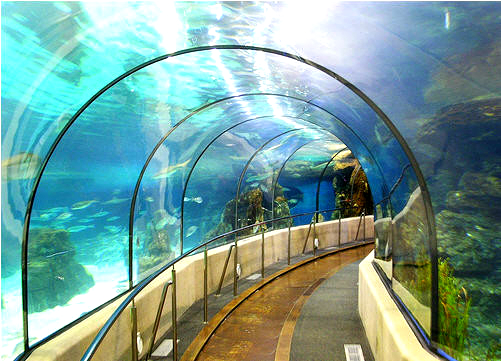 Another section the  'The Aquarium' this in itself houses most of the underwater creatures including, octopus, dogfish, scorpio fish and seahorses. Above each tank is brief description about the fish with a photograph. Also, this is where you will find the 'Oceanarium' tunnel where you will see all the fish swimming around you.
Lastly, the 'Explora' which is basically a children's play area but also involves many educational elements. This is an amazing area for children where you can take many photographs on top of a giant turtle or in a submarine suit. The children can also enjoy a playful time by sliding down a tunnel. This is a great way of educating the children about the underwater world with some interactive learning tools.
You also get the opportunity to go diving with the sharks, if you're courageous and a qualified diver, Do take this chance! This takes place every Wednesdays, Saturdays and Sundays, You need to book in advance to avoid disappointments. For more details contact the Aquarium for further information and to ask any questions.

As well as, when purchasing your ticket you could buy a guidebook for the aquarium for a small price of €3.00, which comes in variety of languages such as English, Catalan, French, German, and Italian. However you can also try and purchase a 'mini-guide' that is detailed, elaborate, and contains images of the various creatures and species at the aquarium, which can also be turned into a poster of Nemo. This is available free of charge and also accessible in different languages. If you can't find any around the aquarium, be sure to ask the information desk they will provide you with one.
At the end of the tour there is a cafeteria that will cater for your food facilities, offering a small variety of fast food. After passing the cafeteria you will find the gift shop which is crammed with aquatic toys, fish toys, games etc. You may find it hard to get past this stage without the children moaning.
If you're lucky to have an apartment nearby, be sure to visit this amazingly adventurous Barcelona Aquarium.
Practical Information about the Barcelona Aquarium
L'Aquarium de Barcelona Moll d'Espanya del Port Vell, s/n – 08039 Barcelona
By CAR: B-10 motorway (Ronda Litoral), junctions 21, 22 or 23. PUBLIC TRANSPORT (Underground): L3 Drassanes Station and L4 Barceloneta Station. VIA BUS: Routes with closest stops: Routes 19 and 40, Routes with stops in the Passeig de Colom: 14, 56, 57, 59, 64 and 157, Routes with stops along the B-10 motorway (Ronda Litoral): 17 and 45, Routes with stops in the Paseo de Joan de Borbó: 39. BY TOURIST BUS: southern route (blue). BY BICYCLE: Bicing bike station at the entrance to L'Aquàrium de Barcelona
0-2 years- FREE. 3-4 years- €7. 5-10 years- 15€. 11+ years- 20€.
Opening hours 10:00 h.to 20:00 h. / Weekend: 10:00 h. to 20:30 h. / July – September: 10:00 h. to 21:00 h.
Looking for an apartment in Barcelona? Check out our SPECIAL DEALS ON APARTMENTS all over the city with Barcelona Home!