Barcelona is such a cosmopolitan city is filled with International influences especially when it comes to the cuisine's you're able to find making it a perfect spot for Food Lovers. If you consider yourself a food lover, we will definitely find something for you to do, see and of course, eat! From the tapas bar down the street to luxurious restaurants., Barcelona offers its visitors everything. For a few of our top picks for various different cuisines check out our FOOD & DRINKS IN BARCELONA SECTION. Now, for an itinerary on Barcelona for Food Lovers just keep reading!
Things to do
#FoodTour
Barcelona streets are filled with restaurants. So a way to have the full experience we would recommend a food tour! You can stroll around the city with a guide popping up in the best spots. These guides even come in different categories such as tapas places and marketplaces etc.
You'll be able to find many different companies offering unique tours all around the city, all with specific specializations.
With BARCELONA EAT LOCAL you can avoid the crowds by joining a delicious culinary adventure. If you're passionate about the best tapas from local food artisans and are excited to learn about the Mediterranean healthy lifestyle while discovering Barcelona's local culture, their tour gives you the perfect top-rated culinary experiences. Check out all their various tours such as the Beer and Tapas Tour. If you're looking for something more intimate, book a private tour for you, your friends and your family.
#CookingClasses
Another way to dive into the food-loving lifestyle is to partake in a cooking class. It allows you an intimate experience with an experienced chef where you can learn from the best and recreate your favorite holiday recipes at home for all of the family to enjoy. It is a skill which you will always have and will transport you back to the beautiful side streets of Barcelona whenever you cook.
While there are countless cooking classes in Barcelona, we can not recommend the Paella Club enough.  It is a place like no other in the heart of Barcelona. Unlike other cooking classes which are merely demonstrative with little input from participants, classes at the Paella club have you dive straight in with 8 work stations for up to 16 people. This fully immersive kitchen experience will have you blending ingredients of the highest quality into mouth-watering Paellas. You can choose from different cooking experiences.
Where to eat 
In this section, we present you with a couple of nice restaurants that offer you a unique and gastronomic experience for breakfast, lunch, and dinner. all of the following restaurants are places worth checking out for your stay in Barcelona.
Brunch and cake
With two locations here in Barcelona, Brunch and cake are special brunch places. Serving dishes such as eggs benedict, avo-toast or special sandwiches they have people lining up to have a bite. Don't forget to save space for a delicious piece of cake as all their cakes are freshly baked.
Can Solé
To have a savoury taste of a classic Spanish dish; the paella we would recommend Can Solé. Opened in 1903, Can Solé is located in a two-story house in the center of Barceloneta. The restaurant accommodates groups, families and if you're lucky you might even catch a celebrity. They offer a wide selection of Mediterranean cuisine paired with a fantastic wine list.
Abanik Bar
Abanik Bar is more than just an old-school bar. We bring together Mediterranean flavours giving birth to what they call the "fusion" project. With amazing drinks and a specialization in cocktails, they have no competitor in their sector. The prices are very acceptable in connection with the quality. The cuisine will speak for itself, so go ahead and give it a try.
To have your cooking experience at home check out the concept of  THE LOCAL FOOD EXPERIENCE. You can prepare one of their delicious dishes by yourself in your rented apartment. The company will send you a delivery box including 3 traditional recipes as tapas, tortilla, botifarra and more.
Where to stay
Take a look at our apartments for food lovers in Barcelona: They're all in the city center close to so many amazing restaurants.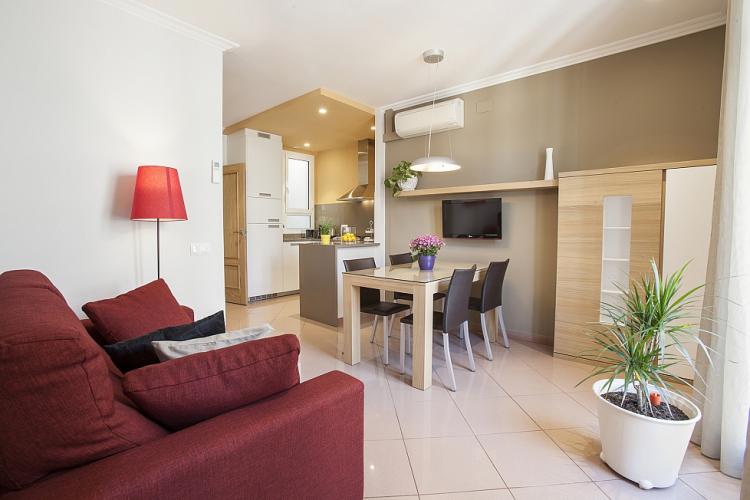 PICASSO APARTMENT WITH THREE BEDROOMS
Featuring a modern decoration with natural wooden elements and bright colors, this apartment in the center of Barcelona will delight you with its dimensions and brightness. It offers spacious bedrooms with an excellent layout and large closets to store your belongings. The kitchen is fully refurbished with quality materials. It has all the equipment and accessories necessary for a nice meal at home. Enjoy a romantic dinner or leisurely breakfast in the elegant dining area, furnished with a chic glass table and black chairs and decorated with a beautiful oversized mirror on the wall
                                                                                    From 125€ / NIGHT| 60m². | License: HUTB-003802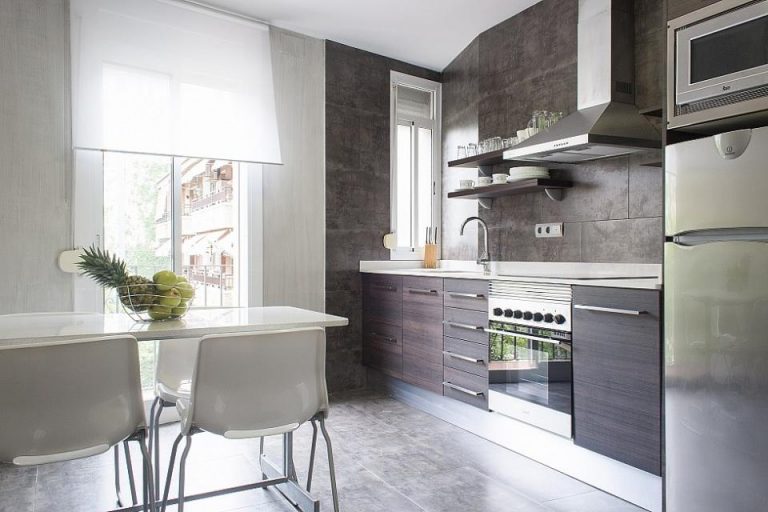 This sunny apartment in Barcelona, near Camp Nou, has two-bedroom for a short or long stay. This accommodation comes with a beautifully refurbished and fully equipped open kitchen facing a lovely dining area. The floor-to-ceiling doors of the balcony, which can also be accessed from both bedrooms, allows plenty of sunlight to enter, creating a very inviting atmosphere in which to enjoy your breakfast with family and friends.
                                                                                    From 1 100€ / MONTH| 45 m2| License : HUTB-003937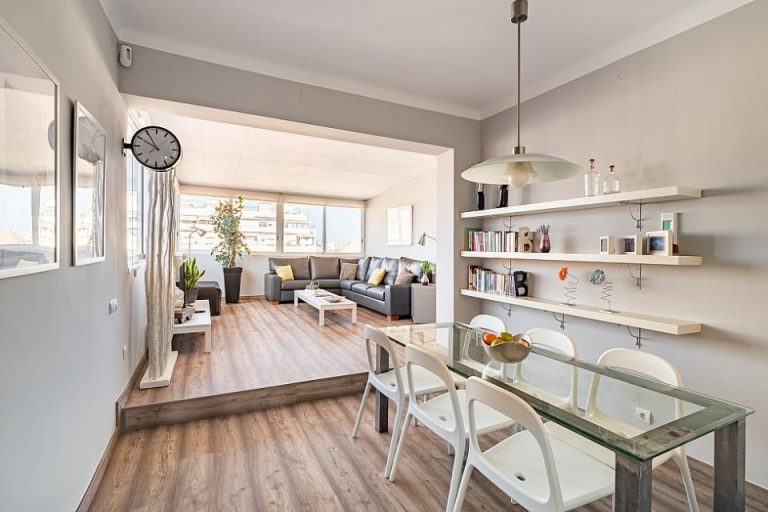 ATTIC APARTMENT IN EIXAMPLE WITH PRIVATE TERRACE
Luxurious attic apartment with a simple and stylish design and magnificent private terrace with stunning views of Montjuic. The interior is characterized by bright and spacious areas in you can relax with your family or friends, including an elegant lounge with a corner couch and windows on all sides, a beautiful dining area with a sophisticated light grey and white color scheme. Further down the long hall, you will find the fully equipped, modern kitchen. Located in Eixample, the apartment is just a few steps from the Mercat de Sant Antoni and its namesake metro station, which will provide you with quick access to every corner of Barcelona.
                                                                                     From 171€/ NIGHT| 80m2 | License : HUTB-003391
Looking for an apartment in Barcelona? Check out our SPECIAL DEALS ON APARTMENTS all over the city with Barcelona Home!