If you love Mexican food or are convinced to finally give it a try you can have a look around Barcelona and you will be able to find some really awesome Mexican restaurants! Mexican food is a fusion of flavors. The arrival of Spanish influences to Mexican lands contributed ingredients to what we now know. Mexican cuisine is recognized as one of the largest in the world.
Barcelona is a city filled with international influences and while we encourage you to take advantage of the seafood, ham and other specialties of Catalunya we would also like to suggest trying out the following fantastic Mexican restaurants. So get your appetite ready for a wide variation of burritos, tacos and nachos.
Experience great Mexican food by visiting any of the following places:
# El Chihuahua Restaurant
The Mexican canteen Chihuahua Barcelona was established over 15 years ago.  It offers a friendly environment serving typical Mexican food made with local products.
Chihuahua is a Mexican restaurant located on Passeig Maragall in Barcelona. The place is known for its decoration, which represents, in a very peculiar way, a village of the Mexican desert. The restaurant is frequented by young and cheerful people and it is filled with good vibes.
Address: Passeig de Maragall, 107, 08041 Barcelona
Opening Hours: Mon-Tues 13:30–16:00, 20:30–23:30 | Wed – Sun13:30–16:00, 20:30–24:00
Looking for an apartment in the area? Check out our APARTMENTS IN HORTA-GUINARDÓ!
# Taco Alto
Taco Alto's restaurant emulates traditional Mexican parades and taquerias, but with a modern and streety twist. What is unique about Taco Alto is that while they have a wide variety of Mexican food they focus largely on tacos. The menu gives you the opportunity to try out a wide selection of tacos. They make their recipes with the top of the line quality products from the carefully selected supplier and respect product with Mexican origin. their food is cooked with traditional spices, but they add a point of innovation which has been highly appreciated by their customers. The restaurant is located Near La Rambla.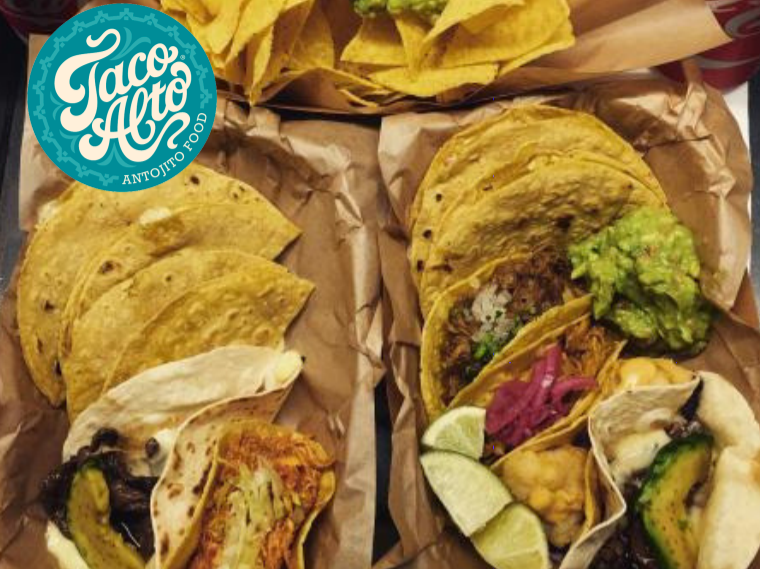 Address: Rambla del Raval, 4, 08001 Barcelona
Opening Hours: Monday-Sunday 13:00-23:30
Looking for an apartment in the area? Check out our APARTMENTS NEAR LA RAMBLA!
# Mexcla Restaurant
Located in the heart of the Gracia district, Mexcla is an interesting Mexican restaurant that escapes stereotypes, both in letter and in decor. They offer authentic Mexican specialties with a Mediterranean touch. Ideal for dinner with friends or as a couple and end with one of the star cocktails of the house: margarita or michelada. Mexcla features a contemporary and modern feel with no display of the usual Mexican decor. On the wall are elegant posters by the contemporary artist Alberto Grillasca, with subtle references to the imagery of Mexico. It's a cozy space that is a reflection of the cuisine offered by the establishment.
Address: Carrer de Ramón y Cajal, 35, 08012 Barcelona
Opening Hours: Monday-Closed|Tuesday-Saturday 18:00–00:00|Sunday 13:00–16:00, 20:00–24:00
Looking for an apartment in the area? Check out our APARTMENTS IN GRACIA!
# Rosa Negra
On the main road of Via Laietana, you'll be able to find Rosa Negra. Rosa Negra is run by two girls looking to break the usual Mexican stereotypes. this restaurant features modern style with unique and out of the ordinary decor. The project was made by the designer Lorena Zertuche. She derives the beautiful color and objects and adds them to this new concept. The philosophy of the restaurant is "bueno, bonito y barato" meaning good, beautiful and cheap.
Their original Mexican chefs use typical Mexican recipes with fresh ingredients from they serve dishes such as guacamole with nachos, quesadillas, tacos and burritos.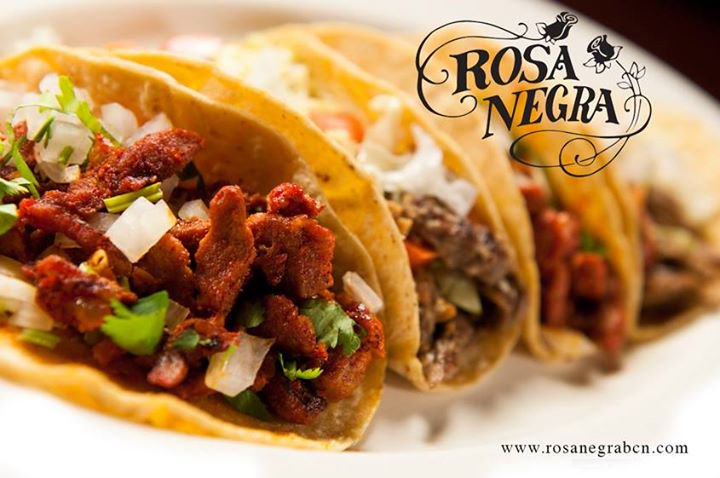 Address: Via Laietana, 46, 08003 Barcelona
Opening Hours: Sunday-Thursday 13.00-00:00|Friday 13:00-1:00| Saturday 12:30-1:00
Looking for an apartment in the area? Check out our APARTMENTS IN EL BORN!
# Tlaxcal
Tlaxcal is a 'Cantina & Taqueria Gastronòmica' located in the district of El Born. It is a new concept of Mexican food that's goal is to bring us closer to the wonderful cuisine of Mexico. They offer a top quality and genuine menu based on traditional Mexican recipes. The Atmosphere in Tlaxcal is pleasant and comfortable, perfect for a relaxed and good time. You'll be able to taste traditional recipes with an added twist. By being able to specify every ingredient your dish is prepared with, you are sure to enjoy every bite. And of course, all good gastronomy must be accompanied by a good drink! ask for Mexican beer for 5 € or instead, if you fancy a Margarita, try the traditional or another flavor for 7 €.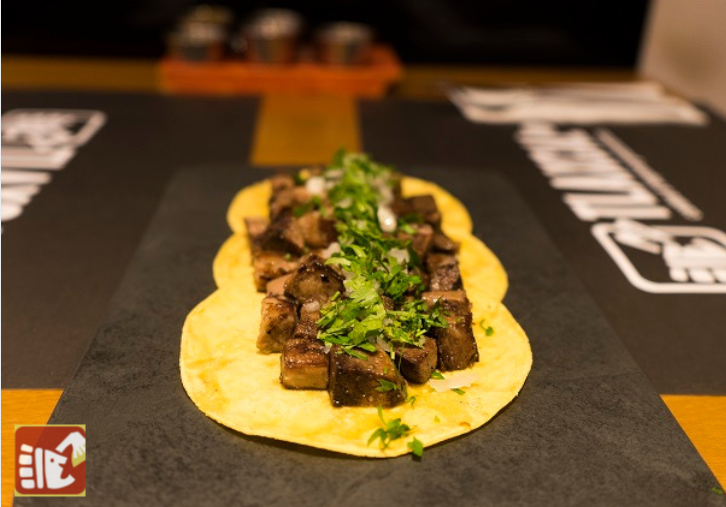 Address: Carrer del Comerç, 27, 08003 Barcelona
Opening Hours: Monday-Friday 13:00–16:00, 20:00–24:00|Saturday-Sunday 13:00-24:00
Looking for an apartment in the area? Check out APARTMENTS IN EL BORN!
Placement of the Mexican Restaurants:
Going out for a cocktail after enjoying your Nachos and Tacos? Then take a look at the Best Cocktail Bars in Barcelona!