Freshen up at the best ice cream shops in Barcelona
Now that the temperature is rising your body might still be at your job or studies but, in your head, you are probably already lying on the beach sipping on a cocktail or eating some delicious ice cream. Then, the question is…where to get the best one? The answer might be difficult because there are so many different ice cream shops in Barcelona! Which are the ones really worth trying? Here you have some options!
One big ball, please!
Here we give you  5 best ice cream shops in Barcelona: 
# 1 DeLaCrem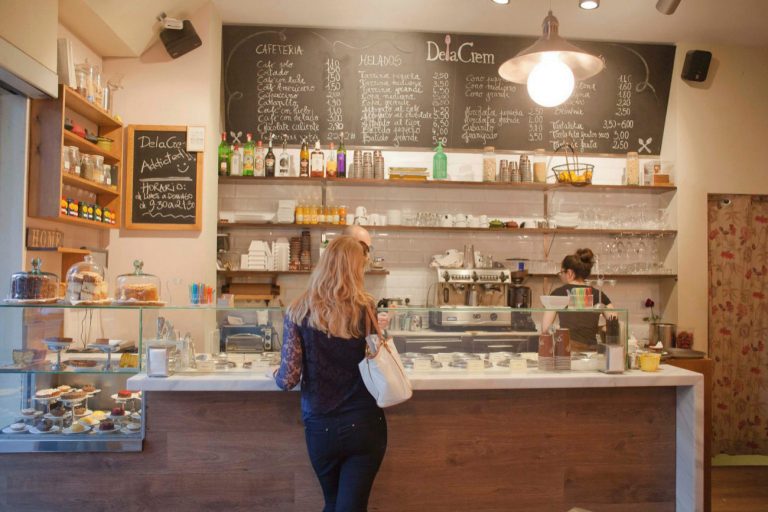 If you are looking for the place where you can both enjoy delicious ice creams and spend time in a nice, tranquil venue, you should definitely visit the DeLaCrem. This charming ice cream shop and gastro bar, located just next to the historical San Antoni Market, offers one of the best ice creams in Barcelona. They have a wide selection of flavors, from fruity sorbets to deeply chocolate and sweet, milky options.
Address: Carrer d'Enric Granados, 15, 08007 Barcelona
Opening Hours: Mon-Sun 11:00am – 10:00pm

Could it be even better? Of course! For all Barcelona-Home clients, we have a special promotion: 2×1 Pastry+ Coffee from 9.30am to 19.00pm and a free cocktail to your brunch! You just have to show that card to the staff.
# 2 Sante Gelato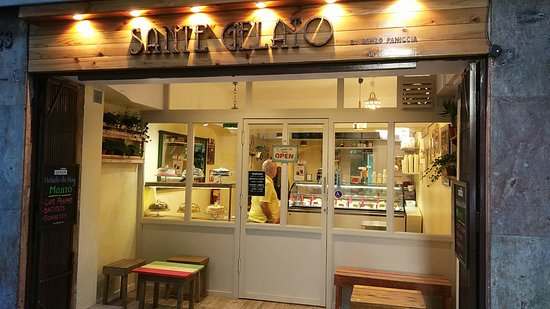 Ice cream parlor and cafeteria 100% handmade, both in ice cream, sorbets and milkshakes as in our delicious cakes. We also have a wide variety of teas and coffees. The combination is unique but also foreign to most people as it comes with different sauces and toppings. You definetly should try those ice creams.
Address: Carrer del Rosselló, 287, 08037 Barcelona
Opening hours: Mon-Fri 1pm – 11pm; Sat-Sun 12:00pm-11:00pm
# 3 OGGI Gelato Barcelona
OGGI Gelato Barcelona's goal is to serve you exactly what you want. For lovers of new experiences, they propose unexpected flavors like violet or rose ice cream. For those who love tradition, they have creamy ice cream in flavors such as caramel and chocolate. Their slogan is: We make ice cream and chocolates because we like to. And you can definitely taste that! OGGI Gelato Barcelona has over 50 different flavors of ice cream, and the word is that, once you taste one, you will keep on coming back for more!
Address: Carrer Comtal, 15, 08002 Barcelona
Opening hours: Mon- Sat 10:00am – 10:00pm / Sun 12:00pm-10:00pm
# 4 Gelaaati! Di Marco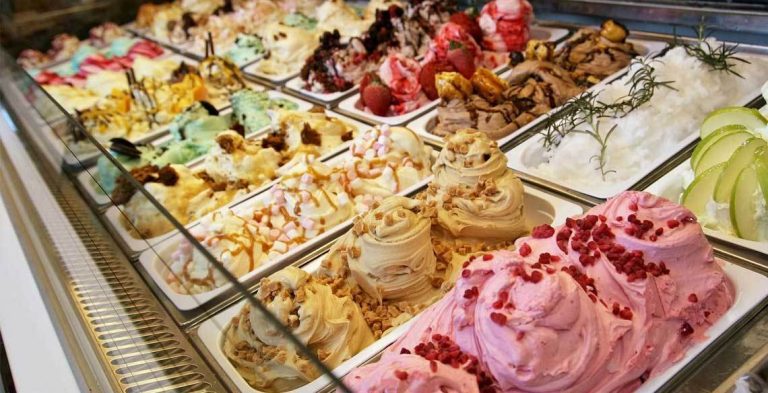 In this Italian ice cream shop, they are very conscious about health. There is no use of artificial colorants in this ice cream and it is very low fat. They use lots of natural ingredients such as fresh milk, cream, egg yolks, sugar, cocoa, nuts, pistachios and fresh fruits. So, you can enjoy your ice cream guilt free! Yum!
Address:  Carrer de la Llibreteria, 7, 08002 Barcelona
Opening hours: Mon- Sun 10am – 12am 
# 5 Amorino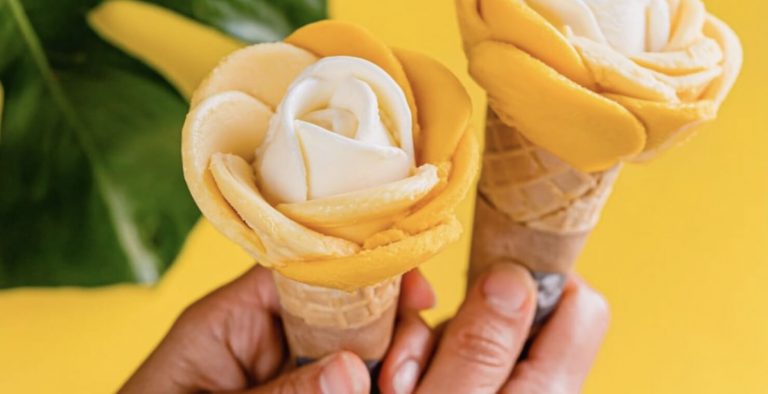 The symbol of this ice cream shop is not an angel for no reason, their ice cream is delicious! The shop first opened its doors in 2002 and can now be found in several European countries and even in China. The owners of Amorino are two Italian childhood friends and their objective is to make the highest quality ice cream as naturally as possible with no artificial colors or flavorings. They insist on keeping a close eye on the production to be able to guarantee the highest standard of quality to all of their customers. Amorino offers you a very wide range of different flavors, so you should definitely try them out!
Address: La Rambla 125, Barcelona (There are more locations in Barcelona)
Opening hours:  Mon – Thur and Sunday  11:30AM–12AM; Fri -Sat 11:30AM–1P

Are you planning a trip to Barcelona and looking for somewhere to stay? Why not take a look at the AVAILABLE APARTMENT RENTALS ON OUR WEBSITE! Please feel free to contact us with any questions you may have.