5 Facts About Poble Sec and Sant Antoni
When speaking of Barcelona, you immediately picture the SAGRADA FAMILIA, PARK GUELL, BOQUERIA MARKET, and LA RAMBLA. Of course, these are the most famous places in Barcelona. But now, when you return to Barcelona for an umpteenth time, you want to discover other things. Places that even LOCALS do not know well. Sant Antoni is a booming neighbourhood, it has become the benchmark of the trendy youth. Meanwhile, the district of POBLE SEC resists the rise of tourism. There is real neighbourhood life in these two boroughs. Check out these 5 fun facts about Poble Sec & Sant Antoni!
#1 Sunday's market at Sant Antoni
If there is a place where you have to go on Sunday, it's the Sant Antoni market. Not only will you be able to find all sorts of VINTAGE ITEMS, but you will also have the chance to experience the unique and authentic atmosphere of the neighbourhood. We love the iconic historical past of this market. Built in 1882, it was used to sell books. Before being called the Sant Antoni market, this market was called Fira de Bellcaire. Some of the current showmen are grandchildren of the first Fira de Bellcaire fairgrounds. They recall adventures with their Families and surviving FRANCO'S DICTATORIAL REGIME with the loss of freedom of expression. Some showmen are well known on the market, it brings more authenticity to the market and does not hesitate to speak with them if you want to know more about the History of Catalonia.
 Monday- Saturday – 8:00 to 20:30

 Carrer del Comte d'Urgell, 1, 08011 Barcelona
#2 Cine Renoir
If you are in Barcelona but the weather is not good, no worries there is enough to do!  Like going to THE CINEMA. But you will not go to any cinema, we invite you to go to the Cine Renoir. This cinema is really beautiful inside, you will feel like going to THE THEATRE. In addition, this cinema has an undeniable asset: an excellent selection of films that are all in the original version. This allows foreigners to enjoy their movie theatre in a total way. So, Toy Story 4, Spider-Man: Far From Home or Yesterday, which movie will you choose?
 Variable opening hours

 Carrer de Floridablanca, 135, 08011 Barcelona
#3 Carrer Blai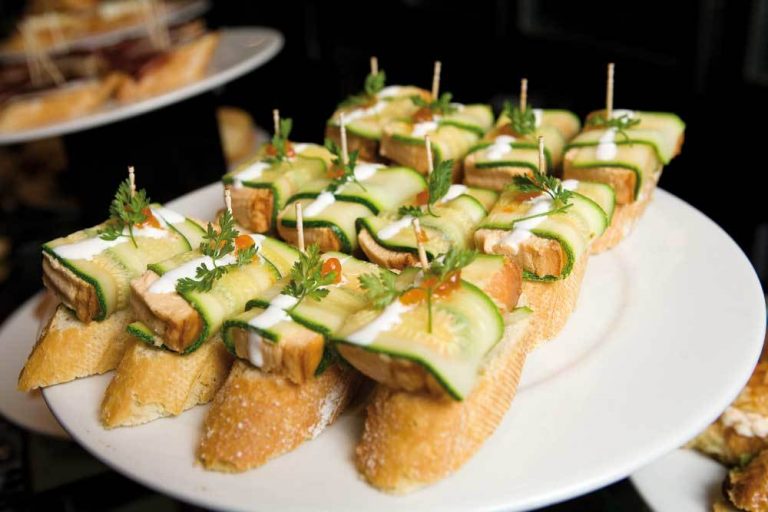 Let's walk now to POBLE SEC and look … Know this street? It is well known for its many TAPAS bars and restaurants serving the best tapas in the city that you can enjoy with a glass of Vermouth on the terrace with your friends at the end of the day. Blai Street starts at the intersection with En Fontrodona Street and ends at the corner of Creu dels Molers Street. It is not very long but you can not pass quickly as the bars are attractive. So enjoy the gastronomy: tapas, pintxos, and montaditos, without forgetting some small cañas or WINE. Although frequented by tourists, the street offers many economic options, while remaining delicious and worth every penny of its price. We advise you to stop at Tasqueta de Blai, Quimet & Quimet, Blai 9, Taberna Blai Tonight and Pincho J.
 Variable hours

 Carrer de Blai, Poble Sec
#4 El Molino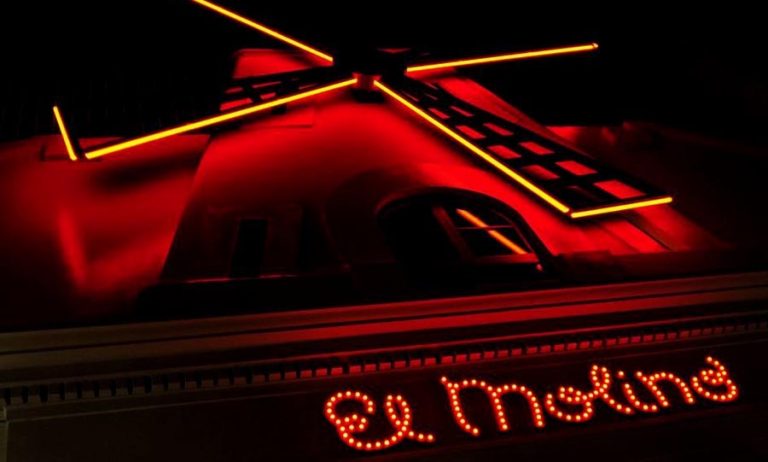 Source: www.ticketsnet.es
I'm sure you all know the Moulin Rouge of Paris located in Montmartre but have you ever walked in the evening along with the Carrer de Vila i Vilá in the district of POBLE SEC? If so, you cannot be by the side of "El Molino", the Moulin Rouge made in Barcelona. This building, which is more than a century old, is inspired by the Parisian Moulin Rouge. It is recognised with its wings of a windmill in red neons. Inside, the brightness is darker, THE MUSIC is stronger and the choreography is daring with lyrics often suggestive songs. Let yourself be seduced by the burlesque atmosphere of "El Molino".
 Various hours

 Carrer de Vila i Vilà, 99, 08004 Barcelona
#5 Refuge 307
Want to learn more about the history of Barcelona? So what better than discovering the best-kept secrets of the city than by exploring the basements and underground routes. These are the shelters built during the Spanish Civil War to protect themselves from the bombings of Franco's aviation. A few years ago, the inhabitants of Barcelona used the metro stations but quickly it became insufficient, and they had to dig other trees. Today, they remain only vestiges but which can be visited freely. We advise you to visit refuge number 307, located in the district of POBLE SEC, between the Passeig de Montjuïc and the Carrer Nou de la Rambla. This shelter had a small washhouse, rooms for the children as well as an infirmary.
 Every Sunday from 10h00 to 14h00

 Carrer Nou de la Rambla, 175, 08004 Barcelona
Are you planning a trip to Barcelona and looking for somewhere to stay? Why not take a look at the apartment rentals we have available on our website! Please feel free to contact us with any questions you may have.