20 Things to Do in Barcelona
Barcelona is further considered to be one of the best cities in Europe and on the shores of the Mediterranean Sea. The city offers a cosmopolitan atmosphere, rich culture, and numerous beaches to relax. Morever, there are tourists coming from all over the world to visit the popular Barcelona spots. However, many of them are suffered by the question what to do in Barcelona. These are some of the things to do in Barcelona if you are visiting this city:
# 1 Parc Güell
Walk through the GARDENS OF PARC GÜELL and take pictures in this magical place designed by Antoni Gaudí. The park was built from 1900 to 1914 and was officially opened as a public park in 1926. In 1984, UNESCO subsequently declared the park a World Heritage Site under "Works of Antoni Gaudí". This architectonic jewel certainly is a must for everyone visiting Barcelona!

Address: Park Güell, 08024 Barcelona
Opening hours: Every day from 09:30 to 19:30
# 2 Camp Nou
Enjoy a Barça football match in the Camp Nou and take a tour in the museum. This is an absolute must for every football fan. Do you know that it is currently the stadium with the biggest capacity in Europe, holding 99,354 spectators?
Address: Carrer d'Arístides Maillol, 12, 08028 Barcelona
Opening hours: Monday to Saturday from 10:00 to 20:00 & Sunday from 10:00 to 14:30
# 3 Park Ciutadella
Have a picnic during the day with friends or family IN THE PARK CIUTADELLA while enjoying the lively atmosphere there. However you can also just spend some "me time" with good reads and above all your favorite snacks on one of many benches or lying in the grass. In addition, the park hosts a beautiful city zoo  at the very end.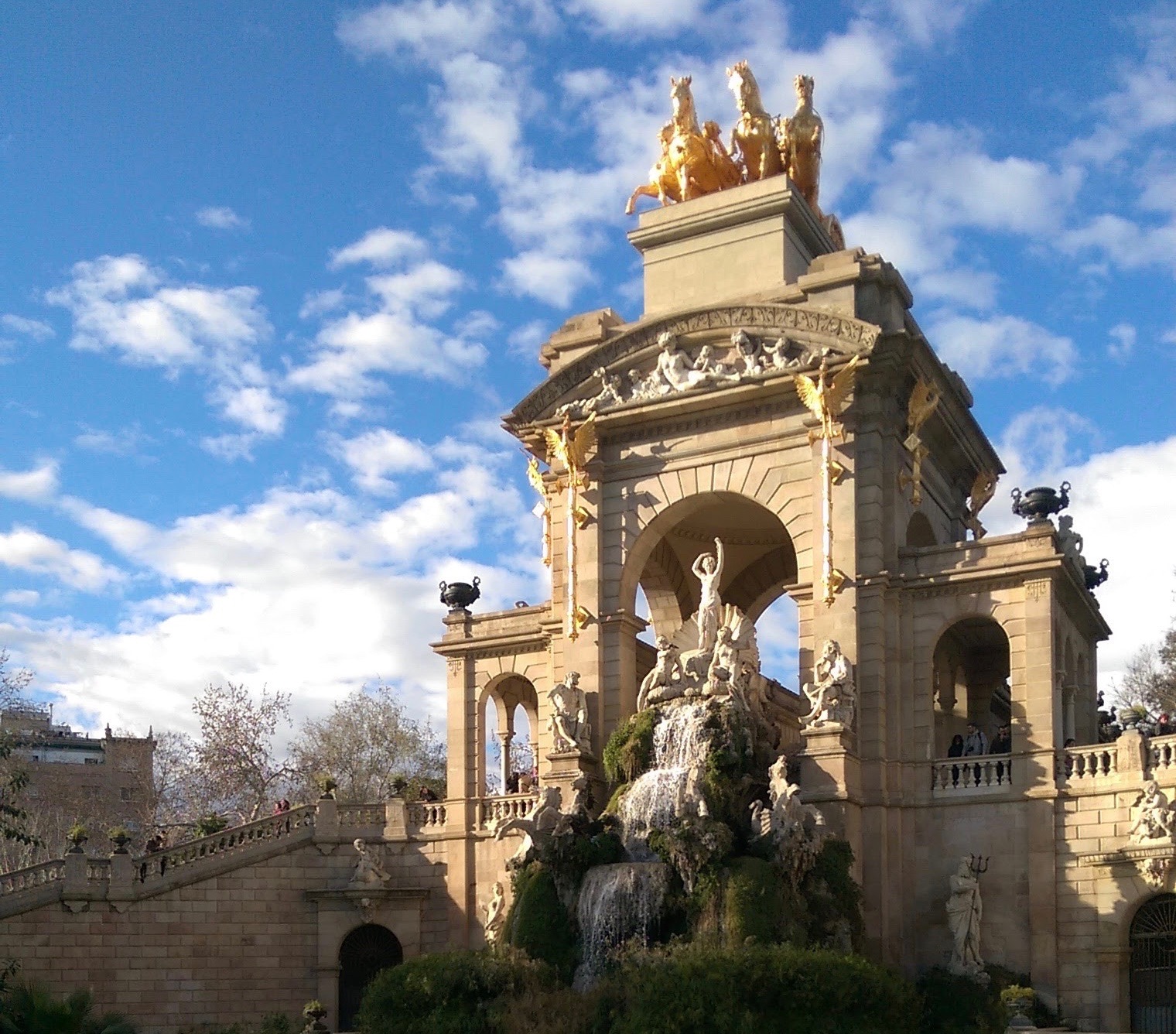 Address: Passeig de Picasso, 21, 08003 Barcelona
Opening hours: Every day from 10:00 to 22:30
# 4 Boqueria Market
Walking through the famous Boqueria Market located on La Rambla is a great idea for walking in Barcelona. The first mention of the Boqueria market in Barcelona dates back to 1217 when tables were installed near the old city gate to sell meat. Nowadays, the market flourishes with a variety of fresh products . You should certainly try one of the natural juices sold in many flavors!
Address: La Rambla, 91, 08001 Barcelona
Opening hours: Monday to Saturday from 08:00 to 20:30
# 5 Tibidabo amusement park
Take a panoramic photo of Barcelona at the top of Tibidabo and enjoy the amusement park, which is one of the most popular activities in Barcelona. The park is one of the oldest ones in the world still functioning. A popular ride at the park is the 1928 Avió airplane ride, a single-car carousel giving the impression of flight above the city, a novelty at the time. Riders board a replica of the aircraft that first flew from Barcelona to Madrid. The park was featured in the Woody Allen film Vicky Cristina Barcelona.
Address: Plaça del Tibidabo, 3, 4, 08035 Barcelona
Opening hours: Wednesday to Sunday from 12:00 to 21:00
# 6 Magical Fountain of Montjüic
Relax on Sunday watching the Magical Fountain of Montjiuc! The fountain, like most of the surrounding developments, was constructed for the 1929 Barcelona International Exposition. Enjoy the spectacular show taking place every weekend. The show includes film, classical, and modern music, such as The Godfather, The Lord of the Rings, Gladiator, Spanish zarzuela movement, "Barcelona" by Freddie Mercury, Montserrat Caballé, and modern pop songs.
Address: Plaça de Carles Buïgas, 1, 08038 Barcelona
# 7 El Born Neighbourhood
Make a gastronomic tour of tapas and wine in El Born neighborhood, then visit the Gothic church Santa Maria del Mar and the Picasso Museum. Wander around one of the most picturesque districts in Barcelona and get lost in its narrow streets full of original shops and cafés.
Address: El Born, Barcelona
# 8 Marseille bar in El Raval
Have a glass of Absinthe in the famous old Marseille bar in Raval, where Pablo Picasso and Salvador Dalí used to drink when they were visiting Barcelona!
Address: Carrer de Sant Pau, 65, 08001 Barcelona
Opening hours: Tuesday to Sunday from 11:00 to 01:00
# 9 Palau de la Música Catalana
Come and see a spectacular flamenco show at the Palau de la Musica Catalana. The concert hall is designed in a breathtaking modernistic style and attracts visitors from all over the world.
Address: Carrer Palau de la Música, 4-6, 08003 Barcelona
Opening hours: Every day from 10:00 to 15:30 & July and August until 18:00
# 10 Gothic District
Explore the Gothic streets and get lost in it's alleys. The quarter encompasses the oldest parts of the city of Barcelona and includes the remains of the city's Roman wall and several notable medieval landmarks.
Address: Gothic Quarter, Barcelona
# 11 Sagrada Familia
Visit the sacrificial temple Sagrada Familia, you will be impressed with the architectural work of Antoni Gaudí. This place is a must see spot in Barcelona. La Sagrada Família will take longer to complete than the Egyptian pyramids. It started in 1882 and is hoped to be completed in 2026 (the centennial of Gaudí's death), though it might not be finished until as late as 2040. The Great Pyramid, by comparison, only took 20 years.
Address: Carrer de Mallorca, 401, 08013 Barcelona
Opening hours: 
From April to September: 9 am to 8 pm (Fri-Sun)
From October to March: 9 am to 6 pm (Fri-Sun)
Exceptions on December 25th, 26th & January 1st, and 6th: 9 am to 2 pm (Fri-Sun)
# 12 La Barceloneta

Sunbathe while you relaxing in one of the most beautiful beaches of Barcelona called "La Barceloneta" and enjoy the spectacular view!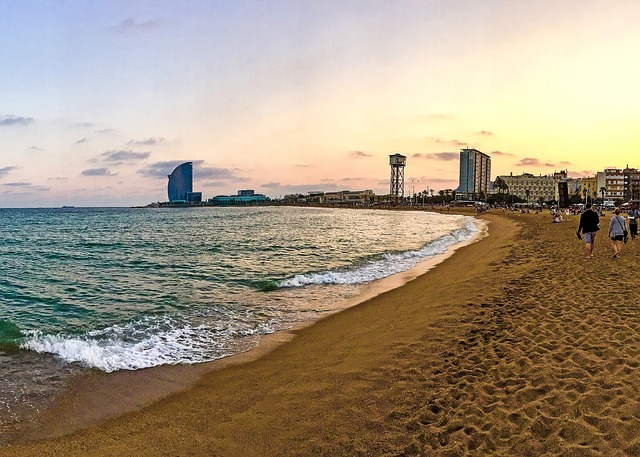 Address: Passeig Marítim de la Barceloneta, 08003 Barcelona
# 13 More beaches of Barcelona
Additionally, you can visit the beaches Bogatell, Icaria, Marbella and more!

# 14 Arc de Triomphe
Go through the Arc de Triomphe and enjoy the great atmosphere and its surroundings. Many artists gather nearby to sell their art or entertain both tourists and locals passing by.
Address: Passeig de Lluís Companys, 08003 Barcelona
# 15 Free access Museums
Enjoy Barcelona in a more artistic view by visiting some of the museums which have free entry on Sundays such as:  Picasso, MNAC, MUHBA and Frederick Marés. Museums are the perfect place to spend a rainy day in Barcelona and explore the city from a different perspective.
# 16 La Rambla
Walk the busiest street in Barcelona "La Rambla" where you will find a lot of tourists and a great atmosphere while enjoying a coffee or a beer somewhere around. You can also prepare yourself for street artists, vendors, flower shops, ice-cream, waffles, and other treats. Come get your souvenir!
Address: La Rambla, 08002 Barcelona
# 17 Passeig de Gracia
Go shopping one afternoon on the streets of Passeig de Gracia, the area filled with boutiques housing major fashion brands.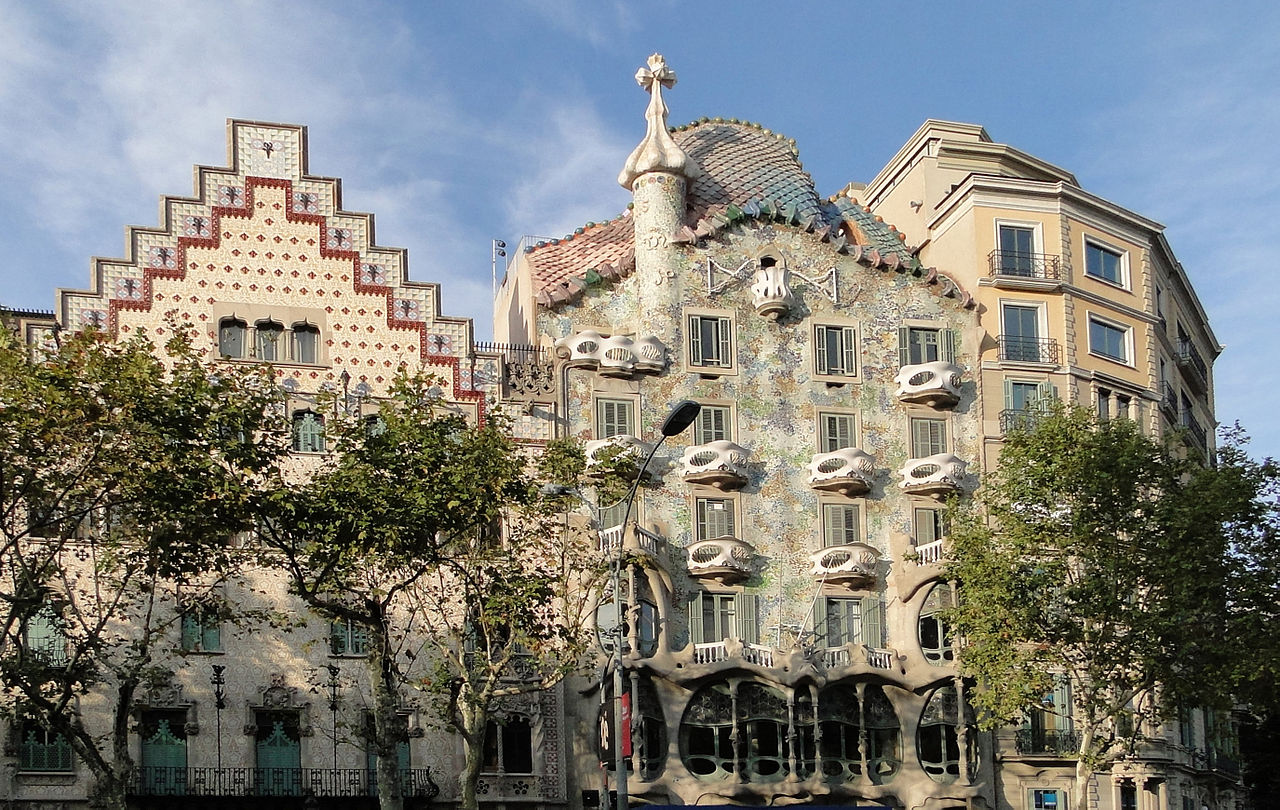 Address: Passeig de Gràcia, Barcelona
# 18 Gaudí's buildings
And while you take that tour admire the buildings Casa Battlo and La Pedrera.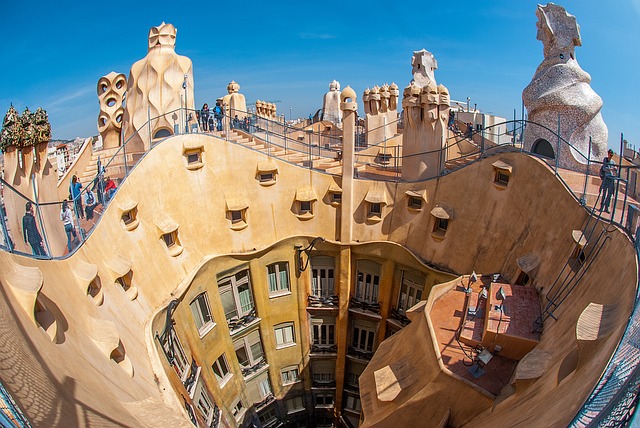 Address: Carrer de Sant Antoni Maria Claret, 192, 08025 Barcelona
# 19 Gardens of Montjüic
Spend an afternoon relaxing in the gardens of Montjuic; then take the cable car to get a full view of the city. Montjüic was the birthplace of the city of Barcelona; due to its strategic location at the foot of the Mediterranean. Also, alongside an important river channel such as the Llobregat River.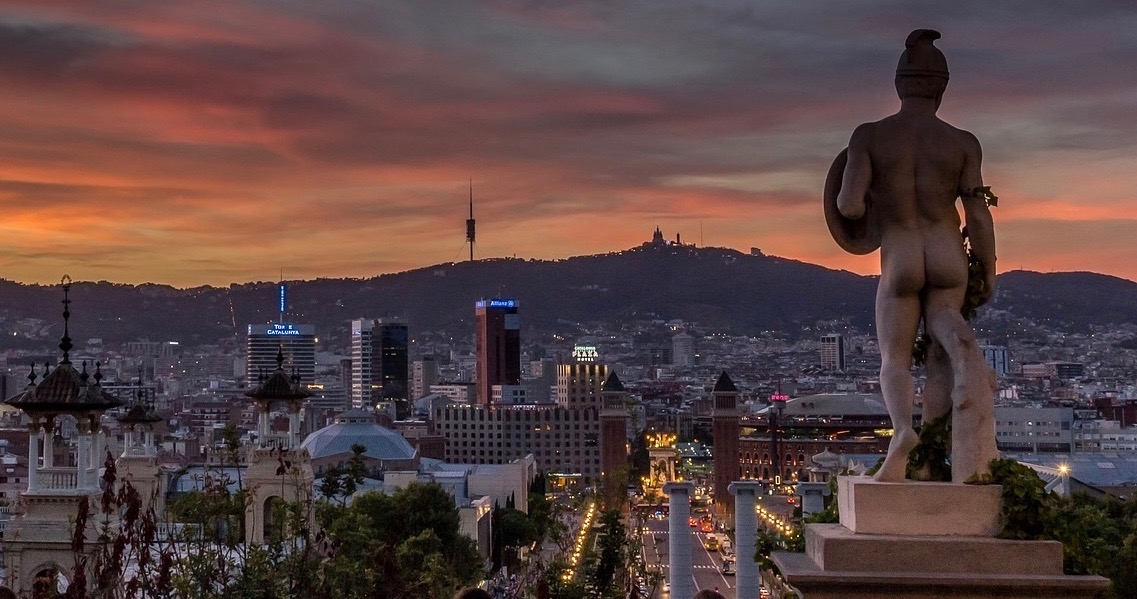 Address: Parc de Montjuïc, 08038 Barcelona
# 20 Plaza Espanya
 The Plaza Espanya in Barcelona is one of the most emblematic spaces in the Catalan capital. It is a lively plaza and it is located just out of THE CENTRE OF TOWN.
Address: Plaza de España, 08004 Barcelona
---
Want to see more and choose specific activities by categories on your next trip that you must see in Barcelona? Take a look on our trip planner!