One thing that the city of Barcelona is not going to disappoint you on, it's the numerous activities to do, sights to see and overall fun things to do in Barcelona under its sleeve. Whether it be the vibrant nightlife, the beautiful beaches or the architectural magic of Gaudí; the range of activities will delight your every senses.
On the other hand, let us guide you through our top 5 fun things to do in Barcelona!
# 1 Bosc Urbà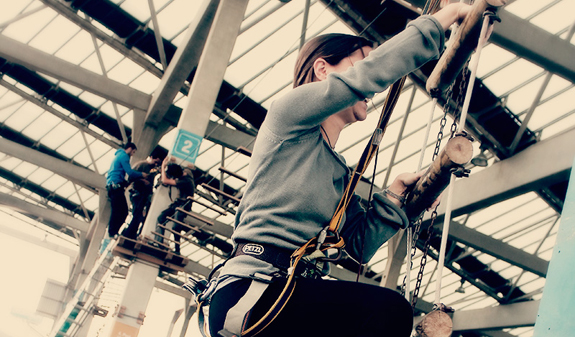 Whether you are planning this trip with your kids or friends, you will be happy to go to Bosc Urbà and discover its multitude of adventures. There is something to do for everyone; children and adults!
Since we all have different needs and capacities, the Bosc Urbà Park constructed different circuits for everyone! First, there's the orange circuit, which is for children from 3 to 8 years old since the highest platform does not go above 1.5 meters. This is the less difficult circuit you can find. Second, you can choose the blue circuit; this one is for children starting from 8 years old mostly because the platforms are 4 meters high above the ground. Last but not least, for the more adventurous, there is the red circuit where the platforms are 6 meters high and there is a zip line of 120 meters long.
Source: www.institutmontserrat.cat
Barcelona being a busy touristic city, queuing for attractions can be long. However, you can book in advance with us a package of 17 euros where you will have access to these 3 circuits for the whole family and spare all troubles! However, you might wonder what if you book in advance and it rains the day you bought your tickets on? (Because yes, sometimes it happens in Barcelona!). Well, do not worry because even if its rains, the park is completely covered!
Address: Parc del Forum, s/n, 08019 Barcelona
Opening hours: Currently closed due to renovations. Check their website for further updates!
Prices: 
Orange circuit: €11
Blue circuit: €17
Red circuit: €17
Blue + Red circuits: €24
Check out our website to find the best Apartments in Poblenou!
# 2 Tibidabo Amusement Park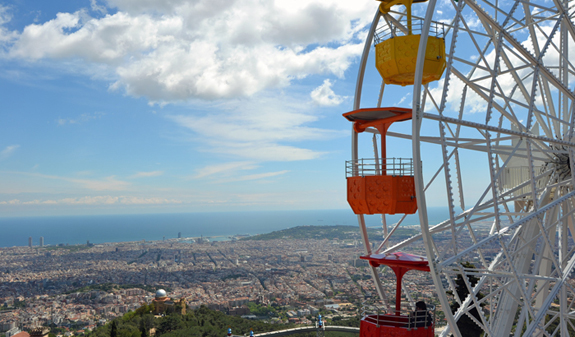 This park is an emblematic place of Barcelona, located on the Mount Tibidabo, the highest point of Barcelona at 512 meters. The amusement park is the oldest in Spain and one of the first to open in the world. From children to adults, everyone can find something to do and enjoy. Moreover, it counts with overall 25 attractions on 6 levels.
On the first one, you will be able to enjoy family activities such as El Mina d'Or, El Castel Misterios, or the traditional pirate boat. On the next level, there is a 4D cinema; and in addition the more challenging attractions such as the flying swings and Diavolo. The third level is only accessible for the amusement park technicians.
On the forth level, there is a haunted hotel and bumper cars for all kids and adults. Afterward, you can expect more laid back activities, such as shows, the automate museum and the mirrors room. Finally, on the last level, you will be able to enjoy the view thanks to the big wheels and the Avió plane, one of the park oldest attractions. You can book here online with us for 25.65 euros per person and have access to all the attractions of the park!
Address: Plaça del Tibidabo, 3, 4, 08035 Barcelona
Opening hours: schedules can vary between months; the opening hours go from 12:00 to 21:00
From March to December: open on weekends, public holidays and school holidays
July and August: from Wednesdays to Sundays
January: from the 2nd to the 5th
Closed from the 6th and the 31st of January and all February
Prices: 
Entrance ticket: €35
Entrance ticket junior (90 – 120cm): €14
Senior entrance ticket (aged over 60): €10.50
Want to stay close-by? Then take a look at our Apartments in Sarria-Sant Gervasi
# 3 Port Aventura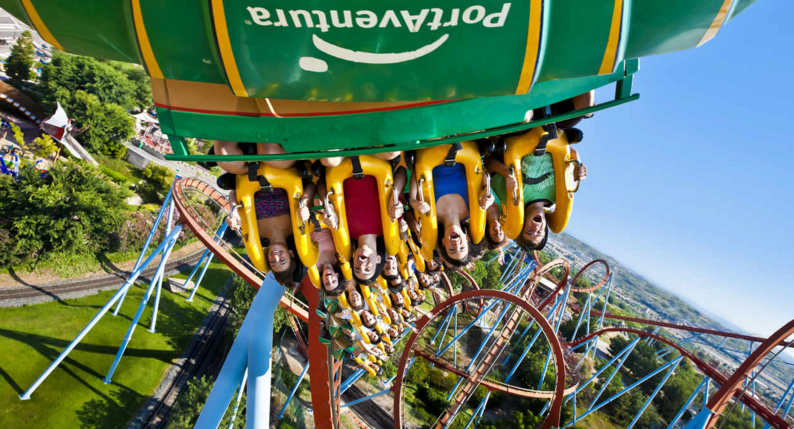 Looking for an adrenaline rush? Then, Port Aventura in Salou is the amusement park for you! Located on the Costa Dorada, less than an hour from Barcelona; Port Aventura is the attraction park to go to when visiting Catalunya. The park has made a name for itself and is now considered one of the top 10 best amusement parks in the world thanks to its 37 rides.
You will be able to enjoy a complete change of scenery thanks to its 5 universes such as Far West, China, and Mexico for instance. You can also do aquatic activities at the Costa Caribe area such as rafting and wave pool but also discover more than 4300 tropical plants. If you are looking for somewhere for the night, you have the possibility to stay there on the set and travel to these different universes for a short moment. For 68 euros you can book here with us your bus journey to Port Aventura from Barcelona and a day entry to the park. Want to fo other fun things to do in Barcelona? You also have the option to do a combo with Port Aventura and Camp Nou and visit the FC Barcelona museum.
Address: Avinguda de l'Alcade Pere Molas, s/n, 43480 Vila-seca, Tarragona
Opening hours: Every day from 10:30 to 23:00
Prices: tickets start from the 1-day at the park at €51 for the general admission and €45 for juniors and seniors.
Want to stay close-by? Then take a look at our Apartments in Tamarit!
# 4 Paddle Surf and Kayak excursions
Barcelona is a city where you will be able to do all sort of activities even nautical ones. Indeed, thanks to its location on the Spain's cost, you can enjoy doing paddle surf and Kayak excursions on the Mediterranean sea.
You can expect to receive a brief explanation of paddle surfing techniques from a qualified instructor who will explain how you use the paddle to propel yourself while you balance on the paddleboard. You can always try out Kayaking if you want to do something where you will have fewer chances of falling into the sea. It is a real resting and peaceful activity! Book with us starting from 15 euros and you will be able to beneficiate of a one-hour practice session with a professional instructor; the usage of lockers, changing rooms and lifejacket and a medical insurance plus a third-party insurance.
Address: Passeig del Mare Nostrum, 14, 08039 Barcelona
Opening hours: Every day from 06:30 to 20:00
Price: starting at €15 an hour per person
If you want to stay by the sea, check out our Apartments next to Port Olympic!
# 5 Parasailing in Port Olympic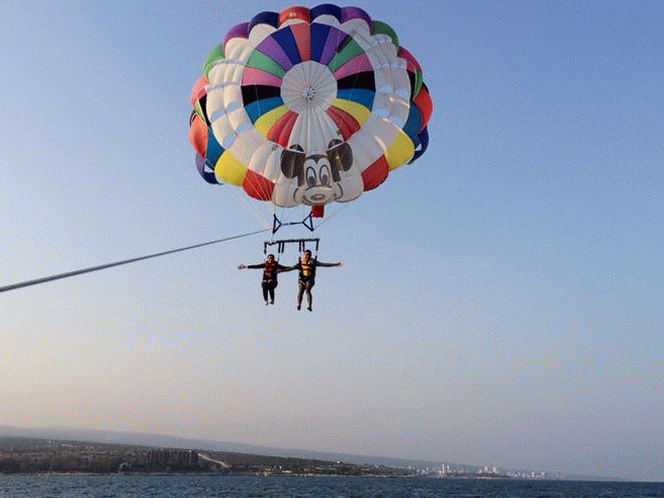 Looking for a nautical activity but one that will give you thrills? Then try out parasailing in Port Olympic in Barcelona. You will enjoy the view of Barcelona from the sea and we can assure that it is a total bonus to complete your trip! You will take-off and land from a platform and just inform the captain if you do not want to fall into the sea. From 80 euros per person, you will be able to enjoy a boat ride from 30 to 90 minutes, a 15-minute parasailing flight. The price also includes all the safety equipment and the civil liability and accident insurance. Do not waste  one more minute looking for other fun things to do in Barcelona and book now with us!
Address: Port Fòrum, Moll de la Rda., 08930 Barcelona
Opening hours: Every day from 10:00 to 20:00; except for Tuesdays
Price: starting at €80 per person
  Check out our Apartments next to Port Olympic!
Want to explore more of Barcelona's and its amazing arrange of activities? Check out this video for more fun things to do in Barcelona:
---
Are you planning a trip and looking for an accommodation for your stay and enjoy the fun things to do in Barcelona? Check out these GREAT APARTMENTS in the city centre!