Street art in Barcelona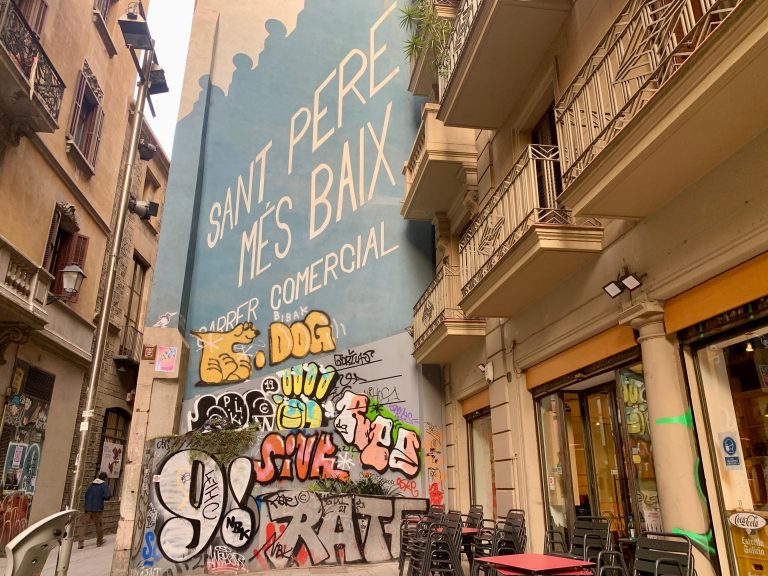 It's no secret that one of Barcelona's biggest attractions is the art/ architecture. Not only the likes of Picasso and Gaudí, but there is also a thriving modern art community. Barcelona has been coined the capital of European street art. Lucky for us there's loads of street art round every corner, so you don't have to pay museum entry to see lots of modern art in Barcelona. Street art spotting is a great free activity to do whilst you're visiting Barcelona. Looking to find the best neighbourhoods for graffiti spotting? Or somewhere to buy street art in Barcelona? Keep reading and we'll tell you everything you need to know about the modern art scene in Barcelona!
Neighbourhood Hotspots
You can find street art in every neighbourhood in Barcelona; however, these are some of the hotspots in the city with the best art around.
#1 Gothic
This is one of the oldest neighbourhoods in the city and many locals think it is where the street art scene really started. Gothic is arguably the most interesting neighbourhood to wonder, as it is the oldest. You can see all of the old buildings juxtaposed against the modern art, which you won't be able to see in many other neighbourhoods in the city.
#2 Poblenou
While Poblenou undergoes gentrification, many of the old factories that have not yet been knocked down are being used as canvas' by many of Barcelona's street artists. It is one of the most up and coming neighbourhoods in Barcelona and definitely worth a visit.
#3 Raval
Raval neighbourhood has a very popular skateboarding scene, especially around the MACBA. Skateboarding and street art tend to be two activities that frequently accompany one another. This is definitely true of the Raval neighbourhood. You will find skateboarders down all of the streets and street art on every corner.
#4 Poble Sec
The Poble Sec neighbourhood is home to one of the most popular street art spots in Barcelona, the Three Chimney Skatepark (Jardins de les 3 Xemeneies) in Poble Sec.
Top Tip: If you cant to see as much street art as possible, take a walk around the city on a Sunday when all the shops are closed. Many of the shops display street art on the store front metal coverings, which are down when they are closed.

Murs Lliures Project
In collaboration with Barcelona city council and Rebobinart. This project was created in 2013 to provide a safe space for street artists to display their work without fear of being fined. Murs Lliures translates from Catalan to "free walls", to reference the walls that are free for artists to paint on. The project involves artists going online to book walls that they wish to display their work on. A very organised and simple process, making street art a more refined art form. The Sants-Montjuïc neighbourhood was the first to donate walls to this project, after that many other neighbourhoods followed.
Famous Artists
Bronik
Bronik is a female Peruvian street artist currently living in Barcelona. She frequently implements the Peruvian culture and style into her pieces using lots of bright colours. You might recognise some of her pieces on the street, many of them are images of blue women. The blue women represent homage to femininity and Bronik's Peruvian roots.
Zosen
Zosen Bandido is an Argentinian street artist who specialises in geometric shapes and neon colours. He started graffiti at the age of 11 back in Buenos Aires. His youthful graffiti antics have now led to an entire career in street art.
Btoy
Btoy is a Spanish street artist, most well known for pieces of iconic women from the 1920-50s. In order to create her masterpieces, she uses photography to capture her subjects and then proceeds to use the street art media.
Art or Vandalism…?
There has been an ongoing debate about street art ever since it started to become a popular form of expression. The question is, is street art really art, or is it vandalism? Street art began to appear in Barcelona in the 1970s, at the end of the Franco era. Many locals noticed that the street art scene really started to take off after the 1992 Olympics. However, in 2006 Spain introduced fines of up to €3,000 for painting on public spaces. This led many artists to leave Barcelona, as they wanted to continue to display their artwork to the public. Much of Barcelona agree that street art must be regulated to an extent. However, it would be a shame for the city to lose such a large part of what is now Barcelona's identity. So, is it art or vandalism…? Take a walk around the city and decide for yourself!
Street Art Galleries in Barcelona
Has the street art in Barcelona has inspired you during your visit? The galleries are an interesting way to view street art in a different way. We are used to being surrounded by it everywhere we walk in Barcelona. Perhaps viewing it in a gallery gives us greater appreciation for the technicality of this style of art. Why not pop into a gallery to have a look, and see if there's anything you want to take home. Below we have listed some of the most famous street art galleries, however you will also notice loads of them around and about the city as well.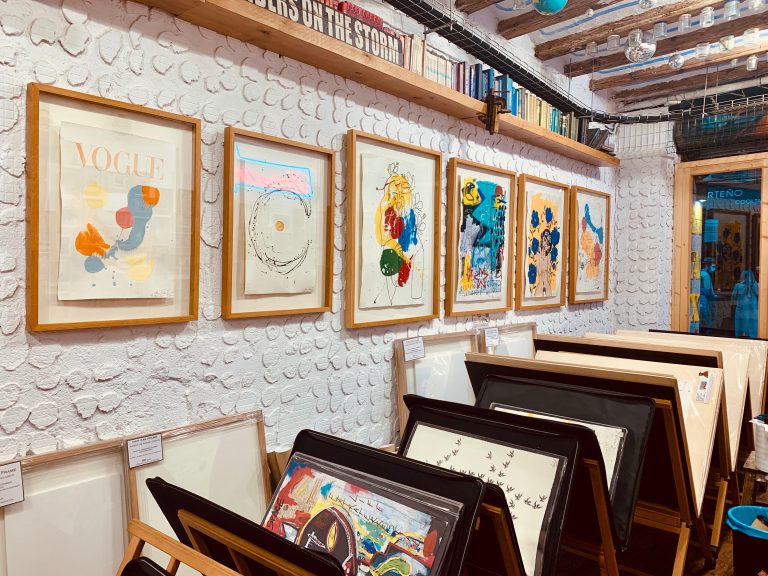 Montana Gallery
The Montana gallery opened in 2007 and has been highly regarded ever since. Their mission was to display young local artists and help to gain them more recognition for their work. The Montana gallery also has a café offering vegan and vegetarian options.
Opening hours: Monday – Saturday 10:00-21:00
Address: Carrer del Comerç, 6, 08003, Barcelona
Base Elements Gallery
Founded in 2003 by an American husband and wife. This gothic quarter gallery has displayed many famous names from the street art scene. Some include Btoy, Zosen and El Xupete. This particular gallery is unique, as it's not only a gallery but also a safe space for local artists to use as a studio.
Opening hours: Monday – Wednesday 11:00-14:00 & 15:30-21:00 | Thursday – Friday 11:00-14:00 & 15:30-22:00 | Saturday 11:00-14:00 & 16:00-22:00 | Sunday 11:00-14:00 & 16:00-21:00
Address: Carrer del Palau, 6, 08002
Artevistas Gallery
The location of this gallery is extremely special. The building the gallery is housed in is the building that Joan Miró was born in. It displays works from from established as well as up and coming artists. In addition this gallery is not exclusively a street art gallery.
Opening hours: Tuesday – Friday 12:00-14:00 & 15:00-20:00 | Saturday 12:00-20:00
Address: Passatge del Crèdit, 4, 08002
Are you planning a trip to Barcelona and looking for somewhere to stay? Why not take a look at the available apartment rentals on our website! Please feel free to contact us with any questions you may have.