If you are visiting Barcelona, you must see this magnificent city from above. Watching Barcelona's beautiful skyline from a different perspective will give you a clear image of its unique structure, which is not possible while walking around dense buildings. And why not combine the amazing views with a nice drink and some excellent food? In Barcelona, there are a lot of restaurants with a sight on the skyline. To make it easier for you to pick a good one, we have selected the best restaurants with a view over Barcelona. So, take your camera and some big appetite with you and enjoy a delicious lunch or dinner while observing the city from above.
# 1 Torre d'Alta Mar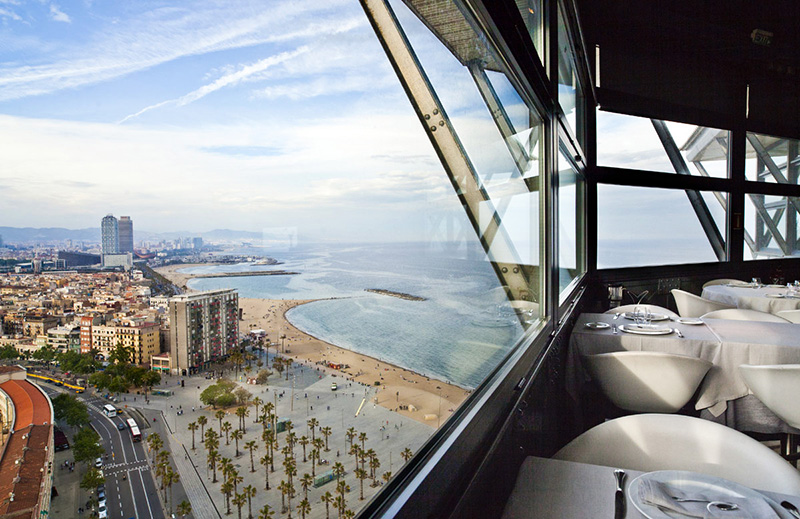 Torre d'Alta Mar is a fantastic restaurant, located in the port cable's tower, where you can enjoy an excellent dinner in a unique setting with a height of 75 meters. It has a glass-fronted round dining room that provides you a 360º view over the sea, the port, and the city. This exclusive restaurant allows you to taste delicacies of an haute cuisine with a mix of creative and traditional Mediterranean dishes. We recommend you to try a menu of a few courses, in order to experience more than only one of their outstanding platters. Their menu offers an assortment of different small dishes, starting from 39 euros for a lunch menu on weekdays. It is also possible to add an adapted wine arrangement with it. The perfect place for a special occasion with your lover or if you want to impress someone!
Address: Passeig de Joan de Borbó 88,  Barcelona
Opening Hours: Tuesday to Saturday, 13:00 – 15:30, Monday to Sunday, 20:00 – 23:30
Telephone: +34 93 221 00 07
Check out our website to find the best Apartments nearby the port of Barcelona!
# 2 Mirablau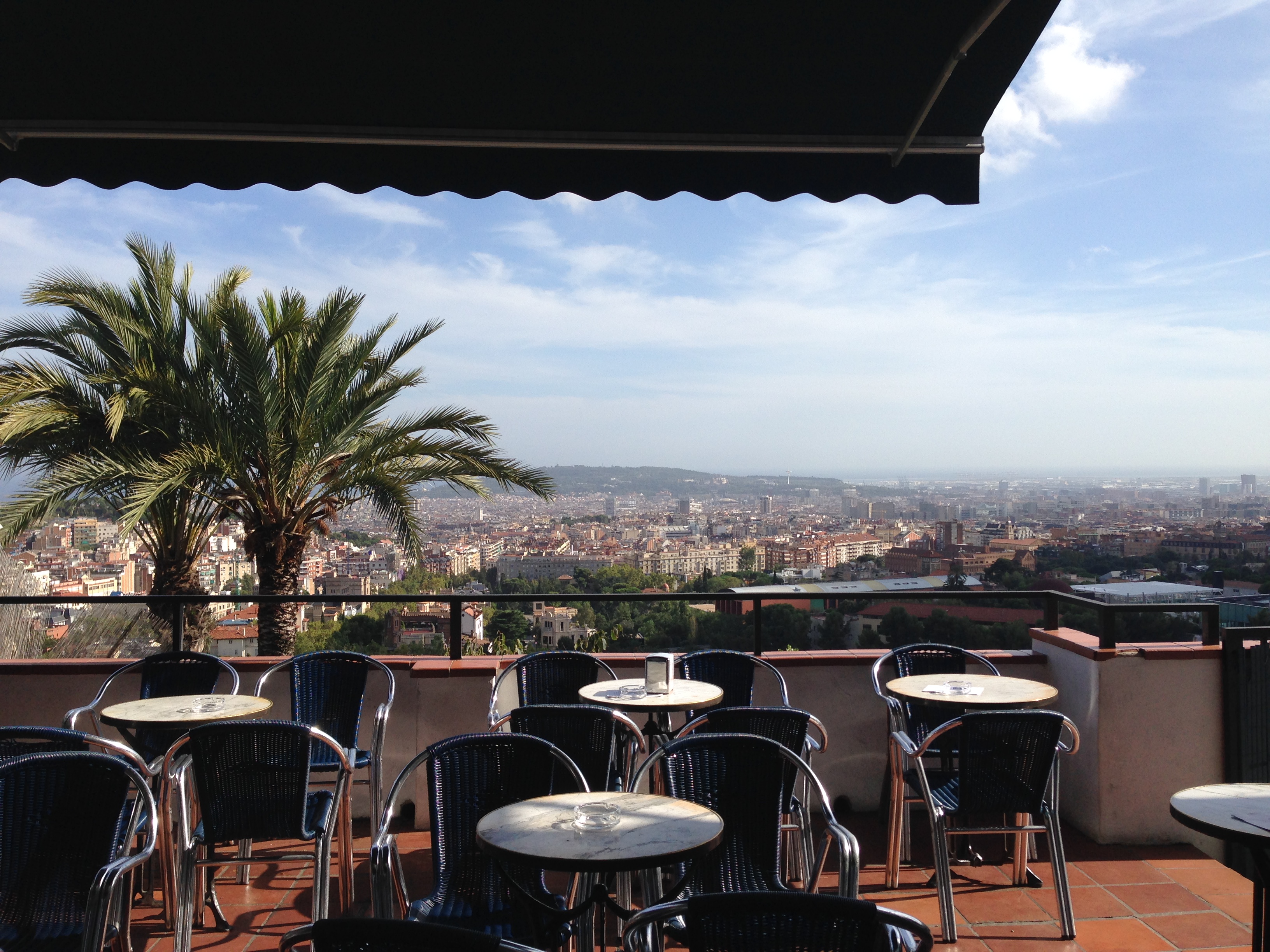 After visiting Tibidabo Park, Mirablau is the place to go! It is an outstanding restaurant with incredible views over Barcelona. They serve a traditional Mediterranean menu made with the highest quality products for a very reasonable price. With its more than 25 years of experience, it attracts a lot of people, both tourists as locals who fall in love with this place after the first visit. It consists of 2 floors with a cozy interior where you can enjoy a cosmopolitan cocktail and some delicious tapas. But Mirablau is not only just a great restaurant, it is also a bar and nightclub, where you can dance the night away while having a view over Barcelona. An ideal place to relax, enjoy, eat and drink with good company in an urban air with a warm atmosphere, while the city is at your feet!
Address: Plaza Doctor Andreu, Barcelona
Opening Hours: Monday to Wednesday: 11:00 – 03:30, Thursday: 11:00 – 04 :30 Friday to Saturday: 11:00–05:00, Sunday: 11:00–02:30
Telephone: +34 934 18 58 79
Want to stay close-by? Then take a look at our Apartments in Sarrià – Sant-Gervasi!
# 3 Martínez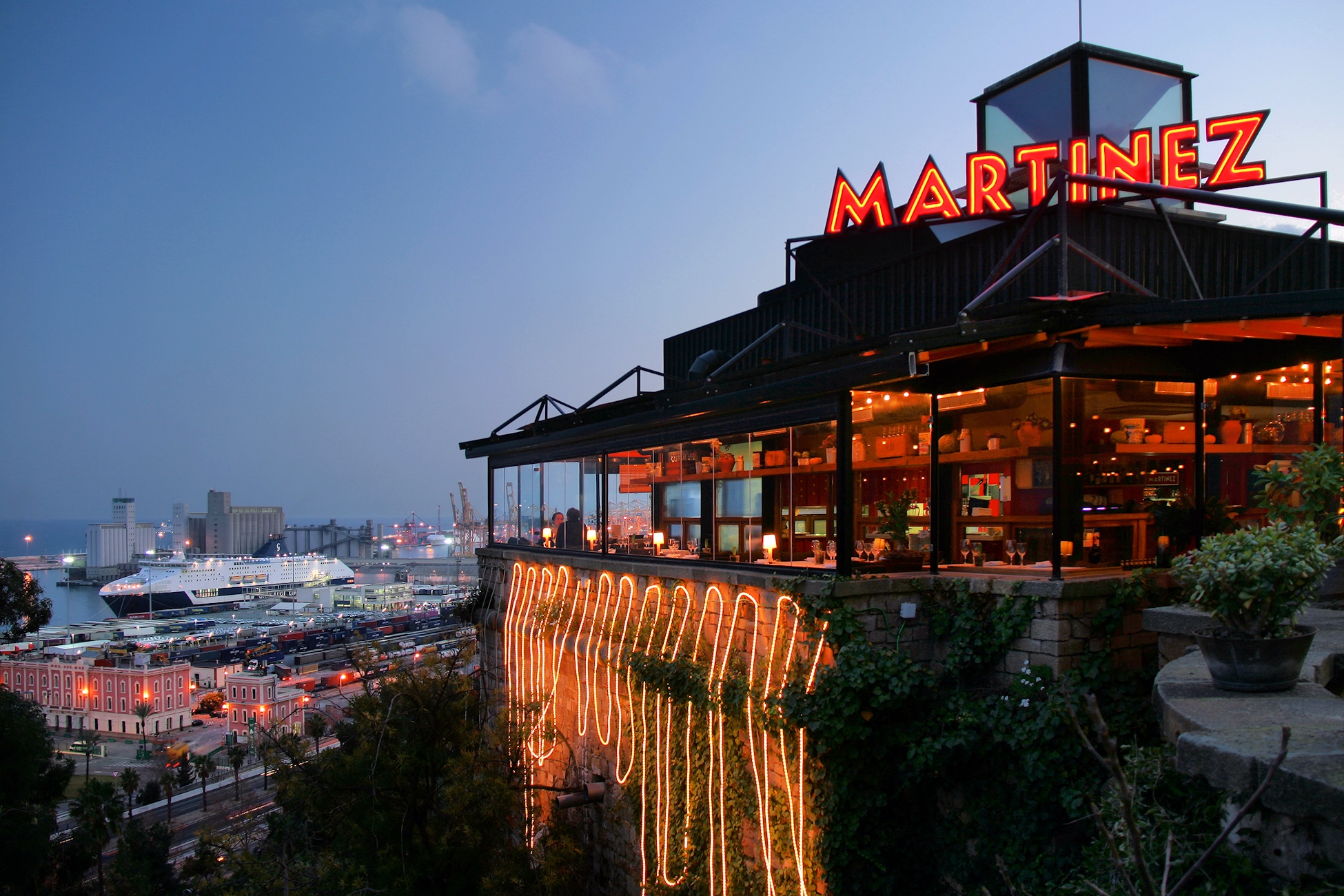 Martinez is a trendy restaurant with a privileged location at the foot of Montjuïc mountain. With this location, it provides breathtaking views over the city, the port and the sea; especially over the ferry and industrial harbor. It is founded in 2013 and since then its success only grew by attracting a lot of locals and tourists. The place has a chic but trendy atmosphere with unique decoration. This superior restaurant is most famous for their paella but their tapas and deep-fried seafood are also worth trying. They offer a set menu; including vermouth, tapas, salad, wines, one of the rice dishes on the menu and a dessert for €40. In fact, it is a bit more expensive than the restaurants in the city center but there is a reason for it, with its high quality, tasty food and exclusive location. Because of the popularity, reservations are strongly recommended.
Address: Carretera de Miramar,38, Barcelona
Opening Hours: Monday to Sunday: 13:00 – 01:30
Telephone: +34 931 06 60 52
To stay near restaurant Martinez, check out our Apartments in Poble Sec!
We hope you have the chance to try out one of our Best restaurants with a view over Barcelona. And believe us, they aren't going to disapoint you, especially their views! Still looking for something to do before or after eating in one of these restaurants? Check out all the activities Barcelona has to offer!