When going sightseeing in Barcelona and you happen to stand on top of the Montjuïc mountain, besides of  seeing the beautiful view of Barcelona you will noticed the huge Port of Barcelona and the beach, which are is located on the north side of the Montjuïc mountain and right next to the beach. (Click, for more information on the area Montjuïc)
The port used to be on the south side of the Montjuïc mountain, but because of hard access for ships, the port got relocated in 1438 to where it is now, right next to the beach. The port of Barcelona is one of the most important port in the Mediterranean sea and its ranks as the fifth in the world. The Port is right next to La Barceloneta, which is the neighborhood that is build on a island.
Find your accommodation now!
Barceloneta is de old part of the current port. The port is expanding to the south side, which means that the other side is now an area of enjoyment. This area is also known as Port Vell. The once crowded port of Moll d'Espanya between La Barceloneta and the city center is now transformed in to a mall, there is an Cinema, clubs and the aquarium of Barcelona. But the most enjoyment is the beach and the sea that attracts millions of tourist each year. (Click, for more information on the Barceloneta area)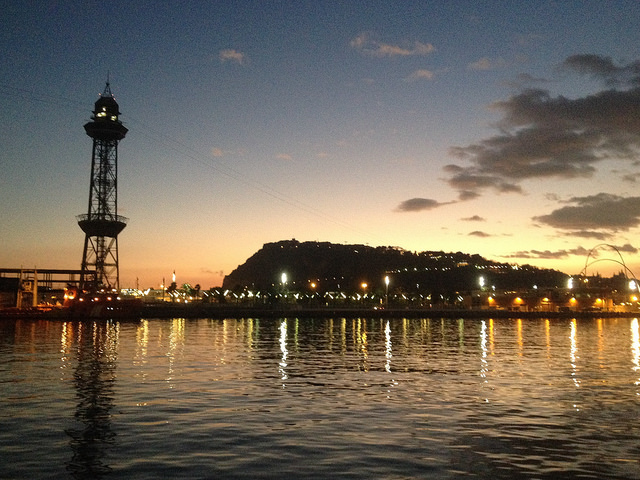 The beach of  Barcelona is an tourist attraction. But not only tourist, even artist come there to show their skills. Whether it is building an Sand castles or art statues. The beach of Barcelona is a must visit place when coming to barcelona. In the summer there is hardly a place to lay down and in the winter there are a lot of people enjoying a walk on the beach in the late afternoon.
In general Barcelona has a thousand plus 1 areas that needs to be seen. Each different area shows another side of Barcelona, you can find so much art and culture and after a while you will understand why Catalonia is being seen as a different country compared to the rest of spain.
If you are looking for an apartment or an accommodation of any kind in Barceloneta area we can help you find it. By clicking on the following link beach apartment in Barcelona you can search on our website for the right accommodation close to the beach.