When walking through the streets of Barcelona, you are sure to encounter amazing plazas, museums and incredible buildings everywhere you look. But in addition to these, your attention could be drawn to one of the many lively but cozy pinchos bars around the city.
Pinchos are small pieces of bread with some sort of topping, arranged beautifully on the bar counter, which ends up looking like the palette of an artist with a stunning mix of colors. In addition to their beauty, pinchos are also simply delicious! The main difference between pinchos and tapas is that the bread and other ingredients on a pincho are held together by a small skewer, which is actually what the word ¨pincho¨ means in English (pinchar: to pierce). At traditional restaurants, you'll get charged for the total number of skewers on your plate at the end of your meal. As with tapas, a meal of pinchos is best when accompanied by a nice bottle of beer, a glass of wine or Cava.
Pinchos have their origin in northern Spain and you can easily find a restaurant offering them in Barcelona, but not all of them provide the equal quality of food, atmosphere and customer service. We wanted to make things a bit easier for you, so here is a list of our five recommended pinchos bars in Barcelona, hoping you can enjoy the best food and experiences during your stay in the city!
# Maitea
Our first recommendation is the taverna Maitea, which impresses with a very Catalan ambiance and pinchos of all tastes. Very crowded during the night, but with a very friendly atmosphere and good service. Maitea has also received the Certificate of Excellence 2013 by TripAdvisor. Definitely one of the best pinchos bars in Barcelona.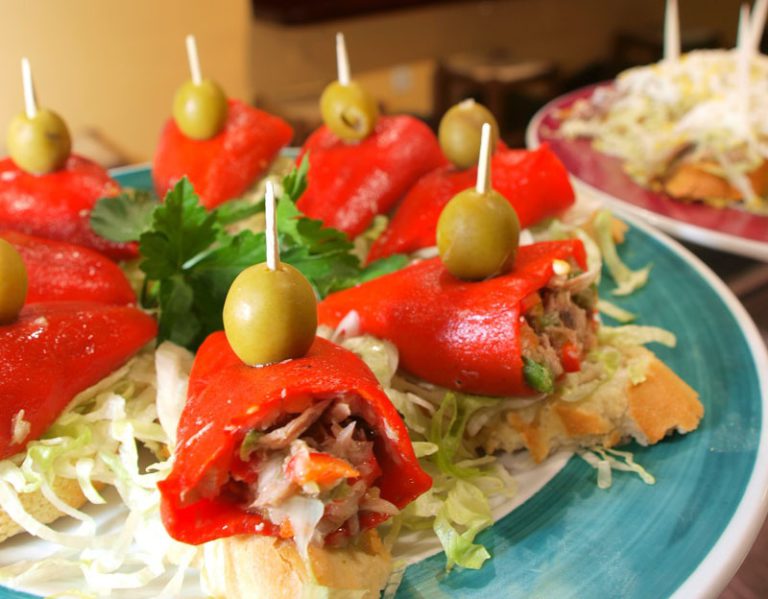 Address: Carrer de Casanova, 155, 08036 Barcelona
Opening Hours: Monday – Friday 11:00 am – 12:00 am, Saturday 12:00 pm – 12:00 am, Sunday – closed
Telephone: + 34 934 39 51 07
# Blai Tonight
The small pub Blai Tonight is one of our favorite places located in the heart of Poble Sec. This pub is so popular that many guests are willing to forego a seat and just enjoy the pinchos while standing. If you want to sit at a table outside you should go there early in the day, from 7 to 8 pm, because most locals arrive between 9 and 11. One of the reasons for the success of Blai Tonight is that all the pinchos cost you just one euro!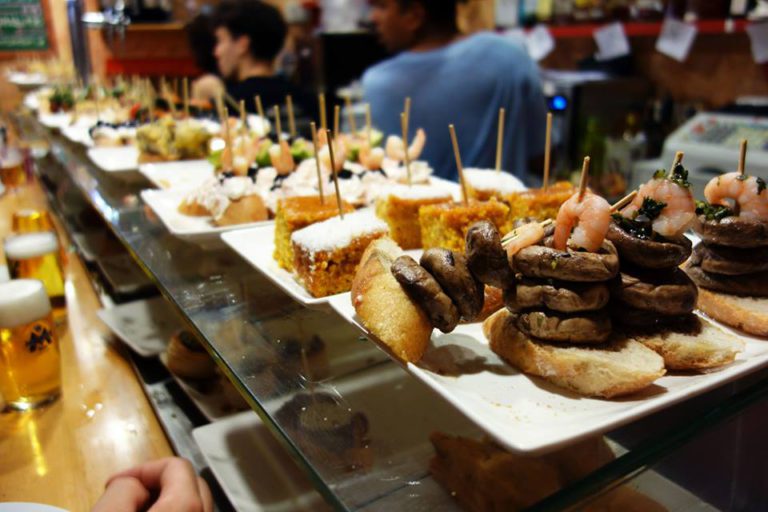 Address: Carrer de Blai, 23, 08004 Barcelona
Opening Hours: Monday – Friday 6:00 pm – 1:00 am, Saturday – Sunday – 12.30 pm – 1:00 am
Telephone: + 34 648 73 32 00
# 1881 per Sagardi
Our third choice, Sagardi, offers a magnificent terrace where you can sit and enjoy the tasty pinchos. It's one of our favorites because of the great location and as huge a variety of pinchos as anywhere. Its wooden decor and the extensive bar bring a fabulous touch to the atmosphere. The bar is usually visited by a lot of tourists who stop there when visiting the Catedral del Mar. The customer service here is quick and friendly, and the restaurant is all-around great quality without any notable flaws.
Address: Plaça de Pau Vila, 3, 08003 Barcelona
Opening Hours: Monday – Sunday 1:00 pm – 12:00 am
Telephone: + 34 902 52 05 22
# El Golfo de Bizkaia
The bar Golfo de Bizkaia one of our favorites in the area of El Born. It offers a very creative variety of pinchos, full of colors and flavors. In this bar, you find people of all ages enjoying the food in a very positive atmosphere. The service is really good at this bar and the staff is making everything to make you feel comfortable and satisfied.
Address: Carrer de la Vidrieria, 12, 08003 Barcelona
Opening Hours: Sunday – Thursday 10:00 am – 12:30 am, Friday – Saturday 10:00 am – 01:00 am
Telephone: + 34 932 68 48 88
# Euskal Etxea
Our last recommended option is Euskal Etxea. It's a traditional pinchos bar in the area of Old Town, near to the Picasso museum. The place is divided into two areas, the open and lively bar and the more calm restaurant section. This place is pretty affordable considering its quality and location, with a pincho costing you just 1.20 euros.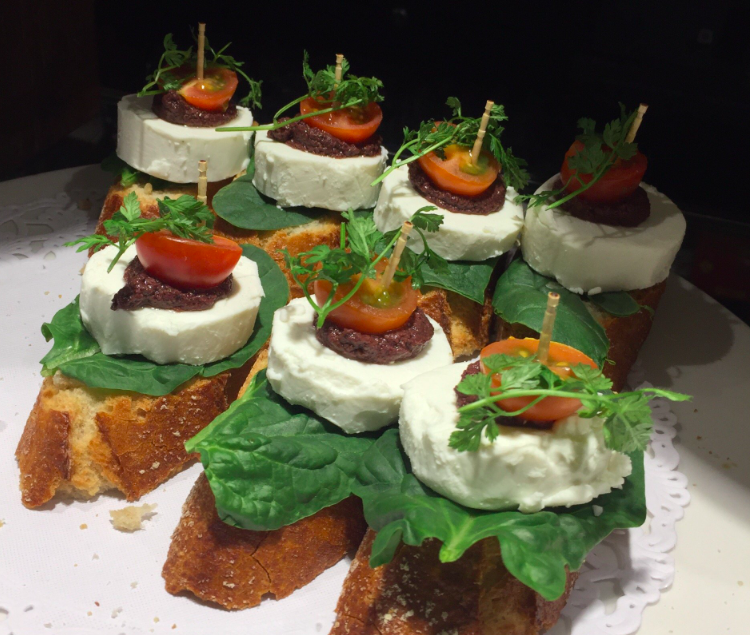 Address: Placeta de Montcada, 1, 08003 Barcelona
Opening Hours: Sunday – Monday 10:00 am – 01:00 am
Telephone: + 34 933 10 21 85
Looking for the best local tapas restaurants? Check out our article about the Barcelona's top tapas restaurants!
We hope our references help you to have the best pinchos experience as possible in Barcelona! If you're looking for a place to stay in the city, check out the accommodations in Barcelona.