Out of all the projects taken on by Antoni Gaudí, no other encapsulates the complete and perfect harmony of nature and architecture than Park Güell. Eusebi Güell commissioned Park Güell. He sought to create a stylish and lavish park for the aristocrats of Barcelona. The park contains stunning stone structures, spectacularly detailed tiling and fascinating buildings, eventually becoming Barcelona's most unusual public park.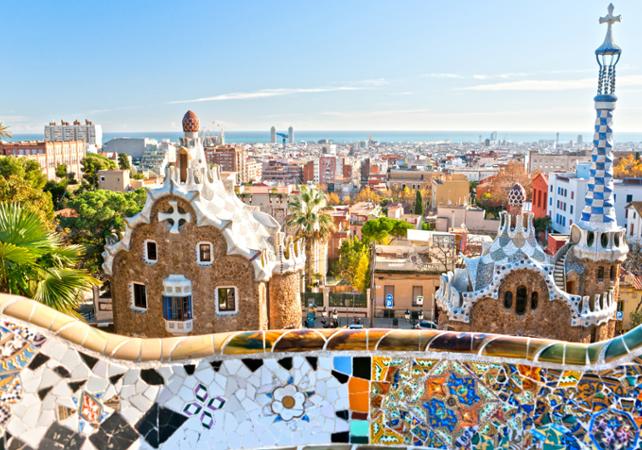 The architect chose an uneven site covering a surface area of 15 hectares. The original project included the construction of 60 detached houses. Unfortunately, only two were actually completed, and Gaudí lived in one of them. It is now a museum displaying the architect's life and work. Gaudí prepared the site of Park Güell between 1900 and 1914, showcasing his urban-planning concerns by building paths, arcades and viaducts fully integrated into Barcelona's natural surroundings.
The Park Güell
While passing through the entrance of Park Güell, the remarkable dragon fountain without fail captivates the attention of passers-by. This dragon is bejeweled in beautiful colored tiling and there is something rather mesmerizing and enchanting about it. There is a beautiful walkway supported by twisting rock pillars that appear to be growing out of the ground like tree trunks. Although these pillars are somewhat peculiar in shape, they somehow also feel strangely natural. Natural shapes strongly influenced Gaudí, who used them so much in his work.
If you reach the top of Park Güell, there is a blissful terraced area overlooking the city. In there, you can get a sublime view of the park and of course Barcelona City. Here you will find an explosion of color with the beautiful tiled mosaic seats. Their vibrant colors are truly breath-taking. Park Güell also has a small house in the park, which is where Gaudí lived at one point. The house has now been converted into a museum and contains interesting furniture and artifacts which were also designed by Gaudí.
The pavilions and the most known symbol of the Park
In Park Güell there are two houses as well as pavilions for visitors and park keepers. Hansel and Gretel  story inspired Gaudí for the pavilions' design: radiant colored tiles and ornamented spires cover the curved roofs. The staircase at the entrance of the park is a magnificent sight. At first glance, the view takes you back, and this was also designed by Gaudí. The dragon-like lizard, which is ornate with multi-colored tiles, is at the center of the staircase. Furthermore, it is the best-known symbol of the park.
Tickets
Park Güell is located in the district of Gràcia. You have to pay to access the monumental area of the park where all the buildings are. We recommend to book a ticket online in advance to be sure you can enter the park. The number of visitors per day is, in fact, limited. However, you can also walk freely in other parts of the park.
Good To Know
Address: Carrer d'Olot, 5 08024 Barcelona, Spain
Transport: By Metro – Vallcarca or Lesseps stations (Green Line, L3) On leaving the metro follow the street signposts for the park | Bus – 24 and 92. | Barcelona Bus Turístic, stop Park Güell.
Prices: For kids from 0-6 years old is free, for kids from 7 to 12 is 7€ and the general ticket is 10€
Schedules: Autumn-Winter; from 27 October – 23 March: 08:30 h to 18:00 h | Spring-Summer; from 24 March – 26 October: 08:00 h to 21:30 h.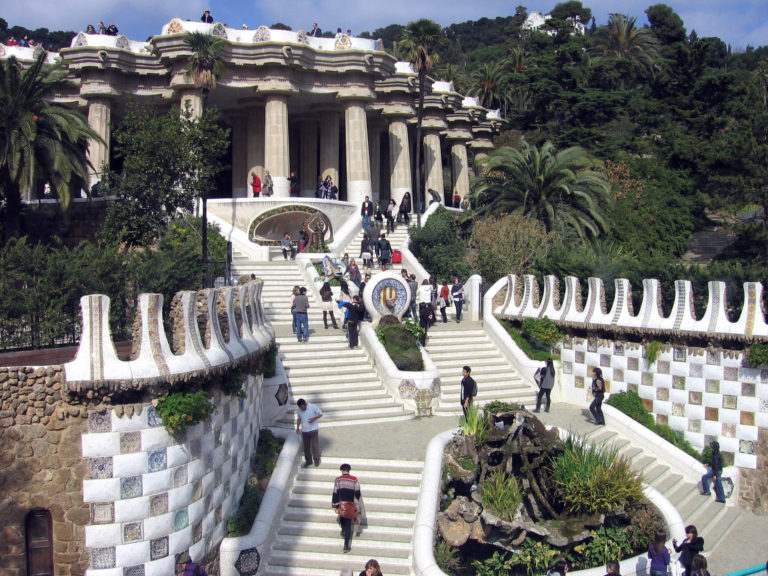 Tips
If you're visiting the park by metro, then prepare yourself for a 20 minutes walk minimum. The last 200 m walk is up a steep hill. If you have difficulties going up steep steps then consider catching a taxi or bus. You can find the bus information at the tourist information office at Plaça de Catalunya.
People with reduced mobility may have difficulty getting around within the Monumental Zone due to the architectural characteristics of the Park, with flights of steps and uneven paths.
Park Güell is undoubtedly a visit you shouldn't miss during your stay in Barcelona and especially a unique experience!
If you're looking for a great accommodation in Barcelona, look no further! We have what's right for you!