Asian folks are traveling all over the world, and are bringing their culture with them! For instance, from street food to boutique restaurants, lovers of Asiatic food are well catered for throughout the world. Oriental supermarkets and restaurants can be found in the international city of Barcelona. In addition, whether you are an Asian traveler looking for comfort food or anyone into good Asian food, see the best Asian restaurants in Barcelona to satisfy your cravings!
Here are our 4 highly recommended Asian restaurants:
# 1 Koy Shunka
Koy Shunka is a Japanese Michelin star fine dining restaurant. It has an open view kitchen, which gives you a great view of the chef preparing your sushi right in front of you. The ingredients used are of top quality. Moreover, the dishes are carefully prepared with high standards. If you are looking to entertain your taste buds with Japanese delicacy and your pockets are feeling deep, this place is for you.
Source: www.cenarenbarcelona.org  
Address: c/Copons, 7  –  Barcelona 08002
Telephone: +34 934 12 79 39
Opening hours: Monday to Saturday from 13:30 – 15:00 & 20:30 – 23:00 (timetables may vary)
Looking for a place in the city center and near Koy Shunka? See our apartments in Barri Gotic!
# 2 Sam Bu Ja
Sam Bu Ja is an authentic Korean restaurant owned by a lady of Korean ethnic from Nothern China.  It is also a very good Asian restaurants. Furthermore the restaurant serves traditional Korean dishes such as cold noodle, bibimbap, kimbap, BBQ, pancakes, etc. Its crunchy kimchi is a must-try. Here, you can get Korean alcohol and soft drinks to go along with your dishes. Also prices are fairly reasonable. Moreover, there are a lot of vegetarians dishes.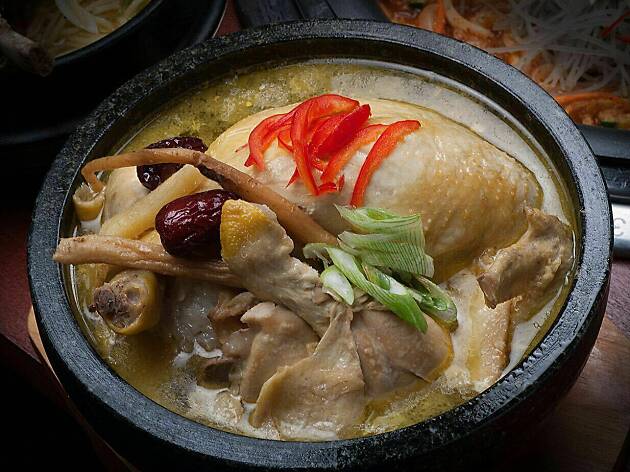 Source: www.timeout.com
Address: c/Consell de Cent, 418, Barcelona 08009
Telephone: +34  935 32 52 65
Opening hours: Tuesday to Thursday from 13h to 16h & 19h30 to 23h00 and Friday to Saturday from 13h to 16 ; 19h30 to 23h30 and Sunday : from 13h to 16h & 19h30 to 23h00
# 3 Panda Bar
Panda Bar is a bar-restaurant located in the gothic quarter, where you can get provincial Chinese home-style dishes. It is hard to find a restaurant that serves such savory Chinese dishes in Barcelona.  The restaurants are co-owned by two Chinese men who prepare and cook their hometown food themselves. The food served are not only for customers but also for owners to fulfill their daily meals. This may explain for the good quality ingredients of the dishes.  There are about four Chinese food items in the menu which vary day-to-day.
Source: www.restaurantguru.com
Address: c/Viladomat, 101, Barcelona 08015
Telephone: + 932 25 81 00 
Opening hours: Monday to Saturday from 12h30 to 16h & 20h to 23h30
# 4 Shanghai
Come and enjoy Chinese food in one of the most luxurious Chinese restaurants in Barcelona. In the heights of Barcelona, Shanghai will immerse you in an atypical and elaborate decor. Moreover, the chef will offer you varied, tasty and high quality dishes prepared with fresh ingredients from the market. For this reason the price are expensive. Then an extensive wine list is also available to accompany your dishes if you wish. Overall it is one of the top Asian restaurants. Let yourself be tempted by this culinary journey in Barcelona and come and taste these dishes with friends or family.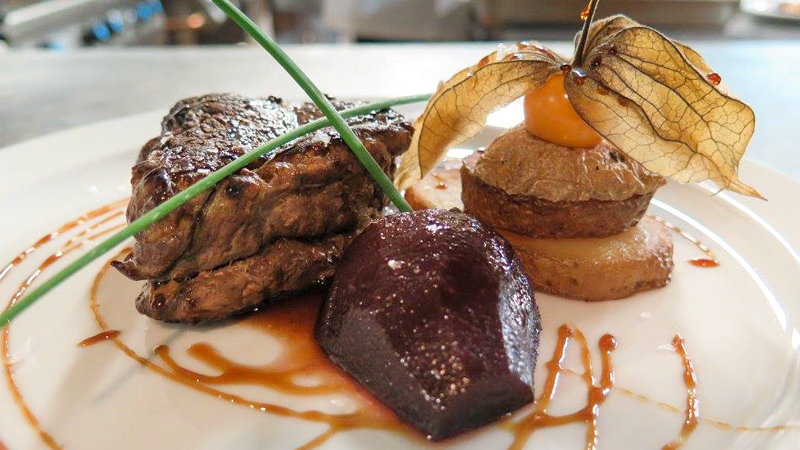 Source: www.thefork.com
Address: Carrer del Bisbe Sivilla, 48, 08022 Barcelona
Telephone: +34 932 11 87 91
Opening hours: Tuesday to Saturday from 13:30 – 15:30 & 20:30 – 23:00; Sunday from 13:30 – 15:30

In the same vein, are you planning a trip to Barcelona and looking for somewhere to stay? Thus, why not take a look at the AVAILABLE APARTMENT RENTALS ON OUR WEBSITE! Please feel free to contact us with any questions you may have.