Hiring bikes in Spain is one of the most popular recreational activities for tourists. It is a great way to see the sights and moreover to get around. With it being cheap, easily accessible and enjoyable, why wouldn't you do it? If you are thinking about doing some cycling in Costa Brava, let us give you some tips on routes and some general information!
Kilometers and kilometers of trails along old railway track-beds are waiting for you in to do Costa Brava, in Catalonia. It's the perfect ideal family activity and the best way to discover this gorgeous region which provides amazing and breathtaking view. There is a plenty of cycle paths in Costa Brava; from the basic one for all the tourists, passing by the mountain cycling with every possibility, along the seaside and the beach, in the field or in the mountain. Everyone would be happy and there will be something for everyone!
Find your accommodation now!
Renting a bike for cycling in Costa Brava
Surrounded by the beautiful landscapes of the Mediterranean Sea and the Pyrenees mountains, Costa Brava is a very appealing place to rent a bike. Further with 200km of cycle-friendly paths and roads, you are bound to see all of the region's hidden gems in no time. If you want to hire a bike and go on your own, it is also very easy to do. There are various bike rental shops around, where you can choose a bike that matches your needs, height and ability. Just one of these is Cycle Catalan, where the friendly staff will help you find exactly what you need.
You can rent helmets, locks and everything you will need at these shops. Scope out the locals and ask where the most scenic routes are and have a great day in the sun, visiting many of the local sights. You could also visit one of the eight incredible national parks we have here in Costa Brava.
Barcelona is also a nice place to do cycling, especially when there is great weather in spring and also in summer at the end of the day. You can easily circulate in all the city because Barcelona has a lot of cycle paths in each streets. The city is also in the top 14 of the best city to practice biking in the world! Moreover, you gonna want to visit the city by bike! This kind of liberty, when you can go everywhere, whenever you want. Such a great deal!
The routes and cycle paths
You can take part in a cycle tour with a guide, an option that allows you to choose how far you want to go and at which pace. These tours are very popular for people unfamiliar with the area and who want to learn more about the surroundings from local people. Tours often take you to places you would never have known existed if you had gone off on your own accord. You can choose to do private tours or groups of mixed groups. There is also the possibility to do cycling food and wine tours, medieval villages or road cycling tours, for the more experienced. You can do tours from 1 hour long to ones that go all day. You choose!
Scenic routes
One example of a scenic route that will allow you to experience incredible coastal views, is pictured below. Starting in Roses, around 24km from Costa Brava, the whole route is about 52km. However, you can check your maps and shorten or lengthen your journey however you prefer. This route is reasonably flat and down-hill some of the way. You can shorten the route by starting in Roses and ending there as well, instead of a bit further down the coast!
Another easier and more family-orientated route is this one pictured below. It is 48km long, but takes a more relaxed route around the countryside, allowing you to take in the views and enjoy a nice cycle. This route is perfect for less experienced cyclists but is also highly enjoyable for all levels.
Railway line route
In each country we named Green way, whatever road which have been occupied by railway line. We are going to present you one of them on the route of the Tren Petit (small train); of about 6km long, reaches the city of Palamós and Palafrugell between 1887 and 1956. This road has just has been conditioned in order to be traveled by walk or bike with any difficulty. So, it is perfectly adapted to everyone, and most of all for the family. The road pass through the field from the two cities from the Baix Empordà, in Costa Brava region. But you could easily find some bifurcation to reach other cities such as Mont-ras, Vall-llobraga, or even more Fosca beach. You will cross many rivers, and plains. This is the perfect road for spring, autumn or summer (but not during the midday because of the hot temperatures).
Source: www.viasverdes.cat
Beachside routes
Sant Pere Pescador provides a nice cycle path which is really accessible to everyone and practicable all the year long. This cycle path allow you to know better the natural heritage and also the spectacular landscape of Sant Pere Pescador. You will begin this path near the Fluvià river, arrive at the beach where you could make a stop while swim for a couple of hours, then continues through the vast farms of fruit trees where you could make another stop for test all the fruit trees.
Source: www.alltrails.com
The cycle path could be taken whatever you want in the course. But want you leave the city center and after cross the bridge, turn on the left and follow the river. This part of the path is characterized by the presence of a huge variety of birds. At the kilometers 1.5 you will find Sant Pere beach which is the unique beach of the Costa Brava with 6 kilometers of wild dunes. The course follow is way along the beach until the kilometers 4, where you will have to turn to the right, finish the maritime landscape and welcome the orchards. This path is the perfect one for families who want to discover Costa Brava but also enjoy the good weather through going to the beach during their daily journey.
Other paths
The region of Baix Empordà got a huge cycle paths of 250 kilometers which allow everyone to do his own path, with mixing the small paths and the roads. This cycle paths allow to admire quietly the landscapes of the region and to discover all the wealth all the wealth it contains his heritage.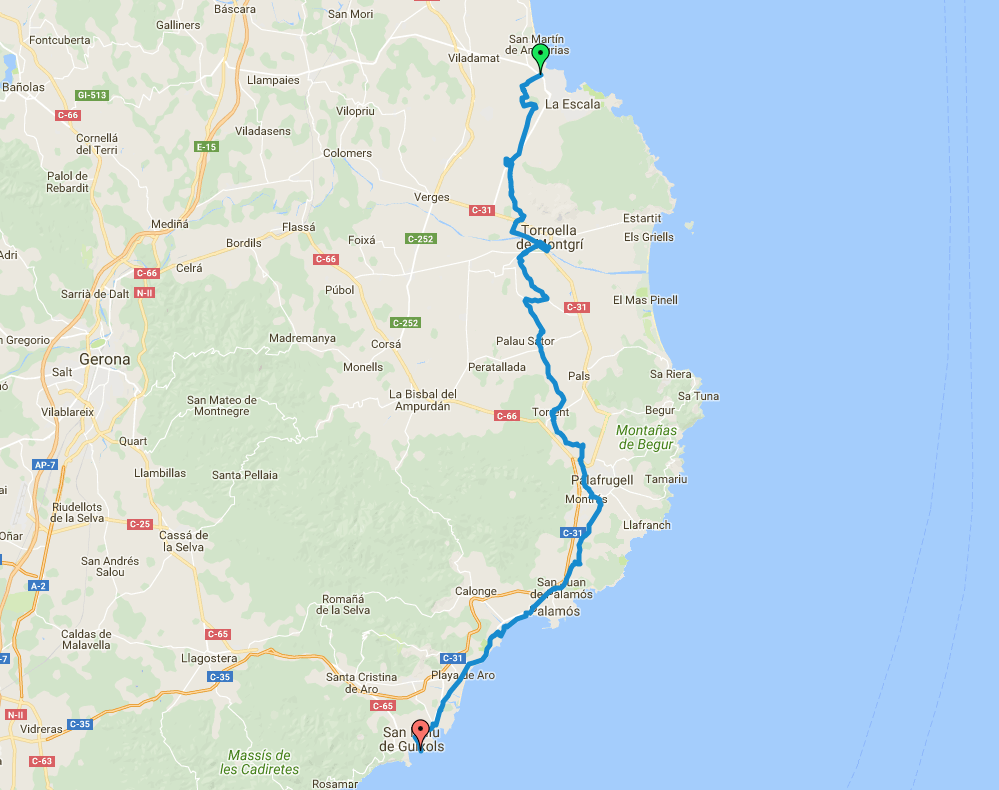 Source: www.viasverdes.cat
We hope you enjoy cycling around Costa Brava! If you need help finding an apartment in the area, don't hesitate to speak to us and we can help you personally. Otherwise, have a look here for Costa Brava Apartments!
Are you planning a trip to Girona and looking for somewhere to stay? Why not take a look at the AVAILABLE APARTMENT RENTALS ON OUR WEBSITE! Please feel free to contact us with any questions you may have.