Catalonia Trip – Barcelona & Costa Brava
Are you looking for something to during your Catalonia trip? We'll look no further! We've made you a short list of activities for you Barcelona & Costa Brava Catalonia trip. Please let us know in the comments if you have any suggestions for us. We always love hearing of new places that would should go and visit.
#1 Taste Food Tour in Gótico
Barcelona has a culinary experience for every visitor. The city's first gastronomical Tapas Tour, The Barcelona Taste is all about food… and lots of it! On this 2-3 hour food tour, there are 3-4 stops in small food establishments in the Gothic neighbourhood of Barcelona. The venues range from high-quality speciality shops to home-style tapas restaurants, each one with its own scrumptious specialities for you to taste. A knowledgable and very friendly guide will safely lead you through this labyrinth of a neighbourhood, all the while sharing stories about Barcelona, life, food and history. You will enjoy all the cuisine, and due to the small size of the group, you will also enjoy a more personal, relaxed experience.
 Gothic Quarter, Barcelona

#2 Fleadonia Market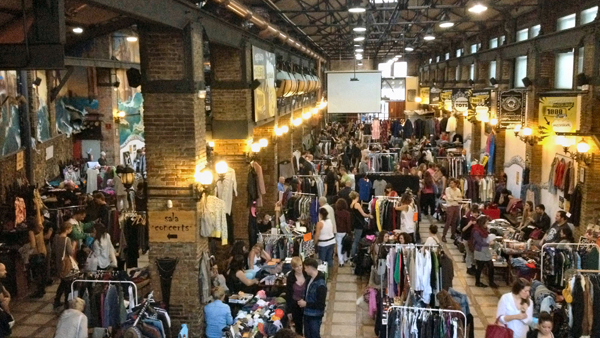 Barcelona is famous for its good-quality food markets, but here is much more! Wandering around and exploring new places in Barcelona is always a great thing to do. While strolling through beautiful places, it's good to stumble upon new little treasures, like markets here you can buy things for your loved ones. Or treat yourself and create memories for the future. Fleadonia is the most ravishing second-hand and vintage market in Barcelona. It is celebrated every first Sunday of the month in the Plaza de la Filmoteca in the district of El Raval. You will find second-hand treasures at pretty cheap prices. Always collect, reuse and buy second-hand.
 Plaça Salvador Seguí (Liceu, L3)

 from 10h00 to 20h00

 Free
#3 Vermut & Music

Vermouth is not just an aperitif that you order in most Spanish Bars. It is also an activity, which brings people together. While drinking this cold beverage, you have a good time with your friends and you begin to feel like a local in Barcelona. If you are more interested in the types of Vermouth and how Spanish people drink Vermouth, check out the video above. You can also gather information about the Spanish secrets of Vermouth. Every Sunday at 12:30pm, the Mimosa Garden of the Mandarin Oriental, Barcelona becomes a stage for Musicians of different styles and forms. They offer an exclusive concert at the Vermouth hour. With this attractive artistic proposal, the Mandarin Oriental continues to open its doors to the city and reinforces its commitment to quality, culture and music. Live music from 12:30-13:30 whilst you enjoy your vermouth 12:00-14:00.
 Mimosa Garden, Mandarin Oriental, Barcelona

 from 12h30 to 13h30 – TEMPORARILY CLOSED DUE TO COVID19

 Free

#4 Trip to Costa Brava
If you want to get away a bit from the capital, you need to go to Spain's most wonderful coastal region, Costa Brava. Now, you have the opportunity to visit Tamariu & Aiguablava to experience the real beaches in Costa Brava. The Costa Brava is the most beautiful part of the Spanish coasts, from the north of Barcelona to the boarders of France. This is where the best beaches in Catalonia are located. Tamariu is an ideal place where families and friends who want to spend a perfect day of sun and sea. In Tamariu you can see the contrast of the bustle that forms on the beach in the summer season with the tranquility of the waters that bathe its beach. In Aiguablava, you will enjoy the charm of the green natural environment and the intense blue of the Mediterranean Sea.
 Tamariu, Costa Brava

#5 Girona Flower Festival
One of our favourite festivals in the Costa Brava is the Girona Flower Festival (Girona Temps de Flors). It takes place every year on the second week of may. If you're looking for advice on which displays to hit, we recommend the Cathedral steps, Les Sarraïnes and the Arab baths. Over the years we have found that these locations always have the most breathtaking displays. We generally try to avoid the festival on the weekends, as it is usually packed. If you can take the time, it is best to visit during the week days.
 Girona

 from 2nd week of May

 Free

Are you planning a trip to Barcelona and looking for somewhere to stay? Why not take a look at the available apartment rentals we have on our website! Please feel free to contact us with any questions you may have.